Careers
A Success Story: An Interview with Anastasia Connolly
By Dawn Rauwolf
April 03, 2008
Thursday

Ketchikan, Alaska - Kayaking along our local coast and bicycling through our rainforest both take plenty of physical fortitude. Anastasia Connolly has that strength. She has guided tourists on wilderness excursions, using her muscles to propel herself and to lead the group in experiencing our unmatchable region.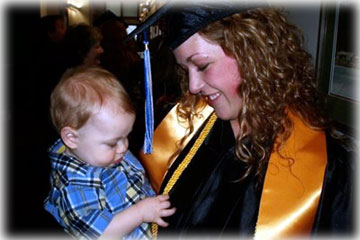 UAS Ketchikan Graduate Anastasia Connolly and Killian
Connolly's adventures have not been limited to this Revillagigedo Rock; she was raised in Homer and has spent summers working in Craig. Though Connolly's strong legs and toned arms are impressive, it is her intellectual strength that has sustained the most resistance and growth in the past few years. Connolly's educational journey has been rigorous, which is just the right level of challenge for her. Currently, Connolly is working for Dr. Anthes as a medical assistant and anticipates entering nursing school at Oregon School of Health Sciences in Portland, Oregon.
Connolly says, "I wound up in Ketchikan after traveling abroad and I was talked into taking classes here." That fall she enrolled at our University of Alaska Southeast - Ketchikan with a full load of classes in her freshman year. At that time, Connolly had a vague idea about future career goals, but was certain she preferred working with people. She thought the nursing field would be a smart choice because she had heard about the national shortage of quality nurses. That semester, Connolly kept her mind busy and her body sturdy by walking up Jefferson St. to the Paul Building every day. Although her ultimate goals were indefinite, Connolly was motivated to triumph in her new challenge.
The next year, Connolly completed classes for the Certified Nursing Assistant program at the University of Alaska Southeast Ketchikan. She went to work at Ketchikan General Hospital soon after and learned that nursing was more than just a wise career choice; it was also a job she enjoyed. Connolly says, "I realized that I could make a difference in people's lives. My motivations changed. It was clear to me that nursing was truly my passion."
That winter, Connolly was also blessed with the news of her firstborn baby's approaching birth. She continued taking classes at UAS-Ketchikan and working at KGH all through her pregnancy. After her son, Killian, was born, she continued taking distance classes part-time. Connolly remembers, "I felt so focused before my son was born, and then, I felt like I lost my mojo. I had to switch gears. I decided to take advantage of the distance courses, so that I could be home with Killian. I thought it would be easy, studying at home. Turns out, I was up all night; sometimes, I would stay up until 4:00 in the morning. I just didn't want to make having a baby slow me down." Connolly was presented with a harsh challenge, and true to her unassuming yet resilient nature, she found the strength to meet it.
Last May, Connolly graduated magna cum laude with her Associate of Arts degree from the University of Alaska Southeast Ketchikan. Connolly credits the local campus as being "very friendly and encouraging. I realized that I enjoyed my experience here. I would recommend it because it is affordable, and there are not too many distractions. I was able to try out many types of classes. The personal attention the professors are able to give is worth a lot. They have set me on my path for what I want to do." Connolly has worked harder than most to accomplish her goals. Her diligence was recognized by her peers and by the UAS-Ketchikan faculty; she was selected to be the student speaker at her graduation ceremony.
Connolly plans to earn her Bachelor's degree in nursing, and then to become a Nurse Anesthetist. She says, "Being a mom makes you more human, more sensitive." Her nursing skills can only improve with those nurturing qualities in her first aid kit. Being a mom gives Connolly another excellent reason to pursue her dreams; Killian is both her inspiration and her motivation. She has experienced the mighty yet benevolent power of the Pacific Ocean while paddling her kayak; she has nurtured a new life into our community; she will undoubtedly accomplish her career goals.

E-mail your news & photos to editor@sitnews.us


Publish A Letter in SitNews Read Letters/Opinions
Contact the Editor
SitNews ©2008
Stories In The News
Ketchikan, Alaska