Fish of Cut Bait
The Changing of the Guard
By Bob Ciminel
December 30, 2005
Friday

We buried my father on Monday, December 12th. At age 86, and beset with heart problems and prostate cancer, Dad held on as long as he could. He went peacefully, early in the morning, while sitting in a recliner at his new home in the Asbury Heights assisted living center. He had just moved in on December 5th and passed away on December 8th. Perhaps he relaxed too much.
Dad had been living alone since Mom went into a skilled nursing facility in April. After 62 years of marriage, that had to leave a huge void in his life. I've only been married 34 years, but I know it would be hard to begin life as a bachelor again.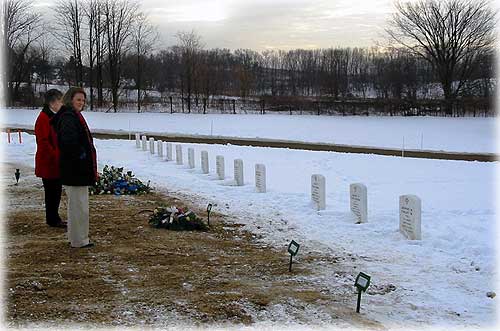 Bob's wife, Alice, and daughter, Maidie, at his father's grave, the second from the right.
Photo by Bob Ciminel

Dad had few friends, just a couple of people who lived in the same apartment building. He couldn't get out much because poor circulation caused his legs to cramp. He sold his car to a neighbor, and I believe that loss of independence really sent him into depression because the car was how he was able to visit Mom every day at lunch and bring her freshly brewed coffee and something sweet to nibble on. It was against the rules, but at their age, rules didn't matter much.
As my sister and I were making the funeral arrangements, I learned that Dad had three honorable discharge certificates. I knew he had served in the Army Air Force during WWII and was in the Strategic Air Command in the Fifties, but I was unaware that he also served in the Pennsylvania National Guard in the Thirties. As with most veterans, Dad did not talk much about his time in the service. He was a life member of the Veterans of Foreign Wars, but never joined the local VFW chapter. He contributed to the VFW, but never marched in their parades.
Dad and Mom pre-purchased their cemetery plots and headstones in a local nondenominational cemetery where two of my mother's brothers and sisters were buried. However, when I learned that a new National Cemetery had opened near their home in November, I asked the funeral director for more information. After listening to his description of the cemetery, I told him we would get back to him that afternoon with our final decision on where the burial would occur.
I went to the nursing home and sat down with my mother. I told her I did not know that Dad had been honorably discharged from the National Guard in 1939, the Army Air Force in 1945 and the US Air Force in 1955, or that he served during both WWII and the Korean War. I asked her if we could bury him in the National Cemetery, and would she object to being buried with him. Although she would not be with her brother and sister, Dad would be with his fellow veterans and other members of Tom Brokaw's "Greatest Generation." Mom agreed.
At age 86, there weren't many contemporaries attending Dad's funeral, but we had a great number of nieces and nephews winding up the hill to the casket and standing in a cold west wind while the words were said and the honor guard carefully folded the flag that had draped Dad's casket. It was too cold for my mother to be outside, so I accepted the flag from an Air Force cadet young enough to be my grandson. I could not hold back the tears when they played "Taps." I accepted the flag as the most prized possession in our family's history and slowly carried it over to my mother. With tears still in my eyes, I told her, "He is with the best of the best now, Mom. This is where he belongs."
Dad was my father for 60 years; I haven't quite gotten used to the idea of him not being around. I still picture him in front of the TV watching the NFL games with the sound turned off. He never wanted much out of life, just to leave the world a little better off than he found it. If his two great grandchildren, whom he never met, are any indication the world is going to be a lot better off.
Bob Ciminel's articles may include satire and parody, and mix fact with fiction.
He assumes informed readers will be able to tell the difference.
Bob lives in Roswell, Georgia, and works for the Institute of Nuclear Power Operations. He is also a conductor on the Blue Ridge Scenic Railway.




ciminel@sitnews.us
Bob Ciminel ©2001 - 2005
All Rights Reserved

Publish A Letter on SitNews Read Letters/Opinions
Submit A Letter to the Editor

SitNews
Stories In The News
Ketchikan, Alaska