Fish Or Cut Bait
Trashing Christmas
by Bob Ciminel
December 21, 2004
Tuesday

We have finally finished decorating the house for the holidays, and not a moment too soon. There have been years when we did not finish until Christmas Eve. Our outdoor decorations are not nearly as impressive as the Ketchikan homes featured in Carl Thompson's photographs on Sitnews, but we manage to brighten up the neighborhood a little bit.
Alice and I are more along the lines of traditionalists. We string miniature white lights on the front shrubs, the picket fence that runs around the back yard, and the gazebo, and we put one of those vine reindeer in the front yard with a nice gold and red bow on its neck. We put colored lights around the large holly tree next to the garage and hang up a decorative flag with a Christmas motif. We deviate from this low-key style of decorating, however, by putting up two huge toy soldiers given to us by my recently deceased brother-in-law, Robert.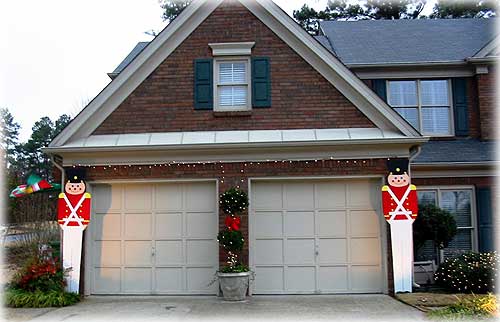 Robert cut the soldiers out of birch plywood and carefully painted them to resemble the toy soldiers in the "Nutcracker" ballet. When he was making the soldiers, Robert was in the midst of surgery and chemotherapy for stomach cancer, which eventually claimed his life in late October 2003. He completed four sets, three for his sisters and one for my daughter. Over Thanksgiving 2002, Robert loaded three sets of soldiers onto a trailer, drove 200 miles to my sister-in-law's home on St. Simons Island, Georgia, and presented them to us at a family reunion. The problem was nobody had room in or on their cars to take the soldiers home. Contrary to the stereotype, not all Southern males drive pickup trucks.
Our wooden soldiers remained on St. Simons over Christmas that year, and would still be there if my daughter had not moved to Iowa. When my sister-in-law learned that my daughter was moving, she dragged two pairs of soldiers into her van and drove 155 miles to Cochran, Georgia to drop them off before the moving van showed up. She did not want to have a garage full of seven-foot tall smiling wooden soldiers for another year or two.
We could not drive down to Cochran to pick up the toy soldiers before the movers came, and we could not leave them in my daughter's garage. She had sold her house to people who were very particular about the garage. The buyers would have been apoplectic if they opened the garage door and saw two huge wooden soldiers smiling back at them. To make a long story short, the moving van driver told my daughter he would go through Atlanta on his way to Iowa and could drop off the soldiers as he came through town. My daughter forgot to tell him that we lived on the northeast side of Atlanta, which is the wrong side of town if you are trying to get to Iowa.
This guy was a saint! He found our subdivision, but could not get his moving van into the entrance without damaging the landscaping. He parked his truck and carried the two wooden soldiers two blocks up the hill to our house. Those soldiers were not lightweights, but if you move furniture all day long, I guess lugging two wooden soldiers a couple of blocks is no big deal. I imagine the neighbors were puzzled when they saw this guy carrying those smiling wooden soldiers up that hill in the July heat; at least until he got to our house, and then they nodded their heads and said, "Yep, that figures."
Neighbors and visitors who drive by our corner lot have enjoyed Robert's wooden soldiers for the past two Christmas seasons. They are big and colorful; brightly lit with spotlights; and the kids love them. Well, everybody loved them, that is, until last Saturday morning.
Late Friday, or early Saturday, some young pervert came up the driveway, took a black Magic Marker, and drew penises on both soldiers' white trousers. Alice discovered the dastardly deed the next morning. To say she was distraught is an understatement. I read the letter she posted to our homeowners association Web site and it was not nice. Alice is usually the epitome of Southern graciousness, but this incident really got to her.
Alice takes an almost child-like approach to Christmas. She decorates the inside of the house with nutcrackers and carolers, and stuffed animals we gave the kids over the years. She even takes out some of their old toys and uses them as decorations. To Alice, anything to do with Christmas has to focus on the innocence of childhood and her Christian upbringing. When she saw her wooden soldiers, it was like Santa Claus slapping a child in the face.
We pity the person who desecrated Robert's wooden soldiers, and can only ask what kind of parent raises a child with such a hateful attitude toward Christmas. Wooden soldiers are a neutral symbol that should not offend anyone, no matter what their beliefs. We shudder to think what this person would do to a crèche.



ciminel@sitnews.us
Bob Ciminel ©2001 - 2004
All Rights Reserved


Post a Comment View Comments
Submit an Opinion - Letter

Sitnews
Stories In The News
Ketchikan, Alaska