Fish or Cut Bait
The Best Defense . . . .
By Bob Ciminel
December 05, 2006
Tuesday PM

Following the Atlanta Falcons' 31 to 13 loss to the New Orleans Saints last Sunday, quarterback Michael Vick was fined $10,000 by the Nation Football League for making an obscene gesture (one half of a peace sign, both hands) to the home team crowd. Michael was given the option of donating half of the fine to the charity of his choice.
As with the recent spat of famous-named personalities self-destructing on national media, Michael immediately offered a public apology to the fans and the public. Unlike, Mel Gibson and Danny DeVito, Michael did not blame it on alcohol, fatigue, or a bad childhood. If anyone had an excuse for losing control, it was Michael Vick.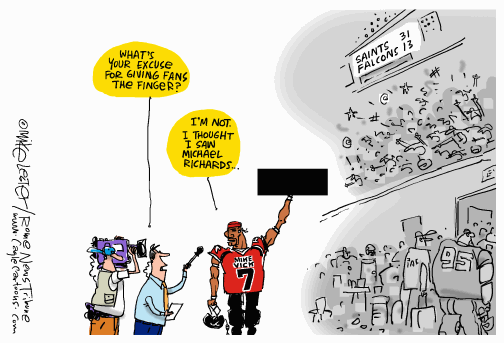 Michael Vick
Artist Mike Lester, The Rome News-Tribune
Distributed to subscribers for publication by Cagle Cartoons, Inc.

True, the quarterback is the focal point of the offense, but he is not the team captain, and he is not a coach. Vick ran for 166 yards during the game with the Saints, but his teammates dropped five passes and the defense broke down late in the second quarter. The fans booed Michael Vick; he returned the insult; score tied one to one.
Michael Vick did not contest his fine and did not blame anyone but himself. That is what a leader is supposed to do; take the hit for the team. What did Mel Gibson, Michael Richards, and Danny DeVito do? Mel blamed it on booze; Michael Richards apologized to Jesse "Hymie Town" Jackson; and Danny DeVito apologized to Barbara Walters. Then they all went on tour to take advantage of the media attention they were getting.
What did Michael Vick do? Michael added another $10,000 to the fine and donated all of it to charity. One of the recipients of Michael's gift was the family of Atlanta fireman Stephen Solomon (interestingly, an African-American with a Jewish surname) who died on Wednesday after suffering third-degree burns while fighting a fire on Thanksgiving Day.
It will be interesting to see how many fans who heckled Michael Vick contribute to Stephen Solomon's fund.


On the Web:
Fish or Cut Bait by Bob Ciminel

Bob Ciminel's articles may include satire and parody, and mix fact with fiction.
He assumes informed readers will be able to tell the difference. Bob lives in Roswell, Georgia, and works for the Institute of Nuclear Power Operations. He is also a conductor on the Blue Ridge Scenic Railway.
Contact Bob at ciminel@sitnews.us
Bob Ciminel ©2001 - 2006
All Rights Reserved

Publish A Letter on SitNews Read Letters/Opinions
Submit A Letter to the Editor

SitNews
Stories In The News
Ketchikan, Alaska