Fish Or Cut Bait

Vindication of the "Robber Barons"
by Bob Ciminel

October 31, 2005
Monday

Following the devastation of Hurricane Katrina, many organizations failed New Orleans. FEMA failed New Orleans. The State of Louisiana failed New Orleans. New Orleans' city government failed New Orleans. The railroads did not fail New Orleans.
Shortly after Katrina destroyed 26 miles of CSX corporations tracks along the Gulf Coast, including the 10,000-foot long bridge over Bay St. Louis, and nine miles of Norfolk Southern Corporation's tracks in and around the city, including the 5.8-mile long Lake Pontchartrain bridge, Norfolk Southern CEO, David Goode, was able to say, "Lines are open; trains are moving."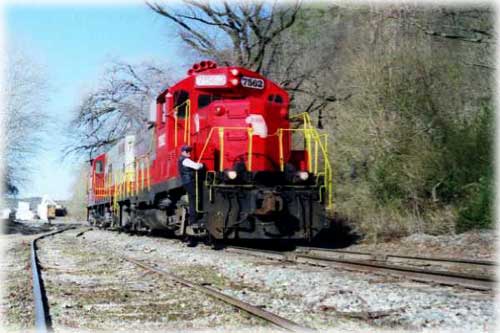 Bob working a log train on the Georgia Northeastern in February 2002.
Photo By Raymond Stewart.

And how was this possible? Railroads are businesses, not bureaucracies, and they don't sit around for four days asking who is in charge. Railroaders believe in the old saying, "It is easier to beg for forgiveness than it is to ask for permission."
One reason railroads could react so quickly was the detailed preplanning done in anticipation of severe weather. With the amount of forewarning now available through the National Weather Service's storm forecasting system, as well as computer-generated strike probabilities, railroads are able to move locomotives, cars, and people away from the danger area, but have them instantly available to restore service once the hurricane passes.
Canadian National, owner of the Illinois Central lines that skirt the east bank of the Mississippi River and the northern shores of Lake Pontchartrain, had crews assessing damage and clearing trees before Hurricane Katrina was completely out of the area.
Union Pacific set up a Katrina Response Command Center at its dispatching facility in Omaha, Nebraska. This allowed the railroad to coordinate its activities with other railroads, as well as government agencies. And although restoration of rail service was the overriding goal, the affected railroads still were able to move temporary housing units into the area; trailers filled with bottled water, and refrigerated boxcars to preserve relief supplies donated by non-governmental agencies.
Norfolk Southern was able to rebuild the tracks along its Lake Pontchartrain Bridge in 10 days. Divers located the tracks underwater and a fleet of barge-mounted cranes lifted one mile of track a day up on to the bridge piers. It took over 300 people working 24/7 to accomplish the job, but the need to restore the railroad's connections with western railroads was vital to restoring transcontinental service through the country's major ports along the Gulf and southeast Atlantic coastlines.
Apologists may argue that the railroads did not have to evacuate hundreds of thousands of people, but government merely told people to leave. New Orleans' and State government did not provide transportation for evacuees, tell them where to go, or provide shelter for them when they arrived. But government should have anticipated what needed to be done. The Union Pacific Railroad knew a Category Five hurricane would cause significant damage and pre-staged items such as ballast, ties, and other equipment that would be needed to restore service. The railroad even removed signal masts and crossing gates in the storm's path to prevent damage and allow rapid replacement when the lines reopened.
Unlike federal, state, and local governments, the railroads not only learned, but applied, the lessons of Hurricane Betsy in 1965 and Hurricane Camille in 1969. Jay Gould and the Vanderbilts would say congratulations on a job well done.

Bob Ciminel's articles may include satire and parody, and mix fact with fiction.
He assumes informed readers will be able to tell the difference.
Bob Ciminel lives in Roswell, Georgia, and works for the Institute of Nuclear Power Operations. Bob is also a conductor on the Blue Ridge Scenic Railway.




ciminel@sitnews.us
Bob Ciminel ©2001 - 2005
All Rights Reserved


Post a Comment View Comments
Submit an Opinion - Letter

Sitnews
Stories In The News
Ketchikan, Alaska