Fish or Cut Bait
The Broken Circle
By Bob Ciminel
October 16, 2006
Monday

After two weeks in Colorado, it was refreshing to return to Atlanta and look at unspectacular scenery for a change. The Piedmont Plateau is decidedly less impressive than the Front Range, and the North Georgia Mountains are mere bumps on life's scenic highway when compared with the San Juan Mountains.
Our trip took us from Denver to Glenwood Springs via Amtrak; Ouray to Telluride via Jeep; Durango to Silverton via narrow gauge railroad; Chama, NM to Antonito, CO via another narrow gauge railroad; Cañon City to Royal Gorge via standard gauge railroad; Manitou to Pikes Peak via a cog railway; Leadville to Climax via another standard gauge railroad; and Silver Plume to Georgetown Loop via a third narrow gauge railroad. All of the narrow gauge trains were pulled by steam engines. Was I in railroad heaven? You bet I was!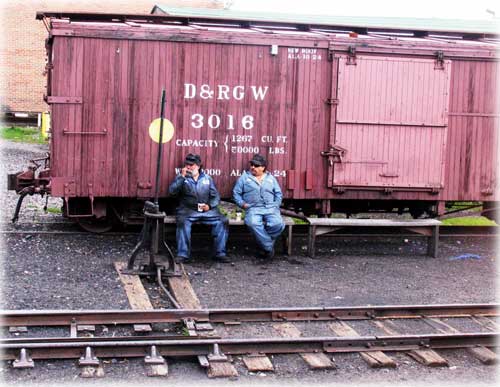 One Small Arc of the Circle -- Chama, New Mexico
Photograph by Bob Ciminel

I think what makes Colorado such a great place to visit is its mountains are so accessible - you can drive up and down them; sleep in them; have lunch in them; and ride trains in them. Other than Switzerland, I don't know of any other mountainous area that is so accessible. Why, we even had cell phone service atop Pikes Peak - I called my daughter in Iowa from 14,000 feet.
In the mid to late Nineteenth Century, Colorado offered what was known as the Great Narrow Gauge Circle. Passengers could board a narrow gauge train in Alamosa, ride along the base of the Front Range for almost 60 miles on track that was straight as an arrow, and then head westward at Mears Junction, southwest of Salida. From there, it was up and over Marshall Pass (10,846 feet), through Gunnison to Montrose. Turning south at Montrose, travelers would ride to Ridgway and board the famous Rio Grande Southern "San Juan" and ascend Lizard Head Pass (10,222 feet) on the way to Durango. From Durango, the route continued southeastward to Chama, NM, over Cumbres Pass (10,022 feet) to Antonito, CO, and then back to Alamosa. The circle was about 650 miles around on rails three feet apart, and through some of the most spectacular scenery in the Lower 48.
We followed the Great Circle; however, half of it was by motor coach, for the only remnants of the Rio Grande's former narrow gauge empire are the 45-mile stretch between Durango and Silverton operated by the Durango & Silverton Narrow Gauge Railroad and the 64-mile section between Chama, NM and Antonito, CO operated by the Cumbres & Toltec Scenic Railroad. But what the heck, 109 miles of a circle is better than nothing. If we can't ride around the circumference, a trip across the diameter will do just fine.
On the Web:
Fish or Cut Bait by Bob Ciminel

Bob Ciminel's articles may include satire and parody, and mix fact with fiction.
He assumes informed readers will be able to tell the difference. Bob lives in Roswell, Georgia, and works for the Institute of Nuclear Power Operations. He is also a conductor on the Blue Ridge Scenic Railway.
Contact Bob at ciminel@sitnews.us
Bob Ciminel ©2001 - 2006
All Rights Reserved

Publish A Letter on SitNews Read Letters/Opinions
Submit A Letter to the Editor

SitNews
Stories In The News
Ketchikan, Alaska