Fish Or Cut Bait

"Over the River and Through the Woods . . . ."
by Bob Ciminel

August 18, 2005
Wednesday

It seems a bit early to be talking about Christmas songs, but this one is appropriate to my story.
The rest of the line goes "to Grandmother's (or Grandfather's) house we go." I'll wager that Lydia Maria Child, who wrote the song in 1844, was not worried about grandparent gender. In most families grandmother ran the house.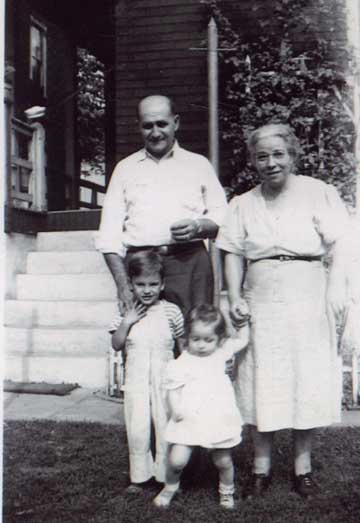 Grandfather and Grandmother Crivaro...
Little boy Bob is pictured on the left.
The images that come to mind when I hear "Over the River" are a horse-drawn sleigh gliding over a covered bridge in rural Vermont. Big flakes of snow fall through the barren branches of sugar maples, adding to an already thick blanket of snow covering the countryside. Father holds the reins. Mother sits next to him wrapped in a warm woolen blanket. Two children sit in the back under another warm blanket, thinking about a glowing fire and hot cider awaiting them at Grandma's house.
Now fast-forward to a gray winter day a little over a century into the future. Change the scene to western Pennsylvania and a grimy mill town straddling the banks of Chartiers Creek. I am five years old. My mother and I are on our way to visit my grandmother. Our mode of transportation is not quite as romantic as a horse-drawn sleigh. We are riding in a streetcar rocking and swaying along the tracks between Idlewood and Carnegie.
We made a half-mile trudge through ankle-deep snow from a peaceful little neighborhood of Victorian homes to the streetcar stop. Idlewood was once a popular resort when the railroad was completed between Pittsburgh and Steubenville, Ohio in the 1800s. It even had its own train station, which eventually became a commuter stop for people riding to and from the outlying communities into the city. Idlewood's demographics shifted abruptly when the Pittsburgh Coal Company opened its Idlewood Mine in the 1900s. Business on the streetcar line peaked at this time as miners rode back and forth to the mine. When Mom and I rode the streetcar in the early 1950s, Idlewood Mine was long gone and Idlewood had become a small middle-class neighborhood that, thanks to the railroad and streetcar line, offered convenient access to Pittsburgh.
As we rocked and swayed along the tracks toward Main Street in Carnegie, we passed through East Carnegie and its long rows of worker's houses lining the street across from the Columbia Steel and Union Electric mills. My mother's father and all of her brothers worked in the specialty steel mills that bracketed Carnegie and were the lifeblood of its economy. During the city's boom days during and immediately after World War II, Main Street was packed on Friday evenings with revelers and on Saturday mornings with shoppers.

After crossing the bridge over Chartiers Creek, which separated East Main Street from West Main Street, Mom and I disembarked at Chartiers Avenue in the heart of Carnegie. Walking one block north up Chartiers Avenue we crossed six railroad tracks, the four-track mainline of the Pennsylvania Railroad's Panhandle Division that ran between Pittsburgh and St. Louis, Missouri and the double tracks of the Chartiers Branch. Carnegie's passenger station sat in the triangle between the two routes. A large freight yard was off to the left. I still remember the circus train parking there whenever the circus came to town. A watchman's shack guarded southern end of the pedestrian crossing, while on the north side was an elevated watchman's tower from which the crossing gates that protected the street were raised and lowered. The watchmen were always friendly.
After crossing the tracks, a short walk up the hill brought us to Railroad Avenue where my grandparents lived. A right turn across a short bridge over Campbell's Run (that's what they call a small creek in western PA) and we ran smack dab into one of the most wonderful odors known to man, the smell of freshly baked bread from Benvenuti's Italian Bakery. A glance up and down the street for traffic, followed by a quick dart to the other side, and we would enter the only place that could compete with a candy store for my undivided attention. Bread, rolls, pastries, cookies, you name it and Benvenuti's baked it. Mom would always buy a loaf of Italian bread because every visit to Grandma's house included an Italian meal. The baker would give me a sample of something wonderful, but to this day unnamed, and off we would go, trudging through the snow to Grandmother's house.
"Over the River and Through the Woods" is a nostalgic song in many ways, and one did not have to grow up in rural Vermont to appreciate the memories it brings out. In my case, we rode in a streetcar, through a mill town, over the railroad tracks, and across the run. The snow was covered with soot from the coal furnaces everyone used to heat their homes, but the smell of baking bread and Maxwell House coffee made up for it, and, to this day they are still good memories of times gone by.



Bob Ciminel's articles may include satire and parody, and mix fact with fiction.
He assumes informed readers will be able to tell the difference.
Bob Ciminel lives in Roswell, Georgia, and works for the Institute of Nuclear Power Operations. Bob is also a conductor on the Blue Ridge Scenic Railway.




ciminel@sitnews.us
Bob Ciminel ©2001 - 2005
All Rights Reserved


Post a Comment View Comments
Submit an Opinion - Letter

Sitnews
Stories In The News
Ketchikan, Alaska