Fish Or Cut Bait
Historical Day at TVA
by Bob Ciminel
September 08, 2004
Wednesday

I was back in Chattanooga last week for another visit to the Tennessee Valley Authority's Sequoyah nuclear power station. I spent Monday morning observing activities in the plant's control room.
Sequoyah has two units, so the control room is rather large, with horseshoe-shaped control panels at each end. Each unit has its own operating crew, consisting of a unit supervisor and two operators. Operational activities outside of the control room are handled by auxiliary unit operators under direction of the control room crews.
I've spent a lot of time in nuclear power plant control rooms as an operator, supervisor, instructor, and evaluator. I have worked with a lot of operating crews too, but the crew I met on Monday morning in the Sequoyah plant was a pleasant surprise. The crew running Unit 1 was 100% female!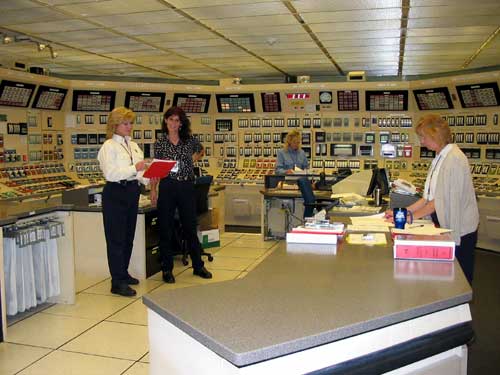 Left to right, the ladies are: Debbie, the Unit Supervisor, Marie, the Operations Manager, Michelle, the Reactor Operator, and Judy, the Control Room Operators
Photo courtesy TVA

Not only was it an auspicious occasion, it was an historical occasion. An all-female operating crew was a first for TVA, and I'd be willing to bet it was a first for the commercial nuclear power industry too.
We've had women working in our nation's nuclear power plants for a number of years, but they normally do not enter the ranks of operators. It takes many years working as an auxiliary operator before one can move into the relative comfort of the control room. Aside from the rigors of shift work, the auxiliary operator's job is hot, dirty, noisy, and often requires brute strength to open and close valves or handle the bags of chemicals used in the plant's water treatment systems.
Women have been involved in other aspects of nuclear power since its earliest beginnings under the squash court at the University of Chicago. One of the scientists who helped Dr. Enrico Fermi build the first nuclear reactor was Leona Marshall, a 23-year old graduate student and the only woman on the Chicago Pile team.
On February 12, 1976, Roberta Kankus, an engineer with the Philadelphia Electric Company, became the first woman to receive a Senior Reactor Operator's license for a commercial nuclear power plant. This was not an easy license to get, and there were no special arrangements for women.
I tip my hat to TVA for being proactive in bringing women into what was once a male-dominated profession, and doing it on an even playing field.
By the way, the fourth woman in the photograph is the plant's Operations Manager, who has responsibility for the operation of both units at Sequoyah.


ciminel@sitnews.us
Bob Ciminel ©2004
All Rights Reserved


Post a Comment View Comments
Submit an Opinion - Letter

Sitnews
Stories In The News
Ketchikan, Alaska