Fish Or Cut Bait
Feet Dry
by Bob Ciminel
July 21, 2004
Wednesday

The Atlantic Blue Crab population is returning to normal in the salt marshes along the Grand Strand this week. The Ciminel family has returned from its annual vacation to Pawleys Island, South Carolina. Between the smelly fish heads and rotten chicken necks we used for bait, we were able to entice about two dozen crabs a day into our crab trap, or dally around in the shallows long enough to scoop up with our dip nets. A couple of rented boats from Murrells Inlet also gave us the opportunity to harvest a sizeable number of clams from the State shellfish reserve. We had to buy our shrimp because the state does not allow shrimp boats to work near shore during the tourist season.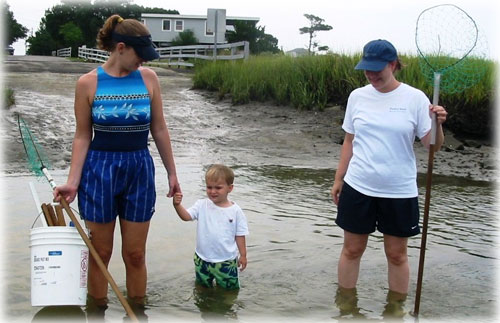 Left to right: My niece Melissa (soon to become Dr. Melissa Privette, DVM); my grandson, Evan; my daughter, Maidie at Pawleys Island, South Carolina in the creek.

The nice thing about Pawleys Island is that it is just a short walk from the beach to the creek. On the south end of the island, you can walk from surf and sand to cord grass and mud in a half dozen steps, which is why the south end usually washes away during hurricanes.
Speaking of hurricanes, the last one to hit Pawleys Island was Hurricane Hugo in 1989. Before that, it was Hurricane Hazel in 1954. Two hurricanes in fifty years seem like good odds, but if you use that to justify buying a house on the beach, you are either a fool or you are spending someone else's money. For the owners at Pawleys Island, inheritance, insurance, and income from rentals seem to provide adequate funds to rebuild after the storms. The storms may destroy the structures, but the land remains. A beachfront lot at Pawleys sells for about $1 million these days. I think it is safe to assume that yours truly will not be retiring to Pawleys Island. The closest we will get to waterfront property will probably be a used doublewide on a drainage ditch from a sanitary landfill.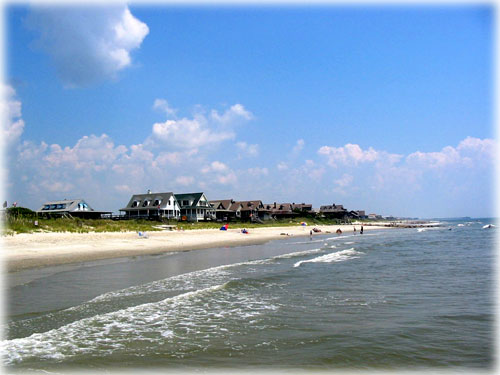 Pawleys Island, South Carolina

If I could afford a place at the beach, I would build it back on the creek. It would be made of reinforced concrete, and it would be round. The house would rest on reinforced concrete pilings driven into a stable layer of clay. The windows would be protected with steel shutters, and the house would be all-electric and have a standby generator. Who wants a 500-gallon propane tank banging around in 200 mph winds? Okay, the house would not be pretty, and it would not make the cover of "Coastal Living," but it would probably survive the worst that Nature could throw at it. Heck, if we colored and textured the concrete, Alice might even be willing to live in it.



ciminel@sitnews.us
Bob Ciminel ©2004
All Rights Reserved


Post a Comment View Comments
Submit an Opinion - Letter

Sitnews
Stories In The News
Ketchikan, Alaska