Fish Or Cut Bait
The Little Church in the Valley
by Bob Ciminel
June 26, 2004
Saturday

The Talona Valley in northern Georgia would not make anyone's Top 10 list of scenic wonders, nor would you expect to see a Travel Channel special about such an unremarked place. As for tourist amenities, the Fall Festival at nearby Talking Rock and the Talona Creek Campground are about all the valley has to offer. A lightly used rail line runs down the valley. The weekly, but unpredictable, log train from Blue Ridge raises the ambient noise level for a short time, but everything soon returns to normal, with Talona Creek bubbling over the rocks and an occasional mooing cow.
Ella Gap forms the valley's northern boundary, with Talking Rock Creek guarding the southern end. In between, Talona Creek meanders back and forth between the valley walls, depositing fertile soil along its banks during spring freshets and summer cloudbursts. The valley supports several farms that provide summer grass and winter hay for cattle, but produce little food.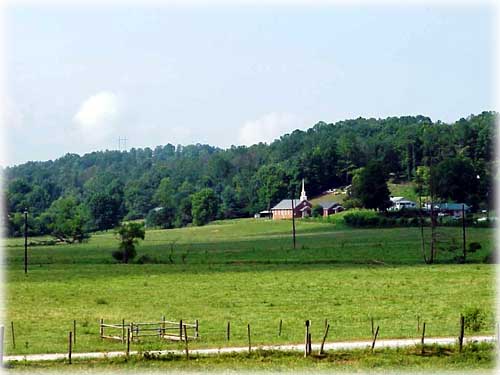 Talona Valley
Photo by Bob Ciminel

On the surface, this tranquil, bucolic environment seems like a paradise for those who want to get away from Atlanta's noise and traffic. However, hidden beneath its surface lies the valley's real asset, a massive formation of marble known as the Murphy Marble Belt, which man, machines, and the railroad have been hauling out of the valley for more than a century. The marble belt extends about five miles along the valley floor and lies as deep as 2,000 feet. Currently, enough marble remains underground to last another 10,000 years.
The Talona Valley was once part of the Coosawattee District, one of eight districts formed by the Cherokee Nation in 1829. The United States forcibly removed the Cherokee in 1838, and white settlers in 1832 began moving into the area. Talking Rock Town, at the south end of the valley, was the location of Fort Newnan, one of the Removal Forts where the military interred the Cherokee before beginning their long march to the Oklahoma Territory along the Trail of Tears. It is a shame that such a beautiful area had to share in this blatant disenfranchisement of our Native Americans.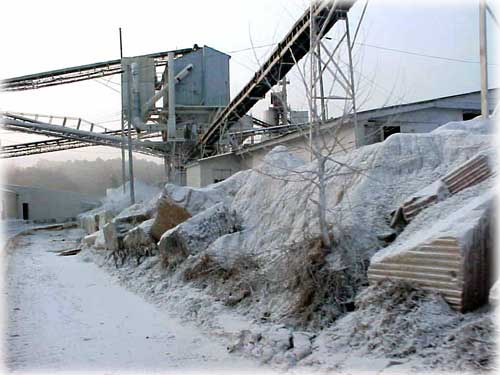 Talona Valley Marble Mine
Photo by Bob Ciminel

However, it was not marble that forced the Cherokee out of Talona Valley, it was the gold discovered to the east in Dahlonega. Despite President Andrew Jackson's promise to Chiefs Whitepath and John Ross that, "You shall remain in your ancient land as long as grass grows and water runs," the 1832 Land Lottery had already dispersed the Cherokee lands to the white settlers.
Today, other than the marble quarries, mines, crushing plants, and railroad, Talona Valley still has unpaved roads, no traffic, plenty of wildlife, and a beauty that is rare to find in these days of urban sprawl, second homes, and four-wheelers. The only things missing are the Cherokee families that once called Talona home.


ciminel@sitnews.us
Bob Ciminel ©2004
All Rights Reserved


Post a Comment View Comments
Submit an Opinion - Letter

Sitnews
Stories In The News
Ketchikan, Alaska