Fish Or Cut Bait

Thoughts on Turning 60
by Bob Ciminel

June 01, 2005
Wednesday

I celebrated my 60th birthday over Memorial Day weekend. It might be appropriate to give my thoughts on reaching this milestone.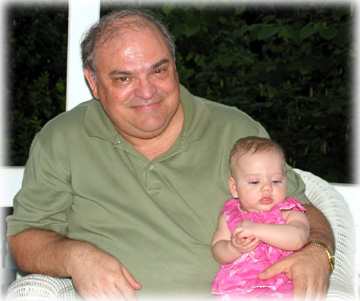 Bob Ciminel & grand daughter Ella
I've learned that dreams rarely come true, and the few that did, did so because I made them.
I've learned that I will never be rich or famous, but neither will I have to deal with the problems that go along with those two achievements. When you are rich, everyone wants your money; when you are famous, everyone wants your time. If you are neither, you are just be another face in the crowd. Anonymity does have its rewards.
I will never be a CEO or a vice president, but I am content that my wife is CEO of her own corporation and made me secretary-treasurer so that I could do her taxes. I quickly learned to hire an accountant. I interviewed several, asking only one question: "How much is 2 plus 2?" I hired the one who said, "Whatever you want it to be."
I've been blessed with two parents who are in their 62nd year of marriage and a loving wife who has put up with my idiosyncrasies for 34 of my 60 years. Unfortunately, her reward may be to have me around for another 20 years.
I've been blessed with two wonderful children who can brag about having the same two parents they started out with, and they in turn have blessed me with two beautiful grandchildren who I know will make a difference in the world.
I've been privileged to have served my country for seven of my 60 years and to have been able to use the training I received in our armed forces and turn it into a 35-year career that will soon come to an end.
And, last, but not least, I've forestalled the onset of senility long enough to use this little notebook computer to write this missive.
Best wishes to all of my readers.


Bob Ciminel's articles may include satire and parody, and mix fact with fiction.
He assumes informed readers will be able to tell the difference.
Bob Ciminel lives in Roswell, Georgia, and works for the Institute of Nuclear Power Operations. Bob is also a conductor on the Blue Ridge Scenic Railway.




ciminel@sitnews.us
Bob Ciminel ©2001 - 2005
All Rights Reserved


Post a Comment View Comments
Submit an Opinion - Letter

Sitnews
Stories In The News
Ketchikan, Alaska