Fish Or Cut Bait
Remembering Flags and Friends
by Bob Ciminel
May 31, 2004
Monday

Memorial Day is a time when Americans pay tribute to the men and women who gave their lives in defense of our freedom. In my mind, that also includes the men in gray and butternut who fought for the Confederacy.
It is politically incorrect to attribute anything good to the Confederate States of America. Liberal historians and the NAACP insist the South was fighting to preserve slavery. Maybe it was, but I refuse to pass judgment on the dead.
There is one thing I am certain of, regardless of his political views or his position on slavery, the Confederate soldier was fighting to end the war and go home. It happens in every war; politicians and generals focus on grand strategies, field commanders focus on tactical objectives, and the grunts could care less; they only want to go home. If it means killing the enemy and destroying his cities, then that is what they will do. It is not patriotism or the moral high ground that drives soldiers to fight; it is an overarching desire to go home. And that brings me to the point of this article. I want to tell you about a veteran who did not go home.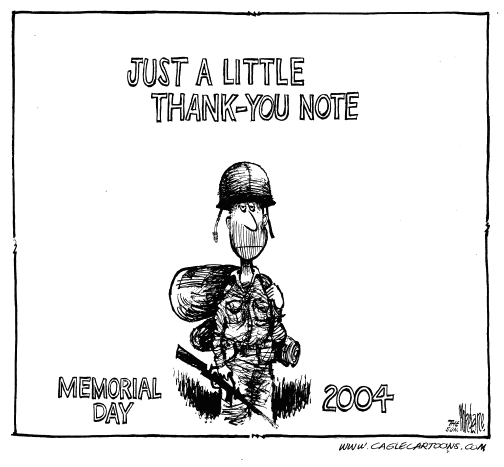 Memorial Day 2004
©Mike Lane, The Baltimore Sun
Distributed to subscribers for publication by Cagle Cartoons


I was rummaging through a box of old photographs and came across several 35mm slides taken in San Francisco in 1964. They were photos of an old Navy buddy taken when we were on liberty in Chinatown. His name was Bob Martin.
Bob and I met at the recruiting center in Pittsburgh in 1963, part of a large group of inductees going into the Navy. Bob and I went through boot camp and a succession of technical schools together, traveling from Chicago to San Francisco, and Idaho. After our tour in Idaho, we went our separate ways, but both eventually ending up at the Charleston Navy Base in South Carolina.
We were assigned to different submarines, which put us on opposite rotations. Although each of us was on a Polaris submarine operating out of Rota, Spain, when I was in port he was at sea, and vice-versa. We tried to stay in touch through mutual acquaintances, but I never saw Bob again.
Bob would be almost sixty now. He would be a Steely Dan fan. I knew Bob well enough to know what kind of music he liked, and Steely Dan certainly would be one of his favorite bands.
When I think of all of the songs Steely Dan recorded over its more than thirty-year career, "Deacon Blues" would be Bob's favorite song; the lyrics fit him perfectly. Bob was good-looking, a fastidious dresser, and he had a repertoire of pickup lines that could fill a book. What I mean to say is he never had to work very hard to get a date.
One line from "Deacon Blues" fits Bob Martin to a T. "I crawl like a viper through these suburban streets. Make love to these women languid and bitter sweet. I rise when the sun goes down; cover every game in town." Unfortunately, Bob never got to hear Steely Dan; he died while serving in the Navy, ten years before Steely Dan released their first album.
Bob didn't receive any posthumous medals. There was no flag-draped coffin; no honor guard. No one played "Taps." I'm not even sure where Bob was buried. He was simply the victim of a traffic accident. He fell asleep at the wheel and ran his 1963 Corvette into a 200-year-old oak tree. No going down in a blaze of glory; Bob died a quick, painless death on a battlefield of twisted metal and shattered glass, on a sultry summer night in South Carolina.
Bob never had an opportunity to enjoy the pleasures and challenges that go with marriage and raising a family. He didn't have to go through the pain of giving away a daughter's hand in marriage, or watching a son leave on a 1,000-mile journey of independence. He never had to deal with the confusion of trying to figure out your new role in your children's lives. You blink your eyes and the next thing you know, they don't call you "Daddy" anymore, just "Dad." In reality, it took a lifetime, a lifetime much longer than Bob's.
Yes, the lyrics from "Deacon Blues" are quite apropos for the Bob I knew: "I'll learn to work the saxophone, and I'll play just what I feel. Drink Scotch whisky all night long and die behind the wheel. . ."
I can't help remembering Bob Martin when I hear "Deacon Blues," but those are his lyrics, not mine. The lyrics running through my head are from Bruce Cockburn's "No Footprints." They seem to encompass everything I feel about my role as a husband and a father, and how I want to be remembered when my time comes: ". . . I'll be right there with you; leaving no footprints when we go; only where we've been, a faint and fading glow."



ciminel@sitnews.us
Bob Ciminel ©2001


Post a Comment View Comments
Submit an Opinion - Letter

Sitnews
Stories In The News
Ketchikan, Alaska