Fish or Cut Bait
Memories
By Bob Ciminel
March 25, 2006
Saturday

As we age, we often spend more time reminiscing about the "good old days," which weren't that good, just different. I find the one thing today's environment lacks are the smells I remember from my days growing up in the suburbs of Pittsburgh. They weren't all good smells, particularly the odors wafting from the stockyards and meat processing plants on Herr's Island on the west bank of the Allegheny River just upstream from downtown Pittsburgh. Today, Herr's Island is prime real estate, but when we drove past it on the way to visit family, Herr's Island emitted a sickeningly sweet smell of burnt pork. I still remember that smell.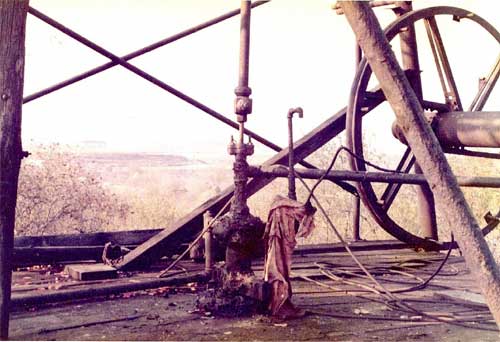 An old oil well near Pittsburgh.
Photo by Bob Ciminel ©

Another smell I miss is the pungent aroma of coal smoke. In our neighborhoods, before the introduction of natural gas, everyone heated their homes with coal furnaces. After all, we sat atop one of the greatest natural resources in the world, the 10,000 square mile, eight-foot thick Pittsburgh Seam of bituminous coal. Pittsburgh's coal miners had been burrowing under our towns and villages for two generations; anyone who didn't mine coal usually worked in an industry that burned it. Mills and railroads used so much coal that one 28-mile branch off the Pennsylvania Railroad's line between Pittsburgh and Columbus, Ohio, which bisected my mother's hometown of Carnegie, ran 25 trains a day when coal was king.
A less frequently encountered, but even more memorable odor that was unique to our area was the unmistakable smell of crude oil. Our crude was more greenish black than pure black as shown in so many movies. Oil was all around us, but the big discovery came in 1890 when the Greenlee & Forst Company struck oil on the Mevey Farm northeast of the little town of McDonald. Seven years earlier, geologists swore that the boundaries of the Pennsylvania oil fields, which were primarily located around Oil City and Titusville (where Col. Drake struck oil) and areas north of Pittsburgh, were well established, and "there were not any grounds for anticipating the discovery of new fields . . . ." Right! On Monday, September 28, 1891, the new G&F well at McDonald, 15 miles southwest of Pittsburgh, produced 15,600 barrels of oil in 24 hours. At one point, the G&F produced 750 barrels an hour for four hours. The G&F held the record for wells in the continental United States until the Lucas well at Spindletop Dome south of Beaumont, Texas came in at 10:30 a.m. on Thursday, January 10, 1901 and produced 35,000 barrels in about 12 hours, four times more than any well ever drilled in Pennsylvania.
As a teenager, I often visited some of these old wells, which only produced a few barrels a week by the time I entered the scene. Many of them continued using horizontal steam engines to pump the oil into small storage tanks; however, most of the wells were simply abandoned and left to decay. The smell of crude oil permeated my clothes and imprinted itself in my brain. It stays with me 50 years later.
There is one thing from my childhood that combined the odors of coal and oil in a unique blend, mixed with warm, vaporous steam, and that was the steam locomotive that plied the railroads around town. Those odors were rapidly replaced by the smell of diesel fuel, but not before I sniffed enough to leave an indelible mark in my memory.
Progress has both its good and bad points. Many of those odors I remember from my childhood were caused by pollutants and health hazards, and they also left dirt on earth and sky. For today's children, they've been replaced with the scents of automobile and truck exhaust, jet fuel, and many pollutants that are more dangerous, but have no odor. And I wonder, fifty years from today, what smells my granddaughter and grandson will remember from their youth. Whatever they are, I hope the memories are as good as mine.


On the Web:
Fish or Cut Bait by Bob Ciminel

Bob Ciminel's articles may include satire and parody, and mix fact with fiction.
He assumes informed readers will be able to tell the difference.
Bob lives in Roswell, Georgia, and works for the Institute of Nuclear Power Operations. He is also a conductor on the Blue Ridge Scenic Railway.


Contact Bob at ciminel@sitnews.us
Bob Ciminel ©2001 - 2006
All Rights Reserved

Publish A Letter on SitNews Read Letters/Opinions
Submit A Letter to the Editor

SitNews
Stories In The News
Ketchikan, Alaska