Fish or Cut Bait
Here's Looking at You Kid
By Bob Ciminel
March 11, 2006
Saturday

Longtime readers of this column know that I am a big fan of the Allman Brothers Band as it existed in the early Seventies. Two albums, "Filmore East" and "Eat a Peach," to me, mark the band's highpoint. Once the band lost Duane Allman, after a tragic motorcycle accident in Macon, Georgia, it was never the same. True, Dicky Betts made a passable substitute on the slide guitar, but Duane was a virtuoso.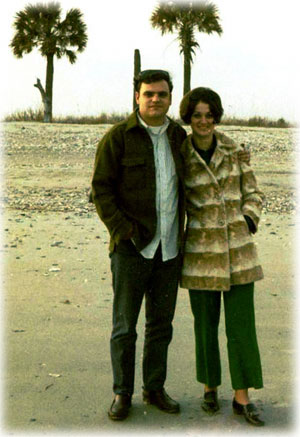 "Bob & Alice, Edisto Island,
South Carolina, 1969"
I bought "Eat a Peach" shortly after it debuted in 1972 and immediately taped two songs off it to play in the car on my daily 50-mile round trip commute to the power plant where I was working. Those two songs were "Melissa" and "Blue Sky." Being that my new wife - we'd been married about a year - was from South Carolina, the lyrics to "Blue Sky" were quite appropriate:
You're my blue sky, you're my sunny day.
Lord, you know it makes me high when you turn your love my way.
Good old Sunday morning, bells are ringing everywhere.
Goin' to Carolina, it won't be long and I'll be there
The lyrics reminded me of those all-night drives from Pittsburgh to Rock Hill, South Carolina to visit her. The West Virginia turnpike was only three lanes back then, and the mountainous sections of I-77 were still under construction. My route was Pittsburgh to Charleston, WV, to Wytheville, VA, to Statesville, NC, to Charlotte, to Rock Hill, SC, a mere 465-mile, 7-hour drive today, it was an all-nighter back then. I'd start out around 6 p.m. and be in Rock Hill in time for lunch. No sweat; I was 25 years old and a shift worker to boot.
My wife can't stand "Blue Sky," which is why I want it played at my funeral. I have to have the last laugh. She doesn't know it yet, but my will is going to say I want "You're my blue sky, you're my sunny day. Lord, you know you make me high when you turn your live my way" inscribed on my tombstone. However, I suspect she'll give me a military funeral like my Dad's, and they won't let you put all those words on a government tombstone. And then she'll have the last laugh.
This weekend we're celebrating our 35th wedding anniversary. I've rented a cabin in the North Georgia Mountains. I'm bringing along my portable CD player and one CD, "Eat a Peach." Guess what song I'll be listening to?

On the Web:
Fish or Cut Bait by Bob Ciminel

Bob Ciminel's articles may include satire and parody, and mix fact with fiction.
He assumes informed readers will be able to tell the difference.
Bob lives in Roswell, Georgia, and works for the Institute of Nuclear Power Operations. He is also a conductor on the Blue Ridge Scenic Railway.


Contact Bob at ciminel@sitnews.us
Bob Ciminel ©2001 - 2006
All Rights Reserved

Publish A Letter on SitNews Read Letters/Opinions
Submit A Letter to the Editor

SitNews
Stories In The News
Ketchikan, Alaska