Fish Or Cut Bait

Bubba's Law
by Bob Ciminel

February 26, 2005
Saturday

As spring approaches, tornado season begins in the southeastern United States. Although we normally don't experience tornados as frequently as the folks in the Midwest, ours are very sneaky. We don't have those wide expanses of nothingness that allows storm chasers to follow twisters for miles. Nope, ours come up on us all of a sudden, and usually when we least expect them. A particularly damaging season in 1999 resulted in better prediction methods and warning sirens, as well as a run on weather alert radios. I have two of them.
Several people were killed by the tornados of 1999, which prompted major investigations by our local universities, all funded by your Federal tax dollars. The result was "Bubba's Law," a term coined by Billy Bob Berryderry, then a freshman at the University of Georgia. But, first, a little bit of background.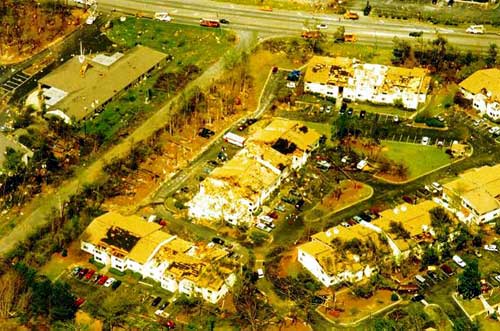 "Damaged Apartment Complex, Dekalb County, GA"
Credit: National Weather Service

We don't get those "We're-not-in-Kansas-Anymore-Toto" type of twisters that you see on the Discovery Channel. Ours are rarely spotted before they hit, but witnesses always hear them coming. The typical interview will go something like this:
TV Reporter: "What was your first warning before the tornado destroyed your double-wide?" (Note: If you live in a double-wide, please read the last paragraph before you send me hate mail.)
Eyewitness: "Well, I heard a noise, kind-a like a freight train, comin' up the valley, and the next thing I knew, the lights went out in Georgia."
No one around here ever sees a tornado, they just hear them, and their descriptions are pretty much the same. A few weeks ago, a good ol' boy was driving home from a country and western bar and had to stop to relieved himself of a few quarts of Miller Lite. The problem was, he stopped on the railroad tracks and his pickup got smacked pretty hard by a CSX freight train. Luckily, the boy survived. I saw the interview on the local news channel.
TV Reporter: "What was your first warning before the train hit your truck?"
Good Ol' Boy: "Well, I heard this noise, kind-a like-a tornado, comin' up the tracks, and the next thing I knew, my lights went out."
The results of our in-depth, Federally-funded tornado study came up with what we Southerners have intuitively known for a long time - tornados are attracted to trailer parks. The data were conclusive, with only one anomaly, and that was the Tornado of 1998. That twister came roaring up I-75 in the early hours of the morning; took the appropriately named Windy Hill Exit, and then tore up an upscale apartment complex on Powers Ferry Road. ("Upscale apartment" in Atlanta means the complex has one of those electric gates with a keypad and combination that 90% of the service workers and subcontractors in Metro Atlanta know - besides, the gates are always open.)
That rascally storm then got back on I-285 eastbound; got off at the Dunwoody Exit, and wrecked a bunch of homes in several subdivisions. This type of tornado behavior did not fit the model we've come to know, but those scientists pulled out some old maps of the Atlanta area and found the answer. There were once trailer parks at those locations.
It was exactly like the first "Poltergeist" movie; the developers never told anyone the property had once been used as a trailer park in the early Fifties. So, when the builders found all those concrete blocks lying around that once supported single- and double-wide trailers, they used them in the basement foundations for the new homes and apartments.
This revelation prompted our state legislature to enact a stringent requirement that sellers must identify on their property disclosure forms if the land was ever used as a trailer park. To keep things consistent with our scientific findings, we call it Bubba's Law in honor of Bubba Pikens, a Remax agent who was killed by a tornado. During a day of severe thunderstorms, he went to one of his new listings to install the lockbox. Bubba was unaware that the owner had a double-wide trailer parked out back. As he was standing at the front door putting on the lockbox, a microburst twister swooped down and sucked him up. They found Bubba two blocks away. He never knew what hit him. People say Bubba looked like he'd been run over by a freight train.
Each new round of tornados seems to confirm the Bubba theory. Shortly after the "big" tornado of 1999, four small twisters came into Georgia from Alabama late one afternoon. Only two touched down, and then only for a few seconds, but that was long enough to cause damage. One twister destroyed a mobile home factory southwest of Atlanta, and the other tore up a mobile home sales lot in Acworth, north of the city. Nothing else was damaged, and nobody witnessed the tornados touching down. Witness said they only heard what sounded like a freight train coming through the woods.
(Note to mobile home dwellers: Believe me; I have the greatest respect for people who live in trailer parks. I used to live in one. There are great Americans living in those mobile homes and manufactured houses; people who will invite you in for a beer at the drop of a hat. I recall staying up many nights drinking beer, eating sausage-and-pepper Hoagies and listening to Johnny Cash sing "Folsom Prison Blues" with my trailer park friends. They were good, honest people. These days, I hardly make it past 10 p.m. without nodding off. I drink single-malt Scotch, and I listen to New Age music. And I sure miss my trailer park friends.)

Bob Ciminel lives in Roswell, Georgia, and works for the Institute of Nuclear Power Operations. Bob is also a conductor on the Blue Ridge Scenic Railway.




ciminel@sitnews.us
Bob Ciminel ©2001 - 2005
All Rights Reserved


Post a Comment View Comments
Submit an Opinion - Letter

Sitnews
Stories In The News
Ketchikan, Alaska