Fish or Cut Bait
Snow Day
By Bob Ciminel
January 28, 2006
Saturday

Atlanta has been lucky so far this winter; we've not had any snow or sleet, and only one day with freezing rain, and that was cleared up by mid-morning. You don't want to be in Atlanta when it snows.
The denizens who inhabit metropolitan Atlanta panic at the mere mention of snow, which is surprising because many of them - and all the ones who drive - came down here from the North, including places where "winter" means nine months of snow and ice followed by three months of poor sledding.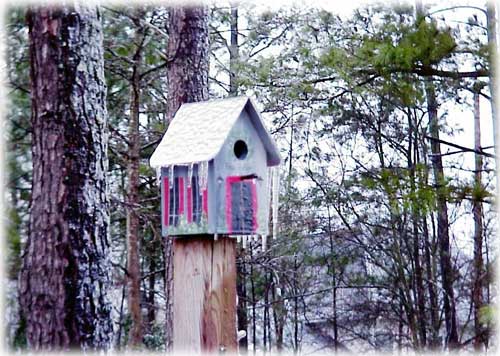 Photograph by Bob Ciminel

A National Weather Service bulletin announcing a winter storm watch starts the ball rolling. The bulletin is picked up by all the radio and television stations, immediately leading to hourly updates and messages scrolling along the bottom of your television screen. It will become the number one story of each hourly newscast, along with man-in-the street interviews, and shots of people looking worried about snow. Each television newscast also includes archived shots of previous snow storms showing all the mayhem, downed trees and power lines, and the ubiquitous barroom interviews of college students binge-drinking their way through a winter storm party. Now, keep in mind that all of this is occurring before the storm has crossed the Rocky Mountains or left Chicago heading south.
A winter storm warning results in news flashes and radio updates at about the same frequency as the rush hour traffic reports - every six minutes. The highways and byways become jammed with people rushing out to buy bread, milk, beer, and gas. The order of priority for those purchases being determined primarily by age, marital status, and family size. If any of those four items are unavailable, beer immediately moves to the top of the list. Those seen topping off their gas tanks typically drive four-wheel or all-wheel drive vehicles, heavily weighted toward large SUVs.
A single flake of snow or an icicle observed anywhere within a 500-mile radius of Atlanta is the signal to initiate 24-hour coverage of the impending storm. Reporters and remote broadcast trucks are dispatched to strategic overpasses and hills where previous storms have resulted in lots of video of cars, trucks and buses uncontrollably sliding into guard rails or other objects. As they wait for the snow, the cameras focus on the ground to detect the slightest glimmer of ice or freezing rain. The reporters make small talk encouraging people not to drive in ice or snow, all the while praying that two or three hundred idiots will ignore them - which is a given - and hit that slick spot on the overpass doing about 70 miles an hour, which is only 20 miles an hour slower than they normally drive, unless it's raining, in which case they speed up.
When, and if, the storm finally arrives, most people are totally fatigued from the coverage. The snow usually comes late at night or early in the morning, timing its arrival for the morning rush hour. People are surprised. There has been so much coverage of the coming storm that many forgot when it was actually supposed to snow.
The schools close and most people stay home and watch the news. The smart ones wait until 11 o'clock and give the inevitable sunshine that follows every storm time to melt it away. Then they cautiously drive to work, remarking at all the four-wheel drive and all-wheel drive SUVs that have slid into ditches, trees, or each other.
Ah, winter in Atlanta. One of the few places where else can you watch the Keystone Cops, Three Stooges, and your favorite cartoon characters all at the same time.

On the Web:
Fish or Cut Bait by Bob Ciminel

Bob Ciminel's articles may include satire and parody, and mix fact with fiction.
He assumes informed readers will be able to tell the difference.
Bob lives in Roswell, Georgia, and works for the Institute of Nuclear Power Operations. He is also a conductor on the Blue Ridge Scenic Railway.




ciminel@sitnews.us
Bob Ciminel ©2001 - 2005
All Rights Reserved

Publish A Letter on SitNews Read Letters/Opinions
Submit A Letter to the Editor

SitNews
Stories In The News
Ketchikan, Alaska