Fish Or Cut Bait
A Mighty Wind
by Bob Ciminel

January 11, 2005
Tuesday

With the world focused on the catastrophe that befell Southeast Asia, we tend to forget that people in this country are also dealing with the lingering effects of a natural disaster. Of course, there is absolutely no comparison in the number of lives lost, the economic cost, or the effect on the people by that terrible tsunami. However, for a few days last week I was able to tear away from the events in Southeast Asia and hop on Delta Flight 1491 for a trip down to south Florida to the St. Lucie nuclear plant.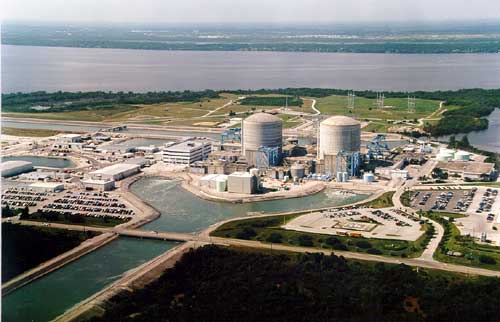 St. Lucie plant.
Credit: "Courtesy of Florida Power & Light Company."

As we dropped below 10,000 feet on our approach to Palm Beach International airport, I looked out the window and thought we were flying over a Caribbean island instead of southeastern Florida. I gazed down on thousands of bright blue roofs. There were entire subdivisions with blue roofs on every home. As descended, details became clearer and I recognized the blue tarps stretched across homes damaged by last summer's hurricanes.
As with most weather-related disasters, wind does not discriminate. Almost every house I could see sustained some roof damage. Shingles are shingles, whether they are on a $100,000 house or a $600,000 house.
However, West Palm Beach was not my destination; I was heading 50 miles up the coast to Ground Zero, where hurricanes Frances and Jean came ashore in September 2004. Picking up my rental car and jumping on to I-95 North, I headed for Port St. Lucie. Things looked pretty good along the Interstate; a few fences blown down; some signs missing; a couple of large trees showing their roots to the world. My hotel was in good shape, other than some peeling drywall tape in the ceiling above the window - wind-blown rain, I'm sure. Well, at least it was habitable.
My hotel was about 25 miles away from the plant. All the hotels near the power plant had sustained some damage, and rooms were $200 a night. The one I was staying in was only $160 a night - quite a savings!
I hadn't been in Port St. Lucie since the early Nineties when my late brother-in-law lived there, so I thought I'd better drive out to the plant to be certain I remembered how to get there. As I crossed the causeway onto Hutchinson Island, I thought I had entered a recent battlefield. Two hurricanes left the island in pretty bad shape; it was functional, but not beautiful as I remembered it.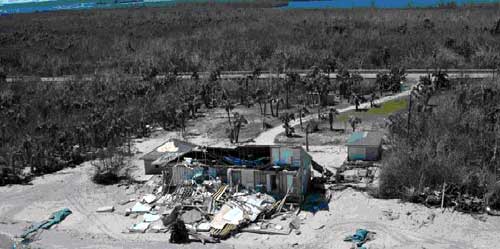 Damaged house on the beach

Hurricane Frances was the first to arrive, hitting the barrier island at 3:30 a.m. on September 8, 2004. Frances packed 70-knot winds, with gusts as high as 83-knot gusts. I'll let you salty mariners out there convert that to miles per hour. Here's a hint: 1 knot = 1.15077945 mph. St. Lucie nuclear power plant was right in Frances' crosshairs; however the station had been shut down on September 3 and three complete shifts of workers were on site to deal with any problems. There were none.
Hurricane Jeanne came two weeks later, arriving over Hutchinson Island at 5:30 a.m. on September 26, with 111-knot winds. This time St. Lucie power plant was south of the storm, and, again, the plant had been shut down a day earlier in anticipation of the hurricane's arrival.
According to the St. Lucie County damage assessment group: "Hurricane Frances destroyed or caused major damage to 100 major structures, including 50 single-family dwellings, 21 multifamily dwellings, six commercial or other buildings, and 23 nonhabitable major structures. Hurricane Jeanne destroyed or caused major damage to 40 major structures, including four single-family dwellings, 22 multifamily dwellings, four commercial or other buildings, and 10 nonhabitable major structures. Both storms also destroyed 1,300 feet of backshore sills. Countywide, the St. Lucie County Building Department reported nearly 17,000 residences and buildings sustained damage.
As for the St. Lucie nuclear plant, it was back on line the following week. There was no need to hurry; there was no place to send the power.
Bob Ciminel lives in Roswell, Georgia, and works for the Institute of Nuclear Power Operations. Bob is also a conductor on the Blue Ridge Scenic Railway.




ciminel@sitnews.us
Bob Ciminel ©2001 - 2005
All Rights Reserved


Post a Comment View Comments
Submit an Opinion - Letter

Sitnews
Stories In The News
Ketchikan, Alaska