Column
Purging of the 'Fake News'
By ARTHUR MARTIN
November 26, 2016
Saturday AM

(SitNews) - Shortly after Trump became President-Elect the Elite Globalists panicked trying to figure out Why Trump won. Before long their answer became apparent: Too. Much. Media. Coverage. Trump not only received free press-coverage but he also completely by-passed the Main Stream Media whenever he wanted by spreading his message on Alternative Conservative news sites, as well as, social media platforms like Facebook, Twitter and Youtube.
In response to Trump's effective use of social media, alternative news and free press coverage the elite globalists decided to purge and discredit these news sources by labeling them "Fake News" and banning any people who may have credibility on the Conservative Right.
More specifically Facebook and Google announced last week that they are setting up algorithms to get rid of "Fake News" (which of course are Conservative news)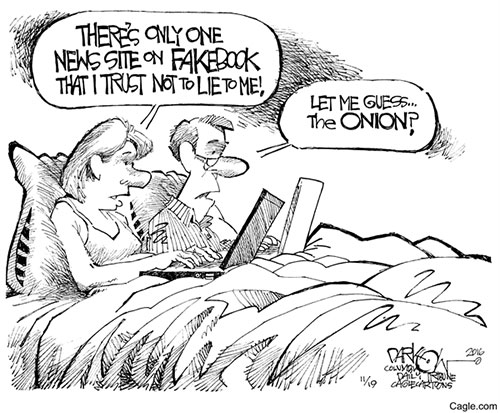 Fakebook
By John Darkow ©2016, Columbia Daily Tribune, Missouri

Meanwhile, last week Twitter purged a slew of Conservative Right figures that are related to these "Fake News" websites. While on the other hand "officially "verifying" [note:requires a Twitter membership to open link] the terror organization "Muslim Brotherhood." Coincidence? Perhaps but it definitely makes one think.
Now, the universal irony of all this is that one of the reasons Trump won was not necessarily because people liked Trump but because the entire MSM stopped having any semblance of balanced reporting.
In fact, for the first time in its history, the editorial board of the New York Times endorsed Hillary Clinton and wrote on September 25th "Why Donald Trump Should Not Be President". Now I can't fault an institution for having an opinion, but then the NFL started becoming political, police officers where being shot in the streets, and when entire cities where starting to riot the people started questioning the narrative.
The American people realized that the entire Main Stream Media is in fact the real purveyor of fake news and they lost all confidence in their reporting. A study in April showed only 6% have "great confidence" in the press. This would explain, for example, why The NY Times reported a 95.7% fall in quarterly profits!
What's the point?
When I talked to many of my friends and acquaintances about this election—regardless of whom they supported. They all agreed that this election helped drop the wool over their eyes and revealed the utter and complete corruption in this country. From social media, television, and press and all the way up to the federal government they all had an agenda to oppose a Trump Presidency.
In the 'elites' attempt to control their narrative by having a biased agenda and purging opposing points of view (ie the Conservative Right) they have created a massive opportunity for alternative news and media which is now being exploited.
The new alternative to Twitter (which doesn't censor anyone) is Gab.ai (yours truly has an account there.)
The new alternative to Reddit (which also doesn't censor anyone) is Voat.co
While there is not yet a viable alternative to Facebook and Youtube, I'm sure someone somewhere who respects freedom of speech is working on it.
In the mean time, I encourage you to check out these different alternatives and to remind yourself, "just because a news source isn't from the Main Stream that doesn't mean it's Fake". Further more—as this election has proven—just because you are the lone voice in the wilderness, it doesn't mean that you are wrong. You don't need to be rude, obnoxious or riot in the street, but you should never have to apologize for holding an opinion. Likewise, if there is an organization that you disagree with then express it where it hurts most—in their pocket book—and boycott.
Until next time.
"Never Apologize For Being Correct
Many people, especially ignorant people, want to punish you
for speaking the truth. For being correct. For being you.
Never apologize for being correct,
or for being years ahead of your time.
If you're right and you know it, speak your mind.
Speak your mind.
Even if you are a minority of one, the truth is still the truth."
~Mohandas Gandhi
In Related News: "When students at the country's top university for journalism start banning newspapers we know we've hit peak censorship"
Arthur Martin ©2016
Arthur was originally born in the Soviet Union and immigrated legally to Alaska when he was young. He graduated from Craig, Alaska. Holds a Bachelor's Degree from the University of Alaska Fairbanks and worked for the Alaska State Legislature for three sessions.
Arthur now lives on Prince of Wales Island. He can be contacted at powreport@gmail.com - This column has been edited by the author.
Arthur Martin is the Editor of the P.O.W. AK Report
www.powreport.com
Representations of fact and opinions in comments posted are solely those of the individual posters and do not represent the opinions of Sitnews.

Contact the Editor
SitNews ©2016
Stories In The News
Ketchikan, Alaska

Articles & photographs that appear in SitNews may be protected by copyright and may not be reprinted without written permission from and payment of any required fees to the proper sources.

E-mail your news & photos to editor@sitnews.us

Photographers choosing to submit photographs for publication to SitNews are in doing so granting their permission for publication and for archiving. SitNews does not sell photographs. All requests for purchasing a photograph will be emailed to the photographer.