Alaska Electoral College To Cast Votes for President and Vice-President
By MARY KAUFFMAN
December 18, 2016
Sunday AM

(SitNews) Juneau, Alaska - On Monday, December 19, members of the United States Electoral College will cast their vote which ultimately elects the President and Vice-President of the United States. Each state gets a number of electors equal to its United States Congressional representation therefore Alaska has three electors.
In Alaska, political parties select their electors and submit the names to the Division of Elections. The electors represent the political party of the Presidential candidate who won the popular vote in Alaska, which for 2016, is the Alaska Republican Party. Alaska's electors are former Governor Sean Parnell, Jacqueline Tupou of Juneau and Carolyn Leman of Anchorage. Under state law, each elector must "pledge" that as an elector, the person will cast his or her electoral vote for the candidate of the party. For 2016, Alaska's electors will cast a vote for Donald J. Trump for President and Michael R. Pence for Vice President of the United States.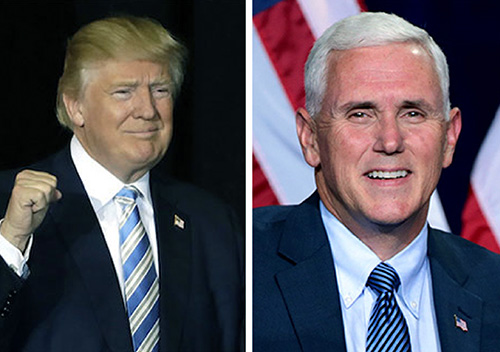 Alaska's electors will cast a vote for Donald J. Trump for President and Michael R. Pence for Vice President of the United States on December 19, 2016.
Photos courtesy commons.wikimedia.org
In Alaska, Trump won over Clinton 53 to 38 percent. However, in a last ditch effort lawsuit was filed by Janice Park, a Hillary Clinton voter in Anchorage, against Alaska's electors claiming that because Clinton won 2.8 million more popular votes than Trump nationwide, the Alaska electors would be dening her her Fifth Amendment right of equal protection if the electors do not cast their vote for Clinton.
However, a federal judge in Alaska has thrown out the lawsuit brought by Park seeking to prevent the state's three electoral college voters from casting votes for President-elect Donald Trump.
U.S. District Court Judge Timothy Burgess said the electoral college is spelled out in the U.S. Constitution. Burgess said in a written order that Janice Park's remedy rested not with the courts but with the constitutional amendment process.
Park, of Anchorage, claimed that electors casting votes for Trump would violate her Fifth Amendment right of equal protection and deny her the principle of one person, one vote. She based her claim on the fact that Clinton is winning the popular vote but will lose the electoral college. Park asked for an expedited hearing, which Judge Burgess granted her. The matter was heard Thursday in Anchorage.
In Alaska, Trump beat Clinton by nearly 47,000 votes earning Alaska's three electoral votes.
Along with the rest of the nation, Alaska's electors will meet Monday, December 19, 2016 to cast their electoral votes. Alaska's televised ceremony will take place at 11:00 a.m. in Juneau at Alaska's new Father Andrew P. Kashevaroff Library, Archives and Museum. Presiding at the meeting of the Electors will be Lieutenant Governor Byron Mallott.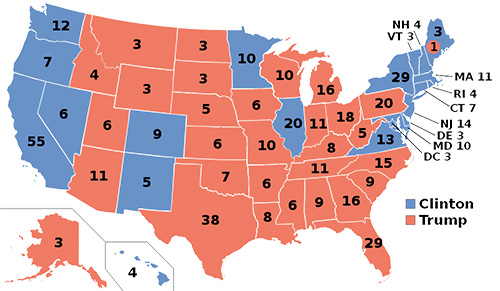 Chart courtesy wikipedia.org

Two hundred and seventy electoral votes are needed to win the White House. It is believed that Trump has 305 of the total 538 electoral votes. Other than one elector in Texas who is refusing to honor the electoral rules requiring him to cast his vote for Donald Trump.
The states with the most electoral votes are: California (55), Texas (38), New York (29), Florida (29), Illinois (20) and Pennsylvania (20). These six states control 191 electoral votes. In the popular vote count, California gave Clinton at least 3 million, which would have been enough to swing the general popular vote election for her. However, if the Electoral College balancing process were not in place, states like New York and California could on their own determine the presidency.
The public is welcome to attend Electoral College voting event. The Division of Elections sent an invitation to all current and newly elected legislators as well as Juneau's Mayor and Assembly Members. The program will include performances by the Juneau Douglas High School Choir/Alaska Youth Choir and a Presentation of Colors by members of the District 17 U.S. Coast Guard.
The half-hour event will be broadcast live on 360 North, the statewide public affairs television channel. 360 North is seen on ARCS, on GCI Cable and over the air in Anchorage, Fairbanks and Bethel. The event will also be streamed live at www.360north.org.
The United States Electoral College is a mechanism established by Article Two of the United States Constitution in the indirect United States presidential election system to select the President of the United States and Vice President of the United States. Citizens of the United States vote in each state at a general election to choose a slate of "electors" pledged to vote for a party's candidate.
The Twelfth Amendment requires each elector to cast one vote for president and another vote for vice president. There are currently a total of 538 electors, corresponding to the 435 Representatives, the 100 Senators, plus three electors for the District of Columbia as provided for in the Twenty-third Amendment. Each state chooses electors amounting to the combined total of its Senators and Representatives. The larger a state's population, the more electors it has.
Representations of fact and opinions in comments posted are solely those of the individual posters and do not represent the opinions of Sitnews.

Contact the Editor
SitNews ©2016
Stories In The News
Ketchikan, Alaska

Articles & photographs that appear in SitNews may be protected by copyright and may not be reprinted without written permission from and payment of any required fees to the proper sources.

E-mail your news & photos to editor@sitnews.us

Photographers choosing to submit photographs for publication to SitNews are in doing so granting their permission for publication and for archiving. SitNews does not sell photographs. All requests for purchasing a photograph will be emailed to the photographer.