President Announces Actions to Protect Natural and Cultural Resources in Alaskan Arctic Ocean
Alaska Officials Express Concerns With Latest Executive Order
By MARY KAUFFMAN
December 11, 2016
Sunday AM

(SitNews) - Friday, President Barack Obama announced new steps to enhance the resilience of the Alaskan Arctic environment and the sustainability of Alaskan native communities with the creation of the Northern Bering Sea Climate Resilience Area.
According to the White House, the coastal tribes along the northern Bering Sea and the Bering Strait requested that the Federal Government take action to protect the health of the marine ecosystems of the Northern Bering Sea and Bering Strait while maintaining opportunities for sustainable fishing and sustainable economic development. Native villages in the northern Bering Sea region of Alaska largely practice a subsistence-based lifestyle that is inextricably tied to the rich marine ecosystem of the Bering Sea. Warming ocean temperatures, sea ice loss, and increasing ship traffic can all impact the subsistence practices and food security of these communities.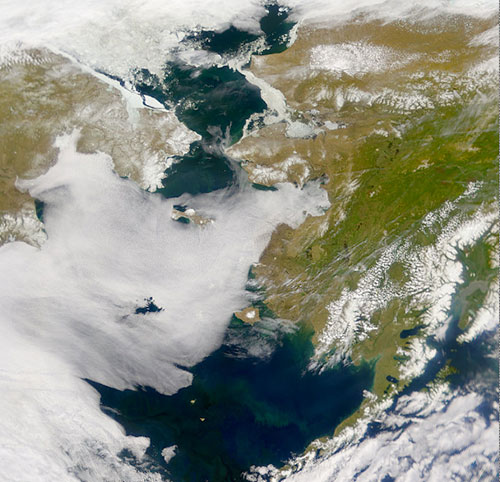 Satellite photo of the Bering Sea
Russia is visible on the left and Alaska is visable on the right.
Courtesy NASA
In direct response to these requests, President Obama signed an Executive Order creating the Northern Bering Sea Climate Resilience Area. This area, encompassing 112,300 square miles, represents a hugely productive, high-latitude ocean ecosystem and supports one of the largest seasonal marine mammal migrations in the world, including thousands of bowhead and beluga whales, hundreds of thousands of walruses and ice seals, and millions of migratory birds. It is home to more than 40 tribes of coastal Yup'ik and Inupiaq peoples whose way of life has been linked with the marine environment for thousands of years.
Alaska Governor Bill Walker (I) responded to the announcement saying, "We support Tribal leaders in the Bering Straits region who worked diligently to provide economic opportunities for their community while protecting valuable resources."
"However," said the Governor, "the State of Alaska is concerned about any further erosion of our ability to support much needed resource development at a time when the state is grappling with declining oil prices and production. We are concerned about the timing and lack of clarity on how this executive order will be implemented in the coming years."
The Northern Bering Sea Climate Resilience Area announced by the President is delineated for the purpose of focusing a locally-tailored collection of protections related to oil and gas, shipping, and fishing. The order also establishes a Task Force charged with coordinating Federal activities in this area to enhance ecosystem and community resilience, conserve natural resources, and protect the cultural and subsistence values this ecosystem provides for Alaskan native communities. Further, agencies are directed to consider traditional knowledge in decision making and establish a formal consultative mechanism for engaging with regional tribal governments to seek their input on Federal activities. This action advances science-based decision-making and engagement with Alaska Native peoples in addressing the changing Arctic consistent with the Joint Statement signed at the White House Arctic Science Ministerial and consultation with Alaska Natives in preparation for the Ministerial.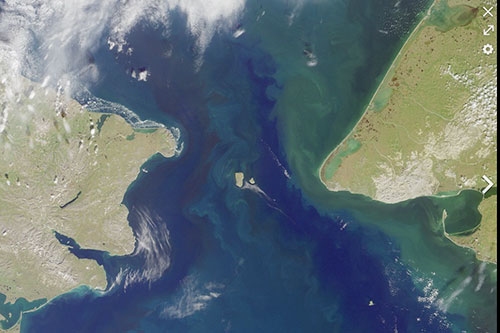 Satellite photo of the Bering Strait
Courtesy NASA


In addition to Friday's protections, the Obama Administration announced approximately $30 million in philanthropic commitments for projects in rural northern Alaska and Canada. These projects include investments over the next three years related to shipping, ecosystem science, community and ecological resilience, and tribal engagement. Earlier in the week, the U.S. Department of Commerce deployed an Economic Development Assessment Team to Nome, Alaska to help the region diversify, grow its economy, and address challenges related to climate change and community resilience.

Friday's actions are also supportive of the March 2016 U.S.-Canada Joint Statement on Climate, Energy, and Arctic Leadership and make substantial progress on its objectives of conserving Arctic biodiversity through science-based decision-making, incorporating indigenous science and traditional knowledge into decision-making, and supporting strong Arctic communities. These actions employ science-based leadership to improve marine and coastal resilience and sustain our Nation's precious natural resources.

Kawerak, Inc., the Bering Sea Elders Group, and the Association of Village Council Presidents, which together represent more than 70 federally recognized tribes, were instrumental in achieving this landmark decision to create the Northern Bering Sea Climate Resilience Area.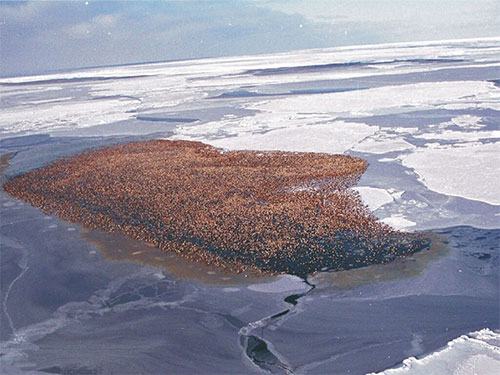 Spectacled eiders in winter ice - Bering Sea region
Photo Bill Larned-USFWS.jpg
Kawerak, Inc. stated in a press release that Friday was a historic day for the people of the Northern Bering Sea. The Being Strait Region is ground zero for climate change and is also the chokepo9int for marine traffic, which is increasing dramatically as a result of the lessening ice. Kawerak, Inc. stressed this area is home to marine mammals, fish and seabirds, which are essentially the breadbasket and the garden for the people in the region. Quoting the press release, "This rich marine ecosystem is critical to our culture and survival as a people as it provides subsistence resources that our Tribes and communities have relied on for thousands of years.
Kawerak, Inc. said President Obama heard their voices in announcing the Executive Order that will safeguard their marine environment.
Quoting a news release, the Association of Village Council Presidents (AVCP), a tribal consortium representing 56 Alaska Native Tribes in the Yukon-Kuskokwim Delta, joined the efforts of the Bering Sea Elders Group and Kawerak, Inc., in requesting White House action to protect these vital waters from the damaging effects of climate change and industrial threats to the subsistence way of life critical to the food security of the region. The AVCP said the President's Order outlines a policy that recognizes the mutual relationship their Tribes have to these waters, and the importance of purposeful management of the resources in this area as the ocean temperatures rise.
"The Bering Sea is like our grocery store and we were born knowing the importance of these waters. Our task is to protect it," said Vivian Korthuis, CEO of the Association of Village Council Presidents, and Tribal Member of the Native Village of Emmonak. "AVCP is grateful that the President heard our request."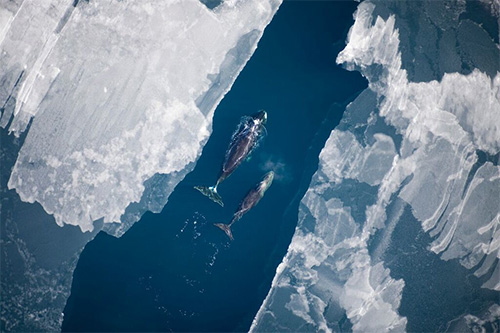 Bowhead Whale - Bering Sea region
Photo by Amelia Brower, NOAA

"Whales, walruses, seals, and millions of seabirds travel by our islands and coastal villages. Our culture formed around this powerful phenomenon. It is where our stories come from, the foundation of our traditional knowledge," said Frank Oxereok, the Elder Representative from Wales on the Bering Sea Elders Group, and one of the elders who traveled to Washington, D.C. in support of the President's action. "I appreciate the President's announcement because he really listened to us and understands what is at stake for our Tribes."
"The Native people in our region are experiencing climate change first-hand. Going forward, it's important that we 'do no more harm,'" said Charles Degnan, Elder Representative to the Bering Sea Elders Group from Unalakleet, and one of those who traveled to Washington, D.C. on behalf of the organization. "The Executive Order will help the ocean be more resilient to climate change, and help our people prepare for the future. We are doing this for our children and their inheritance."
Others were keenly interested in the inclusion of indigenous knowledge and creating a real and robust role for Tribes. "President Obama recognizes our people's need for self-determination. The Executive Order paves a way for Tribes to have a greater role in decision-making. And he is the first president to require that our traditional knowledge and expertise be applied to federal management decisions, answering a decades-long drum beat of our people," said Fred Phillip, Executive Director of Bering Sea Elders Group. "This is real progress, and we wholeheartedly thank the President for working with us."
Friday, the Alaska Congressional Delegation spoke out against the Executive Order by President Obama that would create a "Northern Bering Sea Climate Resilience Area" for over 112,000 square miles off Alaska's western coast, in addition to withdrawing 40,300 square miles of federal waters from oil and natural gas leasing.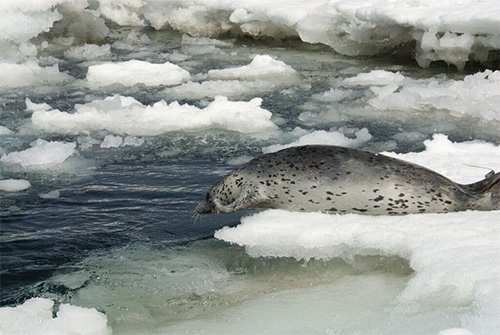 Spotted seal - Bering Sea region
Photo courtesy NOAA

Under the Outer Continental Shelf Lands Act, the President had already withdrawn Norton Basin planning area and portions of the St. Matthew-Hall planning area from future oil and gas leasing to further protect the regional ecosystem and coastal communities. The five year leasing plans issued by the Department of the Interior do not include plans for leasing in the withdrawn areas, so there will not need to be changes to those plans to reflect the withdrawal. The total area withdrawn from leasing through this Executive Order is 40,300 square miles.
"This is the first time we have ever seen the term 'climate resilience area' in Alaska or anywhere else," Senator Lisa Murkowski (R-AK) said. "We have no idea what that designation is supposed to mean, what legal authority it is supposed to rest on, what the limitations for it will be, or what it will mean for subsistence, shipping, fishing, and other activities in western and northern Alaska."
Murkowski said, "To me, this sure sounds like a euphemism for a marine monument, because it locks up over 112,000 square miles of Alaska waters and seems destined to impact a wide range of communities, tribes, and industries in our state. While I strongly support meaningful consultation with tribes, this opens the door to a whole host of unknowns, and could easily be misapplied to block even the most responsible Arctic subsistence, activities, and development."
U.S. Senator Dan Sullivan (R-AK) said, "Once again, the Obama administration has used unilateral action to hurt Alaskans. This executive order, drafted behind closed doors, unilaterally closes fishing grounds, removes oil and gas leasing, and creates hurdles to shipping, all with the stroke of a pen - without any consultation with the State, Alaska's Congressional delegation, or public notice, consultation, or comment."
Sullivan said, "I will work closely with Senator Lisa Murkowski, Congressman Don Young, and the incoming administration to repair the damage done by eight years of the Obama Administration and to restore the ability of Alaskans to determine their economic future and the ways their lands and water will be managed."
Congressman Don Young (R-AK) said, "Thank God the Obama Administration only has 42 days left in office; we will be working to undo this action come January 20th."
Young said, "This is just another example of federal agencies attempting to exert their authority over the Alaskan and American people. Not only does this leave me extremely worried about future economic activity in the region, including fisheries, I see it as a backdoor attempt to limit certain activities north of the Bering Strait – like future resource development. We've already seen a costly and overly prescriptive regulatory regime for the Arctic, and this action leaves the door wide open for even more roadblocks and hurdles."
"Even worse," said Young, "I've already heard from many in the Alaska Native community that this came as a complete surprise – a total contradiction to the President's own policy on consultation. As President Obama attempts to solidify his legacy as an extreme environmentalist, it's clear he has very little respect for the Alaskan people and our economic future."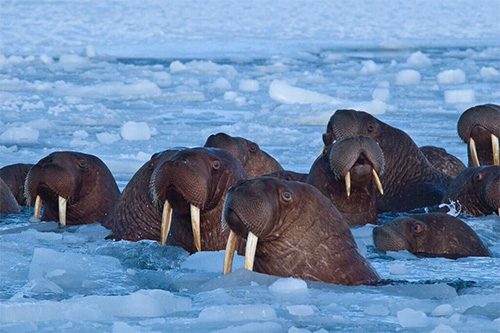 Walruses - Bering Sea region
Photo by Andrew Trites, courtesy Bering Sea Elders Group

Sen. Mike Dunleavy (R-Mat-Su & Copper River valleys) also responded to the announcement of President Obama's executive order preventing future oil and gas leases in two offshore areas of Alaska.
Dunleavy said, "This decision by President Obama is yet another attempt to put his no development, no jobs, agenda ahead of Alaska and its people."
"Alaska was granted statehood under the premise that we would be allowed to develop our resources for the maximum benefit of our people," said Dunleavy. "Yet, this act hamstrings our state by walling off potential oil and gas exploration."
"More lease sales means more jobs and economic activity for Alaska, which is currently in a recession and has the highest rate of unemployment in the country. This action only worsens that situation," said Dunleavy.
Dunleavy is calling upon President-elect Trump to do everything in his power to reverse this executive order and open more offshore basins for development. Dunleavy said, "Alaska has the potential to be the natural resource engine for this country if simply allowed the opportunity to develop its resources."
"This was a bad decision made by a President on his way out the door, a decision that hurts Alaskans. We need more activity, not less. We need jobs, not bad decisions by a President in the waning days of his administration," said Dunleavy.
The Executive Order also makes it Federal policy to support the continued prohibition on bottom trawling, which destroys sensitive benthic ecosystems. Sea bottom habitat is extremely important to the ecosystem in the Northern Bering Sea and helps to support the incredible abundance of marine mammals and sea birds in the region, including critical subsistence resources. In recognition of these connections, bottom trawling has already been banned in the region to protect the sea floor.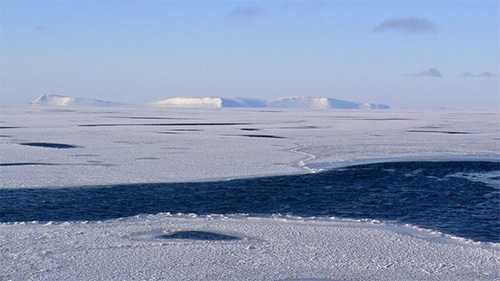 St. Lawrence Island - Bering Sea region
Photo By Brenna McConnell, courtesy Bering Sea Elders Group

Regarding shipping, the Executive Order directs the Coast Guard to give careful consideration to community recommendations regarding environmentally sensitive Areas to Be Avoided (ATBAs) and to publish its initial findings by the end of 2016 and to move its conclusions to the International Maritime Organization for action by 2018. The Coast Guard is nearing completion of a Port Access Route Study (PARS) for the region. A PARS is the first step in assessing the need for vessel traffic control measures and developing a set of recommendations.
Friday's actions by President Obama also establishes a Federal Task Force on the Northern Bering Sea Climate Resilience Area (Bering Task Force), under the Arctic Executive Steering Committee (AESC) established by Executive Order 13689. The Bering Task Force will coordinate Federal activity and consider additional mechanisms to reduce impacts to subsistence and cultural activities within the Northern Bering Sea Climate Resilience Area. The Executive Order also formally elevates the voice of Alaskan native tribes and the role of indigenous knowledge in decision-making within the region by mandating that the Task Force establish and engage in regular consultation with a Bering Intergovernmental Tribal Advisory Council, which will consist primarily of tribal government representatives with participation from Federal, state, and local officials for coordination purposes. Together, these two groups will guide the incorporation of valuable traditional knowledge and science into Federal resource management in the northern Bering Sea region, thus preserving this unique ecosystem and the indigenous peoples who rely upon it.
Kawerak, Inc. said they are looking forward to facilitating involvement of the people most affected by decisions in the arctic - the people who actually live there - to guide management of the important ocean resources in their region.
On the Web:
Executive Order -- Northern Bering Sea Climate Resilience - December 09, 2016
https://www.whitehouse.gov/the-press-office/2016/
12/09/executive-order-northern-bering-sea-climate-resilience
Sources of News:
White House - Office of the Press Secretary
www.whitehouse.gov

Office of Gov. Bill Walker
www.gov.alaska.gov

Association of Village Council Presidents
www.avcp.org/

Kawerak, Inc.
http://kawerak.org

Bering Sea Elders Group
http://www.beringseaelders.org

Office of U.S. Senator Lisa Murkowski
www.murkowski.senate.gov

Office of U.S. Senator Dan Sullivan
www.sullivan.senate.gov

Office of U.S. Rep. Don Young
www.donyoung.house.gov

Sen. Mike Dunleavy (R-Mat-Su & Copper River valleys)
www.akleg.gov
Representations of fact and opinions in comments posted are solely those of the individual posters and do not represent the opinions of Sitnews.

Contact the Editor
SitNews ©2016
Stories In The News
Ketchikan, Alaska

Articles & photographs that appear in SitNews may be protected by copyright and may not be reprinted without written permission from and payment of any required fees to the proper sources.

E-mail your news & photos to editor@sitnews.us

Photographers choosing to submit photographs for publication to SitNews are in doing so granting their permission for publication and for archiving. SitNews does not sell photographs. All requests for purchasing a photograph will be emailed to the photographer.