Sitka's Blue Lake Expansion Project an Award-Winning Renewable Power Plant
December 02, 2015
Wednesday AM

(SitNews) Sitka, Alaska - POWER magazine officially announced the winners yesterday of its 2015 Top Plants in the renewable power generation category. Among the six winners, is Sitka's Blue Lake Expansion Project.
This year's six winners are located in very different locations, climates, and political and economic environments around the world. They all deploy diverse state-of-the-art technologies to address both unique and global challenges.
Even in oil-rich Alaska, islands are sensitive to the delivered price of fossil fuels, so when one island saw demand from electric heating increase, it increased its own energy supply by tapping its water resource. The Blue Lake Expansion Project provides exactly that for Sitka, allowing hydropower to supply 100% of the town's needs reports Aaron Larson of POWER magazine, based in Houston, Texas.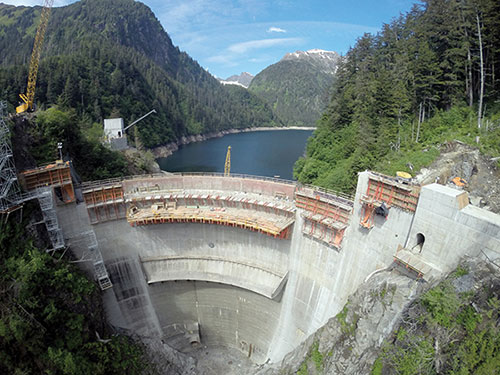 Sitka's Blue Lake Expansion Project
Photograph courtesy POWER magazine
http://www.powermag.com

Sitka is located on Baranof Island, on the outer coast of Alaska's Inside Passage, it is accessible only by air and sea (although once on the island, standard forms of transportation are common). Due to its relatively isolated location, the island is not connected to a larger electric power grid, which means the City and Borough of Sitka must operate its own electrical system and plan for changes in load.
Like Ketchikan, Sitka's climate is extremely mild for its latitude, on the 57th parallel north. The lowest recorded temperature is –1F, logged in February 1948. However, with its oceanic climate, the area receives abundant rainfall. The average annual precipitation in Sitka is 131.74 inches, more than three times the amount received in Seattle, Wash., which is considered one of the rainiest cities in the U.S. In fact, some form of precipitation is documented in Sitka during two out of every three days on average.
The City and Borough of Sitka owns and operates two hydroelectric projects, which generate electricity for the area. The Blue Lake Project was originally licensed in March 1958, while the Green Lake Project was added 21 years later. In 2002, Sitka began the process of relicensing the Blue Lake Project. At the time, fuel oil prices in Sitka were low ($0.71 per gallon) and electricity demand growth was predicted to be less than 1% annually. In other words, the Blue Lake Project seemed adequately sized to accommodate future needs.
However, from 2002 through 2008, the price of fuel oil rose steadily, to $3.24 per gallon. That increase led many residents and businesses in Sitka to switch from fuel oil to electric heating systems. Although the heating changes played a large role in electricity demand growth, the local seafood processing industry also saw unexpected growth. In 2006 alone, the city experienced a 7% load increase, followed by 5% the next year. Those two years of increases consumed 12 years of expected cushion. Something needed to be done.
The city conducted feasibility studies to determine how best to meet demand. It evaluated hydro, diesel, wind, tidal, and geothermal energy. Based on the results, hydroelectric generation was considered the best alternative. Expansion of the Blue Lake Project made more sense than expanding the Green Lake Project or developing an entirely new project. The Blue Lake Project had more water inflow than the existing turbines could use, and the dam was built in a canyon that could geotechnically support a significantly higher dam.
"Building the dam is the easiest part," said Dean Orbison, project manager for the City and Borough of Sitka to Power Magazine's Aaron Larson. "It's getting permission that's the hardest."
Sitka filed a notification of intent to apply for a capacity-related amendment to the Blue Lake Project license with the Federal Energy Regulatory Commission (FERC) in March 2008. That began the long and arduous process (Table 1) of getting approval to increase the height of the dam by 83 feet and construct a new powerhouse with three new turbines, which would increase the average annual generation by 54%. Just over four years later, FERC approved the request after the project sponsors had completed what seemed like an infinite number of meetings, studies, reports, and paperwork.
Barnard Construction was selected as the general contractor for the project. One of the first challenges it faced when construction began in November 2012 was that the steep, narrow canyon in which the dam sat had no access on one side. Therefore, all equipment had to be delivered across the dam by crane reported Power Magazine.
Barnard sourced a 600-ton lattice crawler crane from Alaska Crane for the job. With a boom length of 396 feet, it was the largest crane operating in Alaska at the time. The crane was indispensible for the project. It was used to deliver tunneling equipment to the team building a drainage tunnel in the plunge pool, as well as to set a smaller crane in place on a flexi-float barge, allowing crews to work from the upstream side of the dam. The crane was also used to deliver crews to various areas using a manbasket and, most importantly, to pour concrete into forms via an 8-cubic-yard bucket.
Hook time was critical. Operation of the crane was restricted when wind speeds reached 25 mph, but Barnard was proactive when it observed delays and brought in a second crane to make up time.
"That's what Barnard is good at," Orbison said. "They saw that they were going to be a little bit behind if they stuck with just one crane, so they stepped up and put in a second."
The aggregate, sand, and cement for the project were delivered to an industrial park located about 2 miles from the dam site. A batch plant was set up there to do the concrete mixing. Six different mixes were used, and quality control standards were monitored closely.
When each batch was ready, it was loaded in a concrete truck for transport. Workers had 90 minutes to get it into the forms. Orbison said it generally took about 40 minutes, so the team rarely had any trouble meeting the time restriction. In all, more than 9,000 cubic yards of concrete were placed, 8 cubic yards at a time.
Sitka employed Hatch Associates Consultants to perform the design phase of the project and act as the engineer of record. The city also hired the company now known as McMillen Jacobs Associates Inc. as the construction manager. In addition to providing the resident engineering of project features during construction, McMillen Jacobs Associates oversaw the onsite geotechnical aspects, including underground construction, access road construction, portal and slope stability design, and dam foundation excavation and grouting.
One of the larger design changes involved the waterways from the dam to the powerhouse. A new power intake, intake tunnel, gate shaft, and surge chamber were required. RFK Blue Lake Tunnelers, a joint venture consisting of J.S. Redpath Corp. and Frontier-Kemper Constructors, performed the underground work. New tunnels and shafts were constructed at two different sites—up at the dam and down at the powerhouse—using conventional drill-and-blast excavation.
Crux Subsurface Inc. was subcontracted to do the foundation grouting program, rock anchor installation, and micropile installation. In addition to consolidation grouting, it did curtain grouting in the left and right dam abutments to reduce the permeability of rock formations, and installed rock anchors to stabilize both abutments. Near the base of the dam, Crux completed micropile installation to support the plunge pool scour wall. The company also installed pressure relief wells and drilled exploratory core holes from within the new drainage tunnel.
Inside the new powerhouse building, three Gilkes G150 Francis reaction turbines fitted with hydraulic actuators were installed. Each of the machines was commissioned to run at 5.3 MW, but they have the potential to run at 9 MW each, if future demand warrants a change. The turbine-generator protection and control system, programmable logic controller–based droop/isochronous governor controllers, and auxiliary equipment control and monitoring was designed, manufactured, and commissioned by British Columbia–based Unit Electrical Engineering.
"Gilkes is actually a British firm," Orbison said. "Much of the equipment for this project came from all over the world—Italy, France, Canada. The generators came from the United States," reported Power magazine.
Orbison felt the biggest challenge was that much of the project construction schedule was dependent on lake level and weather. Construction on the dam and tunnels required the lake level to be low, and it changes seasonally.
"If you're late—if your material doesn't get there on time—well, the weather doesn't care," said Orbison in an interview with Power magazine. "It's going to rain and if you don't have the dam built on time, the water's going to go over whatever you've got there, and that would be a terrible disaster."
Because of the risk and the dire consequences if milestones weren't met, everyone associated with the project was motivated to meet deadlines. Orbison said that there was no such thing as a good excuse for not finishing activities on time.
"Now that it's all done, I would say that was a blessing."
POWER magazine announced this year's six winners are located in very different locations, climates, and political and economic environments around the world. They deploy diverse state-of-the-art technologies to address both unique and global challenges. The six winners:
Blackspring Ridge Wind Project, Carmangay, Alberta: Click here

Blue Lake Expansion Project, Sitka, Alaska: Click here

Desert Sunlight Solar Farm, Desert Center, California: Click here

Sihwa Lake Tidal Power Plant, Gyeonggi Province, South Korea: Click here

Olkaria Geothermal Expansion Project, Rift Valley Province, Kenya: Click here

Termosolar Borges, Les Borges Blanques, Spain: Click here
Edited by Mary Kauffman, SitNews
Source of News:
Official Publication of: Electric Power
POWER magazine - Aaron Larson is a POWER associate editor
Business & Technology for the Global Generation Industry Since 1882
http://www.powermag.com

Contact the Editor
SitNews ©2015
Stories In The News
Ketchikan, Alaska

Articles & photographs that appear in SitNews may be protected by copyright and may not be reprinted without written permission from and payment of any required fees to the proper sources.

E-mail your news & photos to editor@sitnews.us

Photographers choosing to submit photographs for publication to SitNews are in doing so granting their permission for publication and for archiving. SitNews does not sell photographs. All requests for purchasing a photograph will be emailed to the photographer.