Alaska Among Six Sites Selected by FAA for Cutting-Edge Drone Research
By MARY KAUFFMAN
December 30, 2013
Monday PM

(SitNews) - The "drones" are coming to Alaska - research that is. The University of Alaska will serve as one of six official Federal Aviation Administration unmanned aircraft system test sites, the federal agency announced today.
According to the FAA, the University of Alaska's proposal was chosen making Alaska one of the six test sites joining Nevada, New York, North Dakota, Texas and Virginia as testing grounds for unmanned aircraft systems (UAS). The Alaska-led team includes state agencies and companies in Oregon and Hawaii who joined Alaska's effort. In total, 58 companies and companies are part of the Alaska-led effort, according to ACUASI's Greg Walker of the University of Alaska.
"The University is both honored and challenged with this selection," Ro Bailey, Deputy Director, Alaska Center for Unmanned Aircraft Systems at University of Alaska Fairbanks, said. "The benefits for the state, for its citizens, for business and technology, and for the nation are exciting and potentially very dramatic."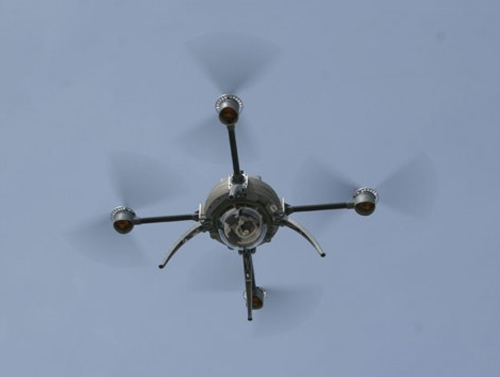 A team from the University of Alaska Fairbanks used an Aeryon Scout in Prince William Sound in 2011 in a BP-funded demonstration that tested the aircraft's oil spill response capabilities.
University of Alaska photo courtesy of Greg Walker, ACUASI


"The University of Alaska Fairbanks' reputation as an experienced, safe and savvy operator using a variety of UAS types in diverse missions and locations all over the globe undoubtedly played a major part in our selection," said Ro Bailey, deputy director of ACUASI and the intended Pan-Pacific UAS Test Range Complex director. "Alaska, Oregon and Hawaii offer exceptional climatic and geographic diversity, lightly populated airspace and overwater test opportunities that can support the majority of FAA needs."
The Pan-Pacific UAS Test Range Complex will be managed by the University of Alaska Fairbanks and the test site will build on the ongoing work of the Alaska Center for Unmanned Aircraft Systems Integration, which is part of the UAF Geophysical Institute. Operations of the test range complex are slated to begin in mid-2014.
The Federal Aviation Administration (FAA) announced today the selection of the six public entities that will develop unmanned aircraft systems (UAS) research and test sites around the country. These congressionally-mandated test sites will conduct critical research into the certification and operational requirements necessary to safely integrate unmanned aircraft systems (UAS) into the national airspace over the next several years.
Today, unmanned aircraft systems (UAS) perform border and port surveillance, help with scientific research and environmental monitoring, support public safety by law enforcement agencies, help state universities conduct research, and support various other missions for government entities.
In selecting the six test site operators, the FAA considered geography, climate, location of ground infrastructure, research needs, airspace use, safety, aviation experience and risk. In totality, these six test applications achieve cross-country geographic and climatic diversity and help the FAA meet its UAS research needs.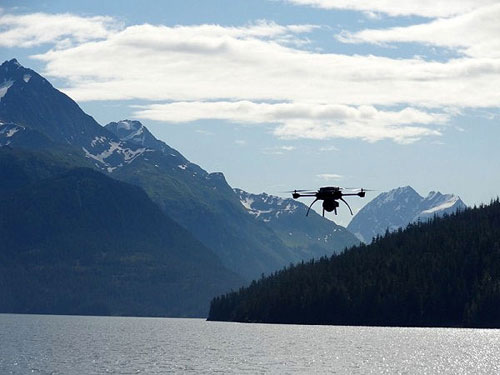 A three-pound quad-rotored unmanned aircraft was used in an oil spill response demonstration in Prince William Sound in 2011. The Scout was designed by Aeryon Labs of Waterloo, Ontario as a multipurpose imaging and surveillance platform. The Scout is battery powered and has a range of up to 1.8 miles.
University of Alaska photo courtesy of Greg Walker, ACUASI


Across the six applicants, the FAA stated in a press release it is confident that the agency's research goals of System Safety & Data Gathering, Aircraft Certification, Command & Control Link Issues, Control Station Layout & Certification, Ground & Airborne Sense & Avoid, and Environmental Impacts will be met.
"These test sites will give us valuable information about how best to ensure the safe introduction of this advanced technology into our nation's skies," said Transportation Secretary Anthony Foxx.
The FAA's role in the UAS program is to help the test site operators set up a safe testing environment and to provide oversight that ensures the sites operate under strict safety standards.
"Safety continues to be our first priority as we move forward with integrating unmanned aircraft systems into U.S. airspace," said FAA Administrator Michael Huerta. "We have successfully brought new technology into the nation's aviation system for more than 50 years, and I have no doubt we will do the same with unmanned aircraft."
The FAA has established requirements for each test site that will help protect privacy. The requirements were developed with public input and the final requirements were published on November 14, 2013 in the Federal Register. This followed the February Federal Register notice that asked for public comments on the draft privacy requirements for the six test site operators. Among other requirements, test site operators will be required to comply with federal, state, and other laws protecting an individual's right to privacy; have publicly available privacy policies and a written plan for data use and retention; and conduct an annual review of privacy practices that allows for public comment.
Alaska Lt. Governor Mead Treadwell welcomed the announcement that the Federal Aviation Administration chose Alaska as one of six states to be a test bed to integrate unmanned aerial vehicles (UAVs) or remotely piloted aircraft into civil airspace.
Treadwell is chair of the Aerospace States Association, which has advocated for the FAA's test bed program, and has helped Alaska and other states address privacy and constitutional issues related to UAVs.
"UAVs can help save lives, and promote scientific research and resource development here in Alaska," Treadwell said. "An unmanned vehicle can fly through volcanic ash clouds and into forest fires where it is not safe to send humans. They can provide observational warnings about marine mammals approaching offshore oil and gas fields. In a state as vast as Alaska, UAVs can give us information on what's happening with weather, climate, and other conditions in remote parts of our state.
"Safety and maintaining individual privacy continue to be our priority, and we're working to ensure they are never compromised," Treadwell said. "Alaska was a test bed for the next generation of air traffic control being adopted across the country. The FAA has learned Alaska airspace is a good place to advance safety for the nation."
Lt. Gov. Treadwell said many individuals and groups came together to support the Alaska proposal, made by the University of Alaska's Geophysical Institute's Alaska Center for Unmanned Aerial Systems Integration (ACUASI). An Alaska UAS Interest Group, organized by the State of Alaska, the U.S. Department of the Interior in Alaska, the FAA and the University, has hosted an annual workshop for the last seven years to help prepare for the new technology here.
U.S. Senator Mark Begich (D-AK) also welcomed the announcement that Alaska was chosen by the Federal Aviation Administration as one of the test sites.
"I fought hard to include funding for this research in the FAA bill because this kind of cutting-edge research will bring jobs, resources and a new mission to the University of Alaska system," Begich said. "This new initiative will help lay the foundation for other new economic activity in Alaska and put our state on the world map when it comes to this exciting emerging technology."
For years Begich has argued that Alaska is perfectly positioned for such research and development, given the state's enormous airspace and challenging weather and temperature conditions.
Representative Shelley Hughes, who co-chairs the State House legislative task force for unmanned aircraft systems, congratulated the University of Alaska Fairbanks for being selected and pointed out the timeliness of the task force's work. "Our members have diligently been reviewing the state's responsibility regarding privacy concerns, and we'll be bringing forward recommendations to the legislature to provide a safeguard to the public," Hughes said. "Alaska continues to be a leader in aviation, and this is the next wave. It makes sense to use UAS for the dull, dirty, and dangerous tasks."
A brief description of the six test site operators and the research they will conduct into future UAS use are below:
University of Alaska. The University of Alaska proposal contained a diverse set of test site range locations in seven climatic zones as well as geographic diversity with test site range locations in Hawaii and Oregon. The research plan includes the development of a set of standards for unmanned aircraft categories, state monitoring and navigation. Alaska also plans to work on safety standards for UAS operations.
State of Nevada. Nevada's project objectives concentrate on UAS standards and operations as well as operator standards and certification requirements. The applicant's research will also include a concentrated look at how air traffic control procedures will evolve with the introduction of UAS into the civil environment and how these aircraft will be integrated with NextGen. Nevada's selection contributes to geographic and climatic diversity.
New York's Griffiss International Airport.Griffiss International plans to work on developing test and evaluation as well as verification and validation processes under FAA safety oversight. The applicant also plans to focus its research on sense and avoid capabilities for UAS and its sites will aid in researching the complexities of integrating UAS into the congested, northeast airspace.
North Dakota Department of Commerce. North Dakota plans to develop UAS airworthiness essential data and validate high reliability link technology. This applicant will also conduct human factors research. North Dakota's application was the only one to offer a test range in the Temperate (continental) climate zone and included a variety of different airspace which will benefit multiple users.
Texas A&M University – Corpus Christi. Texas A&M plans to develop system safety requirements for UAS vehicles and operations with a goal of protocols and procedures for airworthiness testing. The selection of Texas A&M contributes to geographic and climactic diversity.
Virginia Polytechnic Institute and State University (Virginia Tech).Virginia Tech plans to conduct UAS failure mode testing and identify and evaluate operational and technical risks areas. This proposal includes test site range locations in both Virginia and New Jersey.
On November 7,2013, the FAA released its first annual Roadmap outlining efforts needed to safely integrate UAS into the nation's airspace system. The Roadmap addresses current and future policies, regulations, technologies and procedures that will be required as demand moves the country from today's limited accommodation of UAS operations to the extensive future integration of UAS into the NextGen aviation system.
As required in the 2012 FAA Reauthorization, the Joint Planning and Development Office has developed a comprehensive plan to safely accelerate the integration of civil UAS into the national airspace system. That plan details a multi-agency approach to safe and timely UAS integration and coordination with the NextGen shift to satellite-based technologies and new procedures.


On the Web:
FAA's first annual Roadmap http://www.faa.gov/about/initiatives/uas/media/UAS_Roadmap_2013.pdf

Joint Planning and Development Office developed a comprehensive plan to safely accelerate the integration of civil UAS into the national airspace system, for more information...
http://www.faa.gov/about/initiatives/uas/




Source of News:
Federal Aviation Admin. (FAA)
www.faa.gov

Lt. Gov. Mead Treadwell
ltgov.alaska.gov

U.S. Senator Mark Begich
www.begich.senate.gov

Alaska House Majority Caucus
akleg.gov

University of Alaska Fairbanks
uaf.edu
E-mail your news & photos to editor@sitnews.us


Publish A Letter in SitNews
Contact the Editor
SitNews ©2013
Stories In The News
Ketchikan, Alaska

Articles & photographs that appear in SitNews may be protected by copyright and may not be reprinted without written permission from and payment of any required fees to the proper sources.