Viewpoints
Vandalism
By Lois Munch
December 30, 2009
Wednesday PM

Editor: Sitnews
A random act of meanness. The most polite way to describe the vandalism to my car on December 27 while it was parked by the Frog Pond on the old Ward Lake Road.
Sometime between 1:30 and 3 p.m., under a cheerful sun,. and near other vehicles, perpetrators picked up a huge boulder and flung it against the windshield. It shattered the glass and, as it rolled down the hood, severely gouged that part before landing on the road.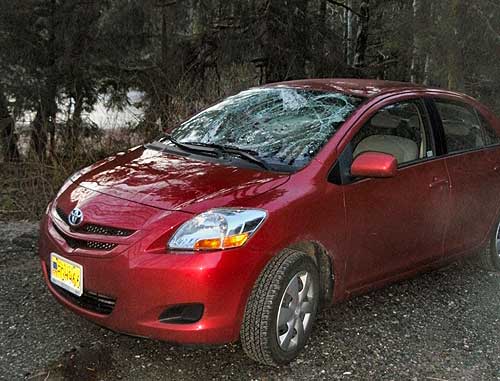 My car will be repaired. No lives were lost. Money, time and inconvenience, the hallmarks of this travesty, will be overcome. My psyche was temporarily shattered, too, but it also survives. I understand that I am but one of many victims of this kind of abuse. I encourage people to report all vandalism to the troopers/police. By working together, we can help others.
It would be much appreciated if anyone who witnessed the assault on my car would contact the Alaska State Troopers at 225-5118.
Thank you.
Sincerely,
Lois Munch
Ketchikan, AK

Received December 30, 2009 - Published December 30, 2009
Viewpoints - Opinion Letters:
Webmail Your Opinion Letter to the Editor
Note: Comments published on Viewpoints are the opinions of the writer
and do not necessarily reflect the opinions of Sitnews.
E-mail your letters & opinions to editor@sitnews.us
Your full name, city and state are required for letter publication.


SitNews ©2009
Stories In The News
Ketchikan, Alaska