Fee Increase Proposed for North Tongass Fire & EMS Service Area

December 31, 2006
Sunday

Ketchikan, Alaska - Some Ketchikan residents in the North Tongass Fire & EMS Service Area could see an increase in their fiscal year 2007-2008 service area fees if a proposal to hire a third full-time firefighter for the North Tongass Volunteer Fire Department (NTVFD) is approved. The service area Board of Directors and NTVFD will host an open house at 6:30 p.m. on Thursday, January 4th, at the North Tongass Fire Station 8, 13110 North Tongass Highway, to hear public comment regarding the proposed tax and fee changes. Everyone owning property in the North End is highly encouraged to attend.
North Tongass residents now pay a property tax rate of 1.7 mills for the North Tongass Fire & EMS services, or $1.70 per $1,000 of assessed valuation. Most North Tongass residents also pay a $100 structure fee. The North Tongass Service Area Board is proposing to double the structure fee to $200 and reduce the mill rate to 1.6 or 1.5 mills. At the present 1.7 mill rate, property assessed at $250,000 that contains a structure pays $525 in North Tongass Service Area taxes and fees.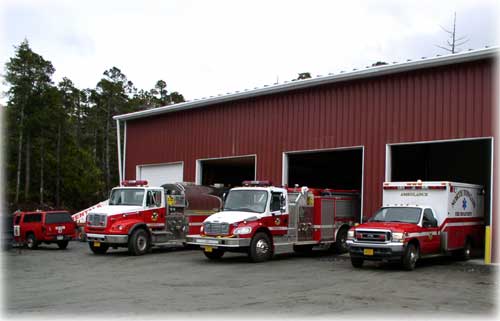 Emergency response rigs at Station 8, 13110 NTH, in early May. North Tongass VFD is out of their two leased buildings and occupying both new stations while finish work is being completed. Residents are encouraged to attend a special Board meeting at Station 8 on Thursday, January 4th , to discuss a proposal for a new fee structure and hiring a third Firefighter.

If the board's proposal is approved, North Tongass residents with properties assessed at $250,000 or less, which, according to borough information accounts for up to 70 percent of the area's residents, would see higher service area taxes, while those with properties assessed at $250,000 or more would see a decrease.
"We're trying to level the playing field a little, but it's never really going to be level," said Steve Phillips, chairman of the North Tongass Fire & EMS Service Area, "We're trying to be fair to everybody out there." He said it is understood that this is a controversial path to take, but the Board believes there is a gap in the services and there is a need to find a solution. This is why the Board of Directors is proactively seeking public comment said Phillips.
In addition to Phillips, the other Board members are Guy Mickel, Judy Berg, Paul Hook and Gary Webb. All members are residents of the service area. The Board has been discussing the proposed tax and fee changes since early summer. The proposed changes are designed to generate about $75,000 in additional revenue, enough to fund a third firefighter/medic if approved.
While the department's current personnel are well trained and equipped, Fire Chief David Hull said that many of the department's volunteers work downtown and can't respond to a call as fast as the department would like, especially during the weekdays.
Hull said having a third firefighter could save several minutes in response time. "Minutes can mean the difference between life and death or a good hit on a working fire," said
Hull. "Having another person readily available will also help the department with the many day-to-day projects around the stations" he added.
"Adding the third firefighter will also give the people in our service area a more consistent response by providing coverage when Lt. Kiffer or I are not available," said Hull. Adding the third firefighter will also enhance NTVFD's standing with ISO, the insurance rating organization. The better the rating with ISO the lower the insurance costs.
Phillips said the third firefighter will have to be an Emergency Medical Technician II minimum and have advanced life support capabilities. He said the board's preference is to hire someone local. He said the board plans to submit a request for a third firefighter to the Assembly by early February. The Ketchikan Gateway Borough Assembly would then decide whether to hire the third firefighter, as well as the firefighter's pay classification. The pay classifications could range from $72,000 to $77,000 with benefits.
Then, Philips said, if the Assembly approved the hiring of a third firefighter, the proposed fee and tax structure would be addressed during the borough's budget process in May. If approved, the new fee structure would take effect July 1.
"There will still be plenty of time for public comment," said Phillips.

E-mail your news & photos to editor@sitnews.us


Publish A Letter on SitNews Read Letters/Opinions
Contact the Editor
SitNews ©2006
Stories In The News
Ketchikan, Alaska