Governor Palin Wraps Up Initial Gas Pipeline Meetings
December 07, 2006
Thursday PM
Alaska Governor Sarah Palin wrapped up two days of meetings with potential Alaska gas pipeline project sponsors on Wednesday - meetings she described as positive and productive.
"Sitting down one-on-one with potential project sponsors proved an excellent opportunity to not only gauge the number of parties interested in getting our natural gas to market, but also how they propose to do it," said Governor Palin.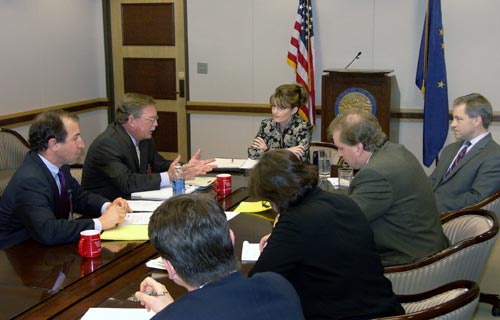 Governor Palin and Lt. Governor Parnell meet with
Kern River Gas Transmission Co.(MidAmerica).

Governor Palin, along with her gas team made up of Lieutenant Governor Sean Parnell, Department of Natural Resources Acting Commissioner Marty Rutherford, Revenue Commissioner Pat Galvin and Kurt Gibson of the Division of Oil and Gas started meeting with potential gas pipeline project sponsors in Anchorage on Tuesday morning. By Wednesday afternoon, Governor Palin and her gas team had met with twelve different entities, all with ideas on how to move forward on getting Alaska's gas to market.
"The scenarios are endless," said Palin. "That's why these meetings are so important. One of the themes that surfaced several times over the last two days was the appreciation from potential project sponsors that their views on a gas pipeline project were actually being considered."
Over the next few weeks Governor Palin and her gas team will go over, in detail, the information put forward by potential project sponsors. The governor will then introduce a bill seeking a law of general application on the first day of the 2007 legislative session. In it, Governor Palin will outline several key requirements for a natural gas pipeline project.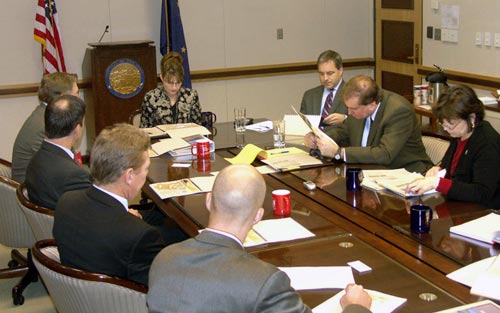 Governor Palin and Lt. Governor Parnell meet with Enbridge.

"Our bill will provide for all proposals to be considered in a more open, competitive manner," said Palin. "That's the process Alaskans have asked for and one I believe will deliver the very best gas pipeline proposal for Alaska."
The following potential project sponsors met with Governor Palin and her gas team on December 4 and 5:
- Alaska Natural Gas Development Authority
- BP Alaska
- Enbridge
- ExxonMobil
- MidAmerican Energy Holdings Company
- Shell Oil
- BG Group
- Chevron
- ConocoPhillips
- Alaska Gasline Port Authority
- SEMCO
- TransCanada
Source of News & Photographs:
Office of Governor Palin
www.gov.state.ak.us
E-mail your news & photos to editor@sitnews.us


Publish A Letter on SitNews Read Letters/Opinions
Contact the Editor
SitNews ©2006
Stories In The News
Ketchikan, Alaska