YEAR IN REVIEW: 2005
By Dave Kiffer
December 30, 2005
Friday AM

Gravina Bridge story spans country
2005 was the year in which Ketchikan and its "bridge to nowhere" were national news.
Stories about the proposed $315 million dollar Ralph M. Bartholomew Veterans Memorial Bridge were in dozens of newspapers , television shows, and national magazines including Readers Digest and Parade Magazine.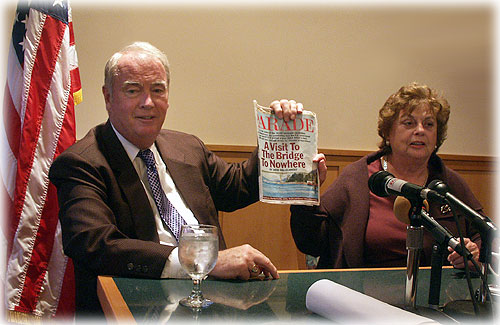 Governor Frank H. Murkowski and First Lady Nancy Murkowski hold up a Parade Magazine article distributed nationwide in November during a visit to Ketchikan.
Parade's front page article featuring Ketchikan's bridge was titled:
"A Visit To The Bridge To Nowhere".
Photo By Dick Kauffman ©2005

The focus of most of the stories was that the hard-link to Gravina and Pennock islands was a poster child of federal government "pork barrel" spending. Local officials countered that the bridge had been promised more that 30 years ago when the airport was moved to Gravina and that the project was important for economic development because improved access could open up land on Pennock and Gravina.
The bridge - and another major bridge for Knik Arm near Anchorage - were included in a $286 billion federal highway bill in the summer of 2005. But the resulting publicity storm led the US Senate to remove the "earmarks" for the bridges while leaving the funding in the budget.
That means that it will be up to the Governor and the state Legislature to decide where to spend the $450 million in "bridge" money. Gov. Frank Murkowski put $90 million for the Gravina bridge and a similar amount for the Knik bridge in the FY 2007 state capital projects budget. But legislators outside of District One have indicated that Gravina bridge funding may not be a state priority.
Local officials are lobbying the Legislature to fund the bridge.
Waterman trial set for early 2006
Although the murder of Craig resident Lauri Waterman occurred in late 2004, the first degree murder trial of her 17-year-old daughter Rachelle was delayed until January 17, 2006.
In the meantime, both of Rachelle Waterman's co-defendants, Brian Radel and Jason Arrant, pled guilty in 2005 and agreed to testify against her. The trial has been tentatively set for Craig, but Judge Patricia Collins is surveying residents to see whether a fair trial can be held there. If not, the trial will likely be moved to Juneau.
Prosecutors say that Rachelle Waterman, Radel and Arrant planned the murder, which was then carried out while Rachelle Waterman was in Anchorage. Rachelle Waterman denies that she conspired to kill her mother.
A tale of two school projects
Two construction projects dominated local education news in 2005.
The Schoenbar Middle School remodel project dragged into its third year with no end in sight as the Ketchikan Gateway Borough and the school contractor, McGraw Custom Construction, continued to battle over problems arising with the remodeled building, which was originally supposed to be completed in 2004 and now won't likely be ready for occupancy before the fall of 2006.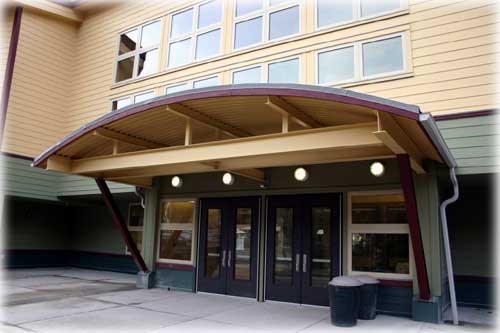 Schoenbar Middle School remodel project
Photo by Chris Wilhelm ©2005

The project cost was originally set at $9.5 million but has risen to more that $14 million and is expected to go higher.
In the interim, the Schoenbar seventh and eighth graders have been housed at a variety of locations including Ketchikan High School and the Plaza Port West shopping mall.
Meanwhile, the $12 million dollar Fawn Mountain Elementary School located near Mountain Point on the South Tongass Highway was completed between March and December of 2005.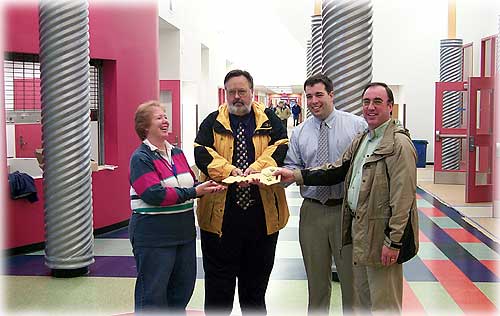 Borough Manager Roy Eckert (right) presents the"Key" To Fawn Mountain Elementary School to Fawn Mountain Principal Barbara Roberts, Superintendent Harry Martin, and School Board President Russell Thomas on December 22, 2005.
Photograph by Dave Lieben ©2005

Fawn Mountain is the replacement school for White Cliff Elementary which closed in 2004 after nearly 80 years of service to Ketchikan. The White Cliff students have been housed primarily at Ketchikan High School and will move to Fawn Mountain the first week of 2006.
The Ketchikan Area Arts and Humanities Council and Ketchikan Senior Services are looking at developing a multi-generational community center in the old White Cliff building in Ketchikan's West End.
Port bond defeated, new plan floated
City voters turned down a $70 million dollar bond to fund improvements to Ketchikan port in August.
The plan that went to a vote would have included expanding the main dock to accommodate three large cruise ships and building an additional dock north of City Float (Casey Moran Float) north of the tunnel.
It was the third proposal that had been considered, following a downtown T-pier and docks south of Thomas Basin. But both those options had faced significant public opposition.
After the bond vote failed, city officials immediately announced plans to return to the voters with a less expensive bond issue. Planning is continuing on a proposal that would just fund the main dock expansion. The bond vote is expected to be in late March or early April but a total cost had not been announced by the end of the year.
In the meantime, it was announced that approximately 100,000 few cruise visitors would be coming to Ketchikan in 2006 because of overcrowding of existing berths.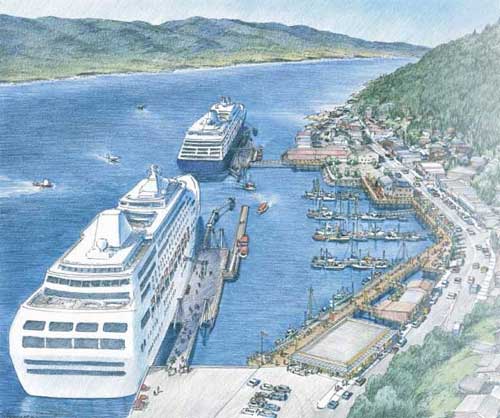 Port Expansion Project Graphic courtesy City of Ketchikan.

And not a drop to drink

Ketchikan may be faced with building a multi-million dollar water filtration plant in the near future if it is unable to reduce the amount of haloacetic acid in the local water supply.

Ketchikan Public Utilities announced in 2005 that attempts to reduce haloacetic acid - a compound created when decaying plant matter interacts with chlorine - to meet recently established lower Environmental Protection Agency safety levels hadn't been successful.

In addition to a filtration plant, other options include adding ammonia to the water supply. The City Council is expected to decide what steps to take early in 2006.

Paul Seeks to Change Plea
In December of 2005, Ketchikan resident James Paul, 46, asked to withdraw his no contest plea to second degree murder in the death of his 22-month old daughter, Sarah.
Sarah Paul died in February of 2004 in bathtub of water in her father's apartment. An autopsy found that she had a lethal dose of over sleeping medicine in her body. Paul was found unconscious nearby, reportedly under the influence of drugs and alcohol. The girl's death occurred only four days after a restraining order prohibiting unsupervised visits had been lifted.
James Paul was charged with first degree murder and also faced child pornography charges. The state dropped the pornography charges and Paul agreed to plead guilty to second degree murder and faced a sentence of 35 to 75 years.
But now Paul has asked the plea agreement be vacated because he did no receive effective legal counsel. Ketchikan Superior Court Judge Michael Thompson is considering Paul's request.
2005 a 'wet one'
The weather was on the minds of many residents, especially from mid-summer on as more than 190 inches of rain was recorded going into the last week of 2005.
The fall was particularly wet and included a stretch from mid October to late November in which measurable precipitation was recorded for 39 straight days. It may not have been a record, but it sure felt like one.
Ward Cove properties 'sold', auctioned
The Ketchikan Gateway Borough moved closer to getting its Ward Cove properties back on the tax rolls in 2005.
The borough had received title to more than 200 acres of property in 2001 when Gateway Forest Products defaulted on loans. The borough also purchased the GFP Veneer Mill a year later. Overall, the borough spent more than $15 million of the $25 million in federal economic disaster relief funds on Ward Cove related loans and grants.
Early in 2005, the borough sold the old Gateway Club property to the Alaska State Troopers for a new area headquarters. It then leased the former Ketchikan Pulp Company administration building to the Alaska Marine Highway System, which moved most of its administrative functions - some 40 employees - south from Juneau. Plans were in the works late in the year for the Marine Highway System to build a permanent ferry layup facility in Ward Cove.
In August of 2005, the borough held an auction for several properties on the East side of Ward Cove and received more than $3.3 million dollars. The borough also reached a preliminary agreement with the Arizona-based Renaissance Group for the sale of most of the west side of the cove - including the Veneer Mill - for $9 million. That deal is scheduled to be finalized in mid January of 2006.
Greenpeace guilty, then acquitted
Three months after a Ketchikan jury found Greenpeace guilty of violating state oil pollution prevention laws, a Ketchikan judge threw out the charges in August contending that the jury's verdict did not fit the evidence.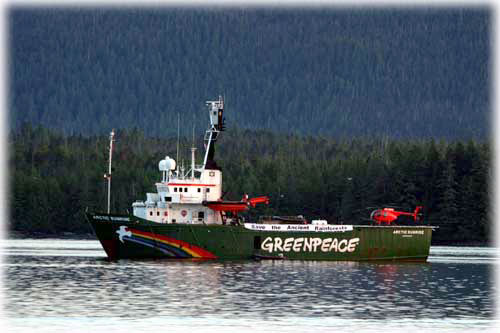 The Arctic Sunrise, photographed as it arrives in Ketchikan in July 2004.
Photo by Carl Thompson ©2004

The charges had been filed in the summer of 2004 as Greenpeace engaged in a highly publicized anti-logging campaign. The state contended that Greenpeace had not filed a proper oil spill response plan for its vessel the Arctic Sunrise and then had disregarded official attempts to detain the ship in Ketchikan until the plan was filed.
In May, a jury convicted Greenpeace on two counts of operating a ship without oil spill contingency plans but the jury also found the organization innocent of operating without a certificate of financial responsibility for cleaning potential spills. The captain of the ship was also found guilty of operating without contingency plans but found innocent of not having a financial responsibility certificate. The organization faced fines of up to $400,000.
In August, Judge Kevin Miller threw out all the convictions.
Pickering murdered
On December 1, Carolyn Pickering, 50, was found shot to death in her Bostwick Road home. Police later arrested her husband for violating a restraining order.
Earl Pickering, 60, had been released from jail that morning after serving time for assaulting his wife. Mr. Pickering was seen by neighbors around the Pickering house before her body was discovered. Police had not filed additional charges by the end of the year.
Public ethics board formed
Borough government was hit by two conflict of interest allegations in 2005 and that led the borough assembly to change borough code and form an independent ethics board.
In the spring of 2005, allegations were made that Borough Manager Roy Eckert was seeking federal grants for a project that he had a financial stake in. An assembly investigation determined that Eckert was not financially involved in the geoduck farming project, which didn't receive federal funding despite being fairly high on the borough priority list.
In the fall of 2005, allegations were made that Assemblymember George Lybrand had a conflict of interest regarding the ongoing situation over the Schoenbar school remodeling project because he had financial dealings with the project contractor. An assembly sub-committee recommended that Lybrand not take part in discussions involving Schoenbar related legal action, but the assembly as a whole rejected that advice.
At the same time, the assembly was revising the borough conflict of interest code and decided to form an independent committee to investigation any future conflicts of interest.
Kayhi beats Juneau, finally
A once-in-a-generation event happened twice in 2005.
For the first time since 1980, the Ketchikan High School boys basketball team defeated the Juneau Crimson Bears in Juneau 69-68 in an overtime thriller on Feb. 26.
The next month, lightning struck twice as Kayhi whipped Juneau in Juneau (again!) to win the Southeast 4A regional title and head to state. It was the first time that Kayhi had made back to back trips to the state tournament in more than 30 years.
Dave Kiffer is a freelance writer living in Ketchikan, Alaska.
Contact Dave at dave@sitnews.us
Dave Kiffer ©2005

Publish A Letter on SitNews
Read Letters/Opinions
Submit A Letter to the Editor
SitNews
Stories In The News
Ketchikan, Alaska