Christmas Nights & Elves Spread Christmas Joy
By M.C. Kauffman
December 23, 2005
Friday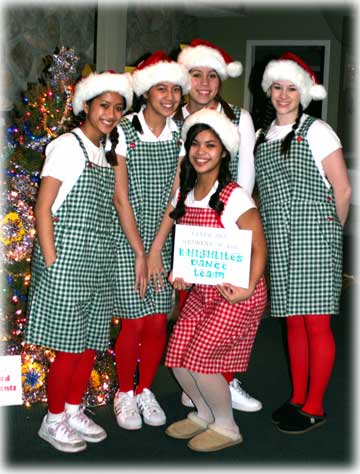 Elves: Madlyn Jensen, Ria Balltista, J.C. Seludo,
Rose Rodriquez and Allison Kelly
(Member of the Ketchikan HiLites Dance Team)
Photo by Melva Olson
Ketchikan, Alaska - Elves were spotted recently in Ketchikan cheerfully serving hot cocoa and Christmas cookies at the Clover Pass Resort to the guests attending the Christmas Nights' exhibits of the Indoor Nativity Walk and the Outdoor Lighted Christmas Display.
The Indoor Nativity Walk, held December 16th-18th, was an exhibit of Nativity scenes on loan to Clover Pass Resort from various residents of Ketchikan. The nativity displays ranged from fine china to Tlingit Indian, Italian, olive wood from Israel to children's sets. The Thomas family who owns Clover Pass Resort put this beautiful display together. This is the first year the nativity display has been on exhibit at the resort.
The resort's Outside Lighted Christmas Display which features a life-size Nativity and other Christmas scenes will be still be available for viewing from 5 pm -9 pm, December 19th through Christmas. The Indoor Nativity Walk was available only through December 18th.
Speaking of the Indoor Nativity Walk and the spirited little elves, Melva Olson said, "It is such a great and magical thing. In an area of Ketchikan that most of us only think of as the great fishing grounds!! The most wonderful thing though was the spirit of the teens servicing the guests. They were so happy to spread their Christmas joy!! And, their little Elf outfits were charming!!"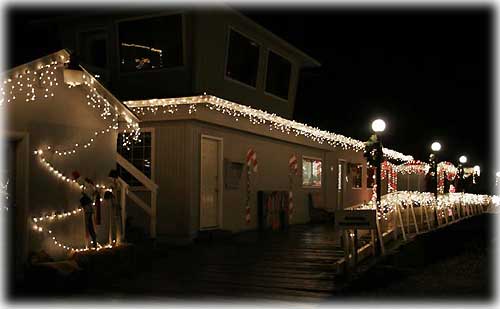 Some of the outside decorations on display at Clover Pass Resort.
Photo by Carl Thompson ©2005

The Outside Lighted Christmas Display is courtesy of the by Clover Pass Resort, Silverking Lodge, The Cedars Lodge, Skinner Sales & Service, Construction Machinery and Northern Sales.

Publish A Letter on SitNews
Read Letters/Opinions
Submit A Letter to the Editor
SitNews
Stories In The News
Ketchikan, Alaska