Alaska food travels worldly distances
By Ned Rozell
December 05, 2005
Monday

When my wife returned from the store recently, I picked through the bags to see where our groceries came from. Of 15 food products with their origins identified, none were from Alaska. The closest was a package of vegetarian hot dogs that began life in Vancouver, BC, 1,400 miles away. Bananas from Peru, which needed to ride in a heated car to survive the drive home from the store in Fairbanks, had traveled 6,420 miles. Our cheese came from Oregon, 1,600 miles away. The yogurt had moved 3,300 miles cross-country from New Hampshire.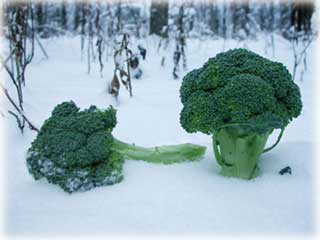 Broccoli grown thousands of miles away is available throughout Alaska. Ned Rozell photo.
Not counting the mileage to and from distribution points, those 15 items combined to travel 39,624 miles to get to our home in Fairbanks (a straight line around the planet is about 25,000 miles). That's an average of about 2,600 miles for each chicken breast and stick of butter; everything we ate came to us from as far as Wisconsin. While not random - my wife buys mostly organic food - the survey showed a reality of Alaska life: most of our food moves a long way before it reaches our plates.
Marion Owen thinks it would be wise to start changing that. Owen produces the UpBeet Gardener Radio Show from her home on Kodiak Island, and is a co-author of Chicken Soup for the Gardener's Soul. She has written an "Alaska Food Policy" statement, which she has sent to lawmakers. In her ideal Alaska, "I'd have every school in the state equipped with attached greenhouses, and villages with greenhouses monitored by people paid to do so," she said.
Most of Alaska's food reaches the state in large containers carried by barges that ply the waters of the north Pacific and trucks that travel the Alaska Highway. Some food reaches remote villages by small aircraft. Only about 10 percent of what Alaskans eat is from Alaska, according to UAF's School of Natural Resources and Agricultural Sciences.
Writer John Haines remembers a different time in Alaska. In a recent letter commenting on a science column about Alaska agriculture pioneer Charles Georgeson, Haines thought back to the summer of 1947 in Fairbanks: " . . . most of the produce to be found in a local market, like the small Piggly Wiggly on Second Avenue, was locally grown. What was then known as Garden Island was truly that: a community of small garden plots and greenhouses that were one of the mainstays of the city. I remember stopping off there once with an old Richardson neighbor to get some bee honey, along with a few other local crops."
An advocate of paying attention to "food miles," the distance food travels from where it grows to where people buy and consume it, Owen said it's possible for Alaska to return to the smaller system it once was. As a far-north model for such living, Finland is a good example, Owen said. Spanning roughly the same latitude as northern Alaska, the California-size country is warmer because of its proximity to the ocean, but is just as dark in the winter. Despite this, Finns grow 40 to 50 percent of their own food, most in greenhouses.
While cold and darkness limit the year-round operation of greenhouses in northern Alaska (As I write this, at 3:40 p.m. in late November, the sun has disappeared behind the Alaska Range and the temperature outside the window is minus 14 degrees F), Owen said their operation during warmer months could help Alaskans stockpile food.
"I'm reaching for the stars here, I know, but my dream would be for every school, hospital, long-term care center, senior living home, prison, Brother Francis Shelter, apartment complex, and private home to have a garden and/or a greenhouse.
"I can only see benefits," she said. "Less diabetes, more connections to the land, better overall health."
This column is provided as a public service by the Geophysical Institute, University of Alaska Fairbanks, in cooperation with the UAF research community.
Ned Rozell [nrozell@gi.alaska.edu] is a science writer at the institute.

Publish A Letter on SitNews
Read Letters/Opinions
Submit A Letter to the Editor
SitNews
Stories In The News
Ketchikan, Alaska