Viewpoints
Slow Down
By Chief David Hull
December 20, 2005
Tuesday PM
This would make a great warning sign I think. Now I am not one to capitalize on another's misfortune and I am most assuredly ecstatic that no one was hurt over the weekend, but the images of the vehicles in the ditches should have had a distinct effect on everyone's commute into town. Hopefully it slowed everyone down a bit. It slowed me down.
The North Tongass Volunteer Fire Department is getting pretty darn good at responding to wrecks around the north end. In fact, we have spent a lot of time and money this fall getting ready. We would rather not have to do any of it, however. So please, especially with the holidays coming, SLOW DOWN! No one has that far to go or that short of time to get there.
Here are a few suggestions if you happen upon an accident:
Do not place yourself in danger unnecessarily
Call 911 immediately
Pull your car completely off the road
Turn you emergency hazard lights on
Stay out of the road on a dark night
Be careful getting near an unstable car
Turn off the ignition if car is stable and not on fire
Don't move anyone in the car unless there is good reason to
Be prepared to guide emergency responders to the scene
From the North Tongass Volunteer Fire Department, have a fire safe and happy holiday season.
David Hull, Chief
Ketchikan, AK - USA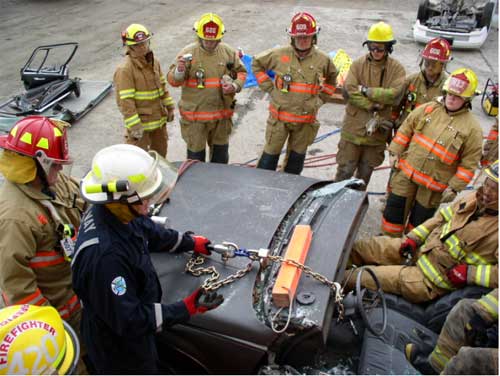 North Tongass Volunteer Firefighters/Rescue Team
Photo by David Hull
About: David Hull is Chief North Tongass Volunteer Fire Department.
Note: Comments published on Viewpoints are the opinions of the writer
and do not necessarily reflect the opinions of Sitnews.
Write a Letter -------Read Letters

E-mail the Editor

Sitnews
Stories In The News
Ketchikan, Alaska