Viewpoints
A Dark and Stormy Night
By Jerry Cegelske
December 13, 2005
Tuesday

It is a dark and stormy night as Snoopy wrote. You're tired and can't wait to get home. The wind blown rain and snow is coming down like it can only in Ketchikan. The headlights of the approaching car highlight the rain on the windshield blurring your vision. Are you going to see this gift left on the road by some person to lazy to cover their load? Are you going to swerve to avoid it? Are you going to damage your car when you do avoid it? What about the black ice?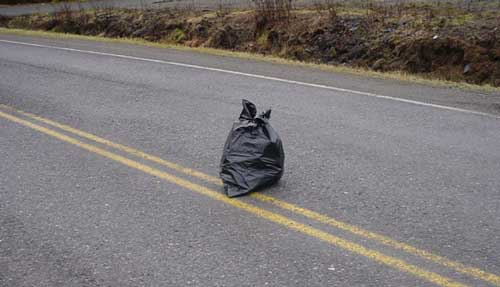 This and other trash was observed on the North Tongass Highway, blown out of a vehicle just by the force of the wind by the vehicle doing 45 (if they were doing the speed limit). Imagine if it was blowing the usual 40 mph, plus the vehicle doing 45.

I am sure that the person that was taking this to the landfill intended for it to get there, why didn't it? Because they were to lazy to cover their load as required by State law.

For you that haul boxes and trash to the landfill, THINK about the accident you may cause and how much your insurance will pay if someone is hurt by your carelessness. How would you feel if someone is injured for the rest of their life?

Take the time to do it right! Cover your loads, PLEASE.
Jerry Cegelske
E-mail: jerry.cegelske@borough.ketchikan.ak.us
228-6621
Ketchikan, Alaska
Note: Jerry Cegelske is a Code Rnforcement Officer with the Ketchikan Gateway Borough.
Note: Comments published on Viewpoints are the opinions of the writer
and do not necessarily reflect the opinions of Sitnews.
Write a Letter -------Read Letters

E-mail the Editor

Sitnews
Stories In The News
Ketchikan, Alaska