481,000 acres of Alaska burn one summer day
by Ned Rozell
December 29, 2004
Wednesday

Even the oldest old-timers in Alaska had never before seen a summer like 2004, when an area larger than Vermont burned and thick smoke hung in the air until September. Meteorologists and climate experts have published recent reports about the weather quirks that made the summer strange.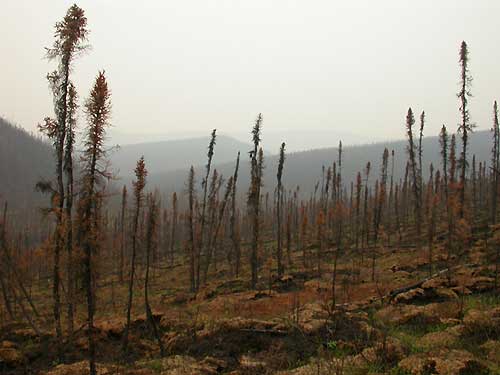 These black spruce in Cripple Creek off the Steese Highway were within the 6.72 million acres of Alaska that burned in 2004.
Photo by Ned Rozell

The summer of smoke began with early and sustained thunderstorms, wrote Michael Richmond, the Fire Weather Program Manager at the National Weather Service Office in Fairbanks. Richmond recently compiled facts about the summer for a presentation he wrote for a conference. He noted that thunderstorm activity was intense from May 20 to June 15.
"Although there are only 25 years of record for lightning detection in Alaska, none of the forecasters who have been in Fairbanks since the 1970s and '80s remembered ever seeing so much convection this early in the season," Richmond wrote.
Fairbanks also had the wettest May in 100 years of record keeping, but most of the rain came from storms that also had lightning, and much of the wetness that remained would soon disappear.
Nome, Fairbanks, Anchorage, King Salmon, Valdez and Juneau all experienced the warmest summers as far as their weather records go back, according to the Alaska Climate Research Center. Fairbanks' average temperature for June through August was 64.4 degrees F, 5 degrees higher than normal. Anchorage was 4 degrees above normal for the same period at 60.5 degrees; Nome was 4.3 degrees above normal at 54.5; and Juneau was 3.5 degrees above normal at 59.
The Alaska Climate Research Center also tallied the days above 70 degrees for several places. Anchorage set a new record with 41 days where the thermometer topped 70. Valdez had 28 days with 70 or above, Juneau had 36, and King Salmon had 33. All were records. People in Fairbanks experienced 22 days above 80 degrees, and many days would have registered hotter had smoke not been shading the official weather station at the airport.
Along with the warmth, Alaska was extremely dry during summer 2004. Precipitation was one-half or less of the average over the eastern and central Interior, where most of the fires were burning. Juneau also received half of its normal summer rainfall, experiencing the third driest summer on record. During August, usually the wettest month in interior Alaska, the typical low-pressure weather systems moving east from the Bering Sea or northeast from the North Pacific never came. Instead, a high-pressure ridge that had parked over the eastern Interior early in summer held warm air over Alaska. That high-pressure system also caused high winds over the central Interior from June 28 to July 2. The winds, steady at 15-25 miles per hour with gusts to 40, fanned the large fires, tripling some in size in just a few days. The winds pushed wildfire into Chatanika and forced evacuations for residents of the Haystack subdivision north of Fairbanks. Richmond wrote that the worst was to come had the winds not subsided.
"It is my estimation that another 6-12 hours of those E/NE winds, and the Boundary Fire would have moved into the Goldstream Valley, a heavily populated area (by Alaska standards) just north of Fairbanks," Richmond wrote.
Alaska set a new record in 2004 with 6.72 million acres burned, topping the old record of 5 million acres burned in 1957. Richmond also included these stats, from the Alaska Fire Service, in his report:
On five different summer days, more of Alaska burned than during the entire fire seasons of 1995, 1998 and 2001.
On 26 days of summer 2004, more than 100,000 acres of Alaska burned each day.
Fanned by the high winds, 481,000 acres of Alaska burned on July 2. That's about the size of Boulder County in Colorado and more than half the size of Rhode Island.

This column is provided as a public service by the Geophysical Institute, University of Alaska Fairbanks, in cooperation with the UAF research community. Ned Rozell ( nrozell@gi.alaska.edu ) is a science writer at the institute.

Publish A Letter on SitNews Read Letters/Opinions
Submit A Letter to the Editor

Sitnews
Stories In The News
Ketchikan, Alaska