Taiwan Trade Fair to Tout Alaska Products

First Meeting of Taiwan-Alaska Trade Council Nets Results
December 18, 2004
Saturday

Taipei, Taiwan - Alaska's natural resource products and its tourism attractions will be center stage next year at an Alaska-Taiwan trade fair, plans for which were laid during the first meeting of a new international trade council meeting this week.
Aimed at promoting Alaska oil and gas, minerals, tourism, seafood, timber and agricultural products, the trade fair in the island nation's capital, Taipei, will help boost Alaska's economy by paving the way for even more trade with one of the state's top 20 international trade partners, said Governor Frank H. Murkowski.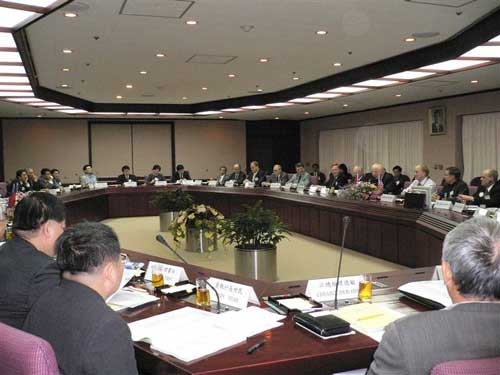 Gathered in Taipei for the first meeting of the new Taiwan-Alaska Trade & Investment Cooperation Council, business and government members of the council laid plans for a trade fair in Taiwan and trade visits to Alaska next summer. Led by Alaska co-chairs Mike Barry of the Alaska Industrial Development and Export Authority and Alaska forest products industry leader Frank Roppel, the council was established to promote trade in oil and gas, minerals, tourism, seafood, timber and agricultural products. The Alaska delegation spent several days in Taiwan with its counterparts this week for the council's first meeting.

"Alaska has the best opportunity we have ever had to increase our trade with Taiwan," said Murkowski. "While we already sell nearly $20 million worth of products to Taiwan each year, I believe there is considerable room to expand on this important relationship. By helping expose more of Taiwan's people to Alaska's wealth of resources and products, we can continue to encourage natural resource development, including our oil, gas and minerals."
Agreement on the trade fair came during the first full meeting of the newly-established Taiwan-Alaska Trade & Investment Cooperation Council, established by the two governments over a series of trade visits earlier this year.
Also during that meeting, council members agreed that members of the Taiwan Timber Import & Export Association would meet Alaska timber suppliers in the state next year, and that Taiwan tour operators will visit Alaska to observe state visitor attractions and services.
Mike Barry, chairman of the board of the Alaska Industrial Development & Export Authority, led the delegation of 13 Alaskans who arrived in Taipei Sunday. They held meetings Monday and Tuesday before departing on Wednesday. Barry represents state government as one of two Alaska co-chairs of the council, while Frank Roppel, a longtime Alaska forest products industry leader, represents Alaska's private sector.
"The governor's experience is helping to open doors on every front for Alaska businesses in Asia," said Barry. "This week, we met with high level officials of business and government. These meetings are an important step in creating strong ties, and initiatives have been established in each of the areas that will further trade and commerce between us. We are impressed with the enthusiasm and expertise of the Taiwan delegation under the leadership of Lin Yi-Fu, minister without portfolio in President Chen Shui-Bien's cabinet and Theodore M. H. Huang, chairman of the Chinese National Association of Industry and Commerce, in Taiwan."
During his 22 years as a U.S. senator, Murkowski championed U.S. support for Taiwan. In Taiwan business and government circles, Murkowski is one of America's most highly regarded and recognized leaders.
Also during the trade visit, members agreed to share information on:
opportunities in Alaska for investment by Taiwan in oil and gas, and hard mineral projects;
Taiwan's market for seafood products;
Alaska's IFQ fishery management system and other fishery management regimes;
the potential for reducing costs of shipping Alaska seafood products to Taiwan;
tour agencies in Taiwan and Alaska interested in working together to promote Alaska tourism in Taiwan.
The next meeting of the Taiwan-Alaska Trade & Investment Cooperation Council will be in Alaska early next summer.
Council members traveling with Barry to Taipei were: Alan Austerman, the governor's senior fisheries advisor; Michael Beal, chief executive officer of the Seldovia Native Association; Steve Borell, executive director of the Alaska Miners' Association; Larry DeVilbiss, owner of Wolverine Farm and member of the Alaska Farm Bureau; Mark Eliason, president and chief executive officer of US Travel; Tom Irwin, commissioner of the Alaska Department of Natural Resources; Ron Miller, executive director of the Alaska Industrial Development & Export Authority; Bill Noll, deputy commissioner of the Alaska Department of Commerce, Community & Economic Development; Ron Peck, president and chief operating officer of the the Alaska Travel Industry Association; Frank Roppel, chairman of the Alaska Housing Finance Corp.; Steve Seley, president of Pacific Log & Lumber; and Bob Thorstenson, president of the United Fishermen of Alaska.
Alaskans who are members of the Council but who did not attend this initial Taipei meeting are: Rich Heig, general manager of the Greens Creek mine; Margy Johnson, director of the Governor's Office of International Trade; attorney Trevor McCabe; and James Weeks, managing member of UltraStar Exploration.
Source of News & Photograph:
Office of the Governor
Web Site


E-mail your news & photos to editor@sitnews.us


Publish A Letter on SitNews Read Letters/Opinions
Submit A Letter to the Editor

Sitnews
Stories In The News
Ketchikan, Alaska