Forum Scheduled To Discuss Future of White Cliff School Property
December 11, 2004
Saturday

Ketchikan, Alaska - Historic Ketchikan has scheduled a community forum for Tuesday night, Dec. 14, from 7-9 pm at the Ted Ferry Civic Center to discuss the future of the White Cliff School property.
The idea behind the forum is to start the process of deciding what to do with the building and the two acres of land it sits on in Ketchikan's West End, according to Historic Ketchikan Executive Director Dave Kiffer.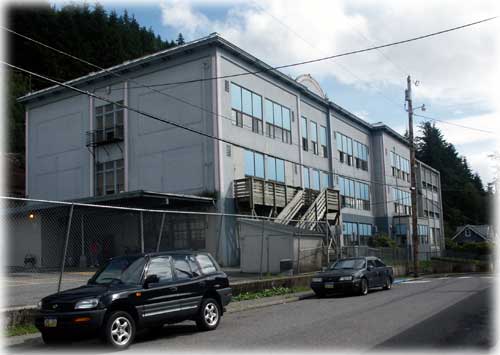 White Cliff School
File photo by Dick Kauffman

"We all remember what happened when old Main School was allowed to sit vacant downtown in the early 1970s," Kiffer said. "It eventually burned and was torn down and the community lost both an irreplaceable part of its history and a valuable asset for its future. We don't want that to happen with White Cliff."
When it closed earlier this year, the nearly 80 year old building was the oldest continually operating school building in the state, Kiffer said. The build was supposed to revert to the city government from borough and school district control, but the city and borough have delayed action on any conveyance to see if any community groups are interested in redeveloping the property.
"While it is no longer useful as a community school, that doesn't mean it can't be used for other community purposes," Kiffer said. "In Seattle alone there are historic school buildings that have been turned into community centers, office space, condominiums, even shopping malls. The possibilities are endless."
Recently, Historic Ketchikan and several other interested individuals took a tour of the building and were surprised at the condition of the structure.
"It's in remarkably good shape considering the fact that the borough and school district didn't put that much into it in recent years," Kiffer said. "The mechanical systems would have to be replaced in any redevelopment, but the building is remarkably solid."
So solid, that Historic Ketchikan estimates that it could cost up to $2 million just to tear it down and to deal with issues such as asbestos and lead paint. Finding money for the rehabilitation of the building would not be overly difficult, Kiffer said. There are a variety of state and federal grant programs that could be tapped if the community can agree on a future use.
"This a perfect example of a situation where reusing a building is probably just as economical as tearing it down," Kiffer said. "When you add in the fact that around 7,500 Ketchikan children went to school there over the years, it points clearly to the need to preserve this important part of our history.
Kiffer says that community members have already suggested a variety of possible uses, but that the no preconceived ideas are being taken in to the public forum.
"We're open to any and all suggestions," Kiffer said, adding that the best outcome would be the formation of a committee to sort through the ideas and present them to the city and borough governments early in 2005.
E-mail your news & photos to editor@sitnews.org


Publish A Letter on SitNews Read Letters/Opinions
Submit A Letter to the Editor

Sitnews
Stories In The News
Ketchikan, Alaska