The Ecology of Fear: Wolves Gone, Wester Ecosystems Suffer
By David Stauth
December 09, 2004
Thursday

Corvallis, OR - Research about wolves that began in Yellowstone National Park has been replicated in an adjacent area, and a growing body of evidence leads scientists to conclude that this historic predator may have an ecological impact far more important than realized in the American West.
The near extinction of the gray wolf across most of the West in the past century now appears to have removed the natural element of "fear" from these ecosystems. It has triggered a cascade of ecological effects on everything from elk populations to beaver, birds, fish, and even stream systems - and helped lead directly to the collapsing health of aspen and some other tree species and vegetation.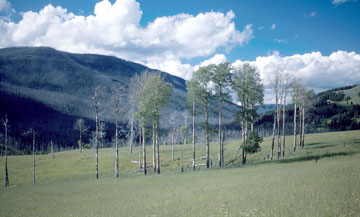 A withering stand of aspen in Yellowstone National Park reflect a phenomenon that researchers from Oregon State University believe is now far more widespread - the loss of wolves in the American West leading to the decline of tree and stream ecosystems.
Two recent studies by forestry scientists from Oregon State University, published in the journals BioScience and Forest Ecology and Management, outline a role for the gray wolf that is complex and rarely understood, but helps explain many major problems facing western streams, forests and wildlife.
"It would appear that the loss of a keystone predator, the gray wolf, across vast areas of the American West may have set the stage for previously unrecognized and unappreciated ecological changes in riparian and upland plant communities, and the functions they provide," the scientists concluded.
The studies were authored by William Ripple, a professor, and Robert Beschta, a professor emeritus, in the OSU College of Forestry.
In their research, the scientists explore a concept that has been called "the ecology of fear."
The ecological and historical significance of wolves is only partly due to the actual impact they have by preying on other animals, both large and small, the OSU researchers have found. Just as important is the fear that many larger animals have of wolves, and the resulting behavioral changes in elk and some other grazing animals.
"Prey species will alter their use of space and their foraging patterns according to the features of the terrain and how that affects the risk of predation," Ripple and Beschta noted in their study. "They forage or browse less intensively at high-risk sites."
Some of those sites, the researchers say, are streamsides rich in aspen, cottonwood, willow and other edible vegetation. When healthy and normal, such areas naturally grow large trees and other streamside vegetation that provides the basis for supporting beaver, other wildlife, fish populations, native bird communities, and stable channel banks.
The OSU scientists, in previous work, documented that the loss of aspen and cottonwood trees in Yellowstone National Park dated almost exactly to the extermination of the last wolf packs in the park in the mid-1920s.
The elk moved in, ate young trees before they could become established, and the entire riparian ecosystem began a slow demise that was only reversed recently - when wolves were re-introduced to the park.
In their newest work, the researchers have found exactly the same forces at work along the Gallatin River in southwestern Montana. Coincidental with the return of wolves to that area, there has been a dramatic recovery of willow populations along streams, and other possible factors such as changing climate conditions have been ruled out as a possible cause.
A modest recovery of willows may not seem that significant. But the OSU researchers say it has set the stage for ecological "spin-offs," including an increase in plant biomass, improved streambank stability, better floodplain functioning, reduced soil erosion, and better food web support for everything from beaver to river otter, fish, birds, amphibians, and insects. Biodiversity will increase and rising beaver populations will lead to even more changes, including sediment retention, wetland maintenance and nutrient cycling.
And the story, the OSU scientists say, appears to be much larger than just Yellowstone National Park or the mountainous regions around it, as demonstrated by a broad range of research.
One study suggested that the loss of wolves has allowed increases in deer populations across much of North America, which led to a browsing pressure on plants that was unprecedented. Predation effects involving wolves and elk were also found in aspen growth in Jasper National Park. In Grand Teton National Park, the local extinction of grizzly bears and wolves caused an increase in herbivory on willow by moose, and ultimately decreased the diversity of neotropical migrant birds.
The role of fear, while emphasizing the value of wolves, is not exclusive to them, the scientists said. Even the fear of human sport hunters has a role.
One study in Montana showed that elk adjusted their foraging behavior by browsing far from roads to avoid human contact and possible predation. And research in Colorado has found that aspen was far more heavily browsed, and used year-round by elk, where sport hunting was excluded.
Ultimately, however, the value of large predators needs to be reconsidered, the reports conclude. The body of evidence has become compelling, the OSU researchers say, that predation by top carnivores, especially wolves, may be pivotal to maintaining biodiversity in some ecosystems.
More information on this research can be found on the Web at www.cof.orst.edu/wolves.
"The ranges of large carnivores are continuing to collapse around the world," the scientists note in their report. "In North America, the gray wolf and the grizzly bear have faced nearly complete extirpation in the lower 48 states, although populations of these carnivores have been increasing in recent years."
"Growing evidence points to the importance of conserving these animals because they have cascading effects on lower trophic levels."
A similar point, they said, was made by the great naturalist Aldo Leopold in 1949, who predicted this crisis.
"I have lived to see state after state extirpate its wolves," Leopold wrote 55 years ago. "I have seen every edible bush and seedling browsed, first to anemic desuetude, and then to death."
Sources:
William Ripple
Robert Beschta
Oregon State University



E-mail your news & photos to editor@sitnews.org


Publish A Letter on SitNews Read Letters/Opinions
Submit A Letter to the Editor

Sitnews
Stories In The News
Ketchikan, Alaska