Alaskans Invited to Governor's Open House
December 03, 2004
Friday
Alaska Governor Frank Murkowski and First Lady Nancy Murkowski invite the public to an open house at the Governor's residence on Tuesday, December 7, from 3-6 p.m. continuing the 91 year-old tradition of an annual holiday open house. More than 300 guests attended the first open house in 1913, and more than 3,000 have attended in recent years.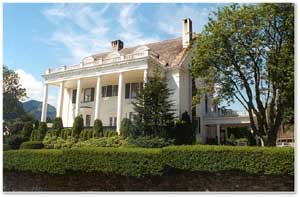 The Governor's House in Juneau, Alaska
built in 1912.
Those with special accessibility needs are invited to contact Karen Newton in advance, at 465-3500, to arrange entry at a special time from 2:30 until 3:00 p.m.
"This is our third holiday season in the Governor's House, and Frank and I look forward to welcoming our friends and neighbors to the residence," the First Lady said. "Those who visit the open house will notice a bit of a change in the interior decorations again this year. The beautiful holiday decorations are elegant in red, gold and ivory, and we are especially proud that we, for the second year, have an Alaskan Christmas tree to grace the ballroom."
The donation of a Lodge Pole Pine from Prince of Wales Island was a joint venture between Kim Redmond of the USFS Thorne Bay Ranger District, Thorne Bay City Administrator Mike Harper and members of the local business association, including Earl & Chris Nash, Diane Stittgen, Jim Wilson, Jim & Jeannie McFarland, Nick Hope and Tom Bates. Russ Staton provided the truck needed to bring the tree to the barge, and Northland Services donated barge transport to Juneau.
"House staff have been organizing the event for months, and have been baking holiday treats nonstop for the last few weeks. Our table will be filled with mounds of more than 16,050 holiday cookies, 1,200 slices of assorted breads, 2,640 tarts, and 6,000 pieces of homemade candies," said First Lady Nancy Murkowski. "Gingerbread houses created by students at Dzantik'i Heeni Middle School will be on display in the dining room. There is a wonderful winter gingerbread scene for viewing, as guests make their way from the dining room table to the beverages of warm apple cider and holiday punch."
Entertainers will perform inside and outside the residence. Volunteer entertainers include Alaska Youth Choir directed by Missouri Smyth; Aurora Strings directed by Xia; Creche Tableau, performed by a Brownie Troop led by Emily Kane; Floyd Dryden Middle School Honor Choir directed by Rebecca Ricker and Julia Bastuscheck; Glacier Valley Baptist Messengers directed by Lorraine Marshall; Juneau Christian School Carolers directed by Freddy Cummins; JDHS Instrumental Ensemble directed by Ken Guiher; JDHS Jazz Choir directed by Rod Pocock; Juneau Jubilee directed by Jane Mulready; and the Victorian Carolers.
Juneau magician Jeff Brown will perform his sleight-of-hand, while commissioners from various state departments will serve cookies and warm apple cider to guests waiting in line outside.
The interior decorating team consisted of Capital City Republican Women volunteers, while the Department of Administration grounds and maintenance crews decorated the exterior of the residence. Volunteers assisting during the open house are the Capital City Republican Women; Valley Chapel Elves, supervised by Ann Mattson; and Governor's Office staff and family.
On The Web:
Source of News & Photograph:
Office of the Governor
Web Site


E-mail your news & photos to editor@sitnews.org


Publish A Letter on SitNews Read Letters/Opinions
Submit A Letter to the Editor

Sitnews
Stories In The News
Ketchikan, Alaska