Unemployment Rate Rises In November
Ketchikan's Unemployment Rate 8.4 percent, up from October's 8.0 percent

December 26, 2003
Friday - 12:50 am


Alaska's unemployment rate rose five-tenths of a percentage point in November to 7.3 percent. According to the Alaska Department of Labor, the increase in unemployment was an expected seasonal change as Alaska moves toward the low employment months of winter. The comparable national rate (not seasonally adjusted) was unchanged at 5.6

percent. Dan Robinson, an economist with the Alaska Department of Labor and Workforce Development, reported the numbers.

The number of unemployed Alaskans climbed from 23,419 in October to 25,093 in November, an increase of 7.1 percent. The change was slightly higher that last year's November unemployment increase of 5.0 percent, but smaller than two years ago when the increase was 7.6 percent.

The number of unemployed in Ketchikan climbed from 581 in October to 597 in November. November's unemployment rate in Ketchikan was reported to be 8.4 percent - an increase from 8.0 percent in October. In November of 2002, Ketchikan's unemployment rate was 10.1 percent with 691 unemployed reported.

Although most areas of the state saw higher unemployment numbers in November, Kodiak saw an especially large increase, jumping from 537 in October to 1,032 in November. The main reason identified by the Alaska Department of Labor for higher unemployment in Kodiak was the closure of the ground fish fishery.

Anchorage's unemployment rate increased just one-tenth of a percentage point in November to 5.0 percent. The only borough or census area with a lower unemployment rate than Anchorage was the Aleutians East Borough at 4.9 percent.

Fairbanks and Juneau saw rate increases of seven-tenths of a percentage point in November, each moving from 5.7 percent to 6.4 percent. With a November rate of 21.8 percent, the Wade Hampton Census Area continues to record the state's highest unemployment rate.

Wage and salary employment estimates for November showed a decline of 8,600 jobs from October. Seasonal job losses in the construction and seafood processing industries accounted for more than half of the decline. The Leisure and Hospitality sector also saw significant reductions, mostly in the accommodation industry. Since November 2002 the state has added an estimated 5,300 jobs to the economy.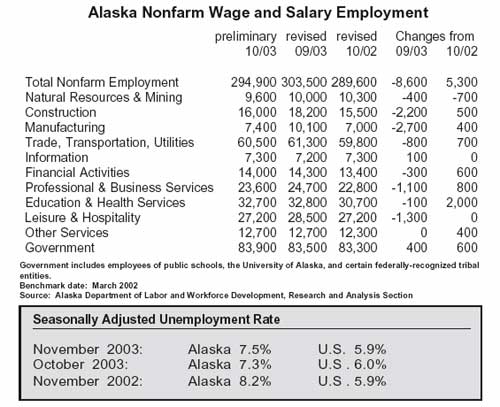 Source of News & Graphics:
Alaska Department of Labor & Workforce Development
Web Site




E-mail Editor: editor@sitnews.org
Post a Comment -------View Comments
Submit an Opinion - Letter

Sitnews
Stories In The News
Ketchikan, Alaska