Alaska Salmon Marketing Grants Announced
December 19, 2003
Friday - 12:55 am

Alaska Governor Frank Murkowski on Thursday announced the list of preliminary award winners for the 2003 Alaska Salmon Marketing Grant Program being administered by the Department of Community & Economic Development. The awards are part of the Governor's $50 million Fisheries Revitalization Strategy, a multi-year, multi-level plan that includes, among other things, an aggressive, international marketing program for wild Alaska salmon.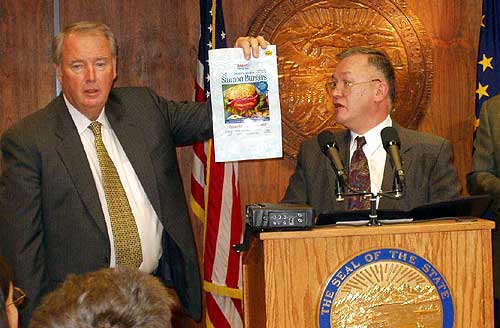 Governor Frank H. Murkowski and Labor Commissioner Greg O'Claray show the packaging for a new wild Alaskan salmon product, pink salmon burgers.
---

"This marketing grant program is designed to support the salmon industry's best thinking to expand existing markets and support emerging product forms," said Murkowski.
The matching grants were available to three categories of applicants. In the "major" category, the state is providing $7.4 million for projects to move large volumes of salmon, particularly pink salmon. In the "mini" category, the state will seek to provide $1.3 million. In the "micro" category, the state is proposing approximately $260,000 in projects funded.
Grants were open to Alaska businesses with a fisheries business license. Businesses without the fisheries business license could apply as a co-applicant with businesses holding the appropriate license. Match requirements ranging from 25 percent to 50 percent based on the applicant category. The State of Alaska received more than 115 grants requesting in excess of $20 million.
Projects receiving funding ranged from under $3,000 for support of fishermen marketing activities to over $1 million for a pink salmon burger promotion. All awards are preliminary and subject to negotiation. Several applications remain under consideration by the Department.
AWARD LIST Applicant (Co-Applicant) Project Preliminary Award*
Major Category
American Seafoods (Bumble Bee) Bumble Bee Canned Salmon Label & Packaging Update $37,500
Icicle Seafoods Honey Boy and Black Top brand marketing $765,000
Icicle Seafoods Ship Ahoy brand marketing $210,000
Leader Creek Fisheries Western Alaska Sockeye Marketing Plan $520,000
NorQuest Seafoods Alaska-Made Specialty Products for Japan $196,500
NorQuest Seafoods Alaskan Salmon Salad Sampling Program $181,000
NorQuest Seafoods Launch National Distribution Campaign Shelf-Stable Smoked Salmon Pouch $779,000
NorQuest Seafoods Live-Processed Alaska Salmon Products $37,250
NorQuest Seafoods Marinated Alaska Salmon Portions $271,800
NorQuest Seafoods Opening New Frontiers for Alaska Wild Salmon in the Growing East Coast Market $356,250
Ocean Beauty Canned Pink $894,700
Ocean Beauty Pillar Rock Pouch $1,059,975
Ocean Beauty Smoked Salmon $402,900
Ocean Beauty Sockeye Salmon Portions $173,500
Peter Pan Peter Pan Canned Salmon Market Expansion $55,000
Peter Pan Tall Pink Promotion under "Double Q" Brand $307,500
Trident Seafoods Alaskan Salmon Burger Costco Promotional Program $1,068,000
Trident Seafoods Canned Salmon Label Revision $28,625
Trident Seafoods Canned Salmon Retail Product Sampling $77,500
Total Major Projects = $7,422,000
Mini Category
Arctic Paws, LLC 2004 Tradeshow Marketing Plan $50,000
Bering Sea Fishermen's Association Kotzebue Sound Arctic Salmon Marketing Program $50,000
Deep Creek Custom Packing, Inc. DCCP Marketing for Revitalization $66,500
Desire Fish Co. Web site design, travel, equipment purchase $15,000
Icy Strait Seafoods Marketing flavored ikura $15,000
Indian Valley Meats Alaska Salmon Jerky Made from Pink and Chum Salmon $50,000
Leader Creek Fisheries (Chulyen Corporation) North Americans Like Alaskan Sockeye Too! $17,650
Northern Keta Caviar Salmon Caviar Marketing to the European Union with Emphasis on the Organic Health Food Market $98,868
Salamatof Seafoods (Alaska Salmon Purchasers Inc.) Packaging and Market Development Project $30,000
Sea Products, LLC Marketing smoked salmon sausage $100,000
Seafood Producers Coop/ E.C. Phillips and Son/ Honnah Cold Storage/ Triad Fisheries Ltd. (Alaska Troll Salmon Processors Assoc.) Marketing Wild Alaska Hook & Line-Caught Salmon in Japan $186,000
Signature Seafoods Chum and Pink Salmon Market Expansion $100,000
Signature Seafoods (TKO Fisheries Ltd.) (WildCatch) WildCatch Retail $154,000
Snug Harbor Seafoods Snug Harbor Branded Salmon Project $19,089
Sockeye Alaska Expanding High-Value Markets for Wild Alaska Salmon $25,000
Trappers Creek Smoking Co. Inc. Taste Alaska's Best Wild Alaska Salmon Jerky $175,000
Wrangell Seafoods Inc. Marketing Wrangell fresh, frozen & canned salmon $125,000
Total Mini Projects = $1,277,107
Micro Category
Alaska Wild Salmon Company Marketing contract for fresh fillets, smoked coho & pet treats $8,000
Alaska Wildsides Label design, web page, promotional tours $18,800
American Surf N' Turf Alaska Fish Hugger $17,625
Cape Cleare Fishery Cape Cleare Proposal $19,000
Dejon Delights, Ltd. Dejon Delights Rhode Island Marketing $7,125
Elfish Company Alaska Salmon: Wild by Nature $14,500
Five Girls Fish Co. Alaskan Fisherman's Direct Sales $16,500
Gil Fish Co. Travel to small retail markets and test shipments $4,700
Horst Seafood Horst Seafood Marketing Plan: web site and travel $10,000
Interior Alaska Fish Processors, Inc. Yukon River Salmon Marketing $16,150
Kodiak Island Smokehouse Kodiak Island Smokehouse Wild Alaska Salmon Marketing Plan $2,475
Kodiak Wild Fish Company Marketing Ready to Eat Pink Salmon $25,000
Lofoten Fish Company Marketing design, website travel for tourists and restaurants $6,841
Maxcy Fishing Company/Wild Salmon Inc. (Wild By Nature LLC) Copper River Salmon, Window to Alaska's Treasures $20,000
Minnesota Connection Marketing Kodiak coho and pink salmon $22,000 Pacific Pleasures Pacific Pleasures Market Up Grades $7,800
Smoky Bay Fisheries Vacuum-packed sockeye marketing $13,000
Troller Point Fisheries Go Wild $16,000
Wind and Tide, Inc. Rose Fisheries Product Promotion $18,050
Total Micro Projects = $263,566
Note: *All preliminary awards are subject to negotiation between the State and applicant.


Source of News Release & Photograph:
Office of the Governor
Web Site




E-mail Editor: editor@sitnews.org
Post a Comment -------View Comments
Submit an Opinion - Letter

Sitnews
Stories In The News
Ketchikan, Alaska