Governor announces SeniorCare,
a new array of services for Alaska seniors

Prescription drug benefit, new services, better access
to health care, information & resources to be offered
December 18, 2003
Thursday - 12:45 am

Juneau, AK - Wednesday Alaska Governor Frank Murkowski announced SeniorCare, a new proposed program to make prescription drugs more affordable for Alaska seniors. "SeniorCare will provide qualified seniors with a prescription drug benefit to assist in the purchase of needed medications," Governor Murkowski said. SeniorCare will also include a new Senior Information Office and a Preferred Drug List to make prescription drugs more affordable. Seniors receiving the Alaska Senior Assistance Program can choose to continue receiving the cash assistance of $120 a month instead of the drug coverage.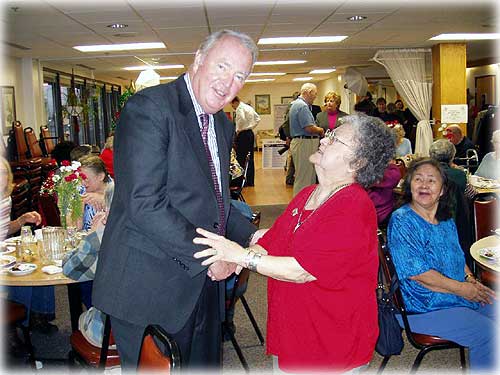 Governor Murkowski meets with Juneau Seniors after announcing a new program Wednesday called SeniorCare. - Photo courtesy Office of the Governor...

"SeniorCare will provide a bridge for those seniors most in need of assistance until the full Medicare prescription drug benefit begins in January 2006," Governor Murkowski noted. "I will ask legislators to pass this legislation in January so that this benefit can begin in April 2004." The Senior Assistance Program cash benefit was only budgeted in the current fiscal year and would end June 30 if the legislature takes no action, but will continue as an option until January 2006 if passed.
Comparison of benefits
"SeniorCare will help low income seniors who do not otherwise qualify for public assistance - the people with greatest needs," said Department of Health and Social Services Commissioner Joel Gilbertson. "However, we will provide a broader program that will help all seniors," Gilbertson said. The new SeniorCare program will provide a one-stop senior resource and referral service, help with prescription drugs and access to healthcare, and work to lower the cost of prescription drugs.
Comparison of qualifications and benefits
Seniors who qualify for the Senior Assistance Program (65 and older and 135 percent of the poverty level), and who are not receiving comprehensive Medicaid prescription drug coverage will be provided a choice - between the new SeniorCare prescription drug subsidy of $1,600 a year or to continue to receive the Senior Assistance Program cash assistance of $1,440 a year. Together with the $600 Medicare subsidy to begin this spring, these eligible seniors opting for the SeniorCare prescription drug benefit will have a combined drug subsidy of $2,200 a year.
Currently those seniors who qualify for the Senior Assistance Program earn less than $15,134 annually, or if living with a spouse, earn less than $20,439. To qualify, some assets are considered in the overall needs test.
Additionally, seniors between 135 percent and 150 percent of poverty level will receive a prescription drug benefit of $1,000 a year. The qualifying income level for these seniors would be those making below $16,815 for an individual or $22,710 for a couple. New federal poverty guidelines will be released early in 2004 and income level guidelines may change.
Other new offerings under the SeniorCare program include completion of a Preferred Drug List and opening a Senior Information Office.
"My commitment to Alaska seniors is to protect their access to prescription drugs, and to provide them better access to senior services," Governor Murkowski said. "Alaska seniors want to get necessary medical care as close to home and community as possible, and they want the opportunity to direct that care to the maximum extent. These are important because they promote independent living at the highest level possible, and that's what SeniorCare is all about."
The Medicaid Preferred Drug List, scheduled to be in place by early 2004, will contain costs for prescription drugs provided to those receiving Medicaid. The list will contain recommendations, selected by Alaska physicians and pharmacists, on drugs that are proven to be the most efficacious, cost-effective and safe. "The Preferred Drug List will also provide a valuable resource for all seniors to compare prescription drug costs, and will enable seniors to work with their physicians to identify cost-effective drugs that are right for them," Gilbertson said. Once implemented next spring, seniors can get the list from the new Alaska Senior Information Office.
"By mid January, our new Senior Information Office is going to be the single stop Alaska seniors will have to make for all resources and referrals they need," Governor Murkowski said. "This is an essential thing we can do to give Alaska seniors better customer service." The Alaska Senior Information Office will provide a statewide toll-free telephone number and Web site for information on services available to seniors, including an up-to-date directory of local physicians who accept Medicaid and Medicare clients, available programs and services including SeniorCare, and prescription drug information and assistance for seniors. The Senior Information Office and the Preferred Drug List will not need legislative approval to be implemented.
The toll-free telephone number for the SeniorCare Senior Information Office is 1-800-478-6065 (Anchorage 907-269-3680) and the Web address is: http://www.seniorcare.alaska.gov
Current programs for seniors which will fall under SeniorCare include comprehensive Medicaid health insurance coverage and Medicare cost-sharing assistance for low-income seniors. About 7,000 eligible seniors receive prescription drugs, medical care, hospitalization and other services from the state at a cost of $119.6 million a year. In addition, DHSS will continue to work with the Denali Commission and others to ensure greater access to healthcare for Medicaid and Medicare patients.
More Information:
Senior Care Fact Sheet

Frequently Asked Questions

Source of News Release & Photograph:
Office of the Governor
Web Site




E-mail Editor: editor@sitnews.org
Post a Comment -------View Comments
Submit an Opinion - Letter

Sitnews
Stories In The News
Ketchikan, Alaska