Christmas Tree for W.I.S.H.es
December 06, 2003
Saturday - 1:00 am

Ketchikan, AK - Santa is getting a head start in Ketchikan this Christmas thanks to some of his helpers. Members of Ketchikan's United States Coast Guard Spouses Association have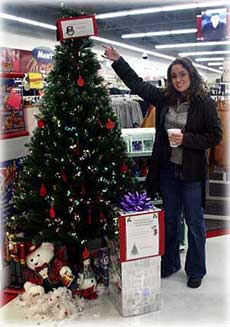 Jessica Stone, Advocate with Women In Safe Homes points to the Christmas Tree for W.I.S.H.es at Wal-Mart.
Photo by Dick Kauffman

been busy organizing food boxes and gifts for families.

Jacqueline Draper, a member of the Coast Guard Spouses Association said, "The Spouses Association wanted to do something to help both adults and children in Ketchikan have a merrier Christmas."

The crew of the United States Coast Guard vessel the Anthony Petit donated food from the Haunted Ship for the food baskets and the Chiefs Association of the U.S. Coast Guard donated turkeys.

The Spouse's Association approached Wal-Mart requesting to set up a box outside to collect donations. Wal-Mart instead generously bought a tree and provided a place within the store for the group to put this special tree - the Christmas Tree for W.I.S.H.es. The tree is decorated with ornaments with ages and sizes written on them.

Anyone who would like to provide a gift to help make someone's Christmas a little merrier can participate by taking an ornament and purchasing an appropriate gift that fits the description on the ornament. The gift can be placed under the tree or can be given to the customer service office at Wal-Mart.

The Spouses Association plans to have a wrapping party to wrap the gifts prior to delivery. The Tongass School of Arts and Science and Revilla High School students will be decorating boxes to hold the food and for the presents. The decorative boxes of food and gifts will be delivered on or before December 20th.

Anyone interested in donating food for the baskets can contact Jacqueline Draper at 723-3356.





E-mail Editor: editor@sitnews.org
Post a Comment -------View Comments
Submit an Opinion - Letter

Sitnews
Stories In The News
Ketchikan, Alaska