Sacred Chilkat Robe Returning Home
November 29, 2015
Sunday AM

(SitNews) Juneau, Alaska - Through the help of donors, a sacred Chilkat robe has been acquired from an ebay seller, who willingly took a loss on the transaction so the piece could be repatriated to the Tlingit, Haida and Tsimshian of Southeast Alaska.
Sealaska Heritage Institute (SHI) staff moved quickly to raise funds and negotiate a lower price than the top bid with the seller, George Blucker, who in the end felt compelled to return it to its original owners, said SHI President Rosita Worl.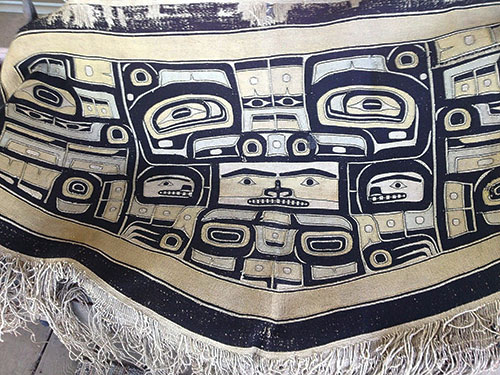 Chilkat Robe
Photo courtesy of George Blucker
"We've watched in sorrow before as our sacred objects at auction have commanded prices beyond our reach. But this time we were able to quickly raise some funds, and we were dealing with a very honorable seller," Worl said.
"All of the stars aligned, and now the Chilkat robe is coming home."
Tribal members alerted Sealaska Heritage Institute about the auction on November 16 and SHI was able to raise the reserve amount of $14,500 through donors. Staff contacted the seller, imploring him to sell the robe to SHI at the reserve price and immediately end the auction, given the significance of the piece. The sale was scheduled to close on Nov. 18, and staff was concerned the price would soar at the end of the auction, as is typical of bidding on ebay. Twelve buyers had already bid up the price to $10,000 and one person bid $20,000, then retracted it. Similar robes have sold for upwards of $30,000 at auction.
Blucker is an artist and for many years, he and his late wife, Jude, took a keen interest in Native American philosophies and art. After researching SHI and learning that the robe was sacred, he opted to sell at the reserve price.
"When I found out that it had religious significance and it had a spiritual presence, that's when I thought I would put it where it should go," said Blucker, who has since received messages from buyers who were peeved that the auction ended early and who were prepared to pay a high price.
"This is unheard of," Worl said. "It is remarkable that a seller would take a loss to do the right thing and repatriate a sacred object to the tribes. We are indebted to him for his noble act of kindness."
Blucker purchased the robe at a flea market in Illinois approximately 25 years ago.
"I saw the blanket lying on top of a VW bus and at first I thought it had to be a fake," said Blucker, who holds a master's of fine arts and has worked in art conservation. "But I knew it could not be a fake with that kind of weaving - who could fake that?"
The flea market seller told Blucker he had bought it at an estate sale in the 1980s. The robe was acquired by a grandfather of the estate's heirs. The grandfather had traveled to the Yukon gold rush in the late 1800s to seek his fortune and came home with the robe.
The robe appears to be a funerary object because of the frayed edges at the top where it may have been attached to a plank and fixture that was placed above a gravesite. It was first thought to be a Raven design, but it might be a Hawk, Eagle or Thunderbird, according to experts. There is no record associating it with a clan or community. It measures just over five feet wide. The fraying has made the weft and warp visible, which will allow artists to examine the materials and technique the weaver used. SHI plans to convene a group of weavers to study the robe.
The institute in May moved into its new building, which has a state-of-the-art, climate-controlled space to preserve the robe and to prevent further deterioration. People who opt to sell pieces under value to a nonprofit may be able to recoup losses if they get the piece appraised by a certified art appraiser prior to the sale.
Sealaska Heritage Institute (SHI) will hold a public ceremony for the return of the sacred Chilkat robe. The ceremony will take place at 1:30 on Tuesday, Dec. 1, 2015, at the Walter Soboleff Building in Juneau. Eagle and Raven representatives will lead the event, which is free and the public is invited to attend.
SHI had hoped to fly seller George Blucker to Juneau from Texas for the Dec. 1 st event, but ticket prices were cost prohibitive due to the Thanksgiving travel season. The institute instead has offered to fly him here in June for Celebration 2016, a major, biennial dance-and-culture festival sponsored by SHI.
"Most of the time people see Chilkat robes only in museums or other exhibits, but they are a sacred, living part of our culture. Mr. Blucker will be able to see that first-hand at Celebration, where people dance their Chilkat robes," Worl said.
Sealaska Heritage Institute is a private, nonprofit founded in 1980 to promote cultural diversity and cross-cultural understanding. The institute is governed by a Board of Trustees and guided by a Council of Traditional Scholars.
Edited by Mary Kauffman, SitNews
Source of News:
Sealaska Heritage Institute
www.sealaskaheritage.org/
Contact the Editor
SitNews ©2015
Stories In The News
Ketchikan, Alaska

Articles & photographs that appear in SitNews may be protected by copyright and may not be reprinted without written permission from and payment of any required fees to the proper sources.

E-mail your news & photos to editor@sitnews.us

Photographers choosing to submit photographs for publication to SitNews are in doing so granting their permission for publication and for archiving. SitNews does not sell photographs. All requests for purchasing a photograph will be emailed to the photographer.