Governor says Alaska will play a role in refugee relocation efforts; Not all lawmakers agree
November 18, 2015
Wednesday PM

(SitNews) - Alaska Governor Bill Walker joined other U.S. governors yesterday in a briefing with officials from the White House, Federal Bureau of Investigation, and U.S. State Department to learn about policies and procedures related to admitting Syrian refugees into the United States. The call was coordinated with the National Governors Association in an effort to educate governors on the process of bringing foreign refugees into the country, and address their concerns on the topic.

"I heard from White House Chief of Staff Denis McDonough and other federal officials [Tuesday] about the stringent vetting process that foreign refugees go through before ever entering the United States," said Governor Walker. "While I understand the issue of allowing refugees into our country and our state lands solely with the federal government, I will remain focused on making sure the vetting process we were briefed on [Tuesday] remains the most stringent refugee vetting process in the world."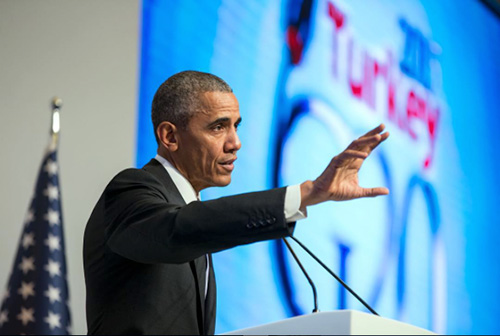 At the G-20 Summit in Antalya, Turkey, President Barack Obama underscored the need for nations around the world to unite against the threat of terrorism.
Whitehouse photograph

According to the Governor's news release, since 2011, about 2,000 Syrian refugees have been admitted to the United States, however none have settled in Alaska. As described by White House officials today, the process for being admitted to the United States as a Syrian refugee can take up to two years, and requires rigorous background checks by the United Nation High Commissioner for Refugees, the U.S. State Department, and the U.S. Department of Homeland Security. Additionally, preference is given to women and children, and single Iraqi and Syrian men between the ages of 16 and 50 must go through additional security screening before being accepted.

Once granted refugee status in the United States, nongovernmental organizations on contract with the U.S. State Department determine where the refugees will be sent. In Alaska, refugee resettlement is coordinated by Catholic Social Services' Refugee Assistance Immigration Services program. Currently, Alaska receives about 120 refugees each year from war torn countries like Somalia, Burma, Sudan, the Congo, and Iraq.

"My highest concern is the safety of all Alaskans, and I appreciate the work being done by Catholic Social Services to help refugees settle in our state, and become valuable members of our community," Governor Walker said. "I am committed to working with the federal government to ensure the highest level of safety for the citizens of Alaska and the United States, and I want to make sure Alaska officials play a role in refugee relocations efforts in our state."
At the G-20 Summit in Antalya, Turkey, President Barack Obama underscored the need for nations around the world to unite against the threat of terrorism.
Obama speaking Sunday on the Syrian refugee crisis said, "When I hear folks say that, well, maybe we should just admit the Christians but not the Muslims; when I hear political leaders suggesting that there would be a religious test for which a person who's fleeing from a war-torn country is admitted, when some of those folks themselves come from families who benefitted from protection when they were fleeing political persecution—that's shameful. That's not American. That's not who we are. We don't have religious tests to our compassion." ("We Are United Against This Threat" - Summary)
U.S. Senator Lisa Murkowski (R-AK) prefers an immediate moratorium and released a statement Tuesday in response to concerns over whether or not to allow Syrian refugees into the United States.
Murkowski said, "I urge the President to agree to an immediate moratorium on granting asylum to Syrian refugees. A moratorium is necessary for the Congress and the American people to better understand the adequacy of our existing refugee vetting process and whether meaningful additional steps need to be taken when considering the applications of Syrian refugees. My view is that the security of Alaskans and all Americans must come first."

"Over the past 24 hours I have heard from Alaskans who are fearful that the United States intends to imminently admit thousands of Syrian refugees, without adequate vetting, at the risk of our national security. This does not appear to be the case. Asylum applications can take up to two years to process; sometimes longer," said Murkowski.

"I have also heard from leaders of our faith communities who argue the moral dimensions of the issue," said Murkowksi. "They are deeply troubled that the U.S. is about to turn away innocent families, fleeing war and persecution, due to a misunderstanding about the rigorous process that has historically been used to determine which of a fortunate few will be given refugee status in the United States."

"After initially proposing to admit up to 10,000 Syrian refugees in 2016, the administration did a poor job at explaining how the refugee resettlement process works and addressing concerns that the U.S. will not have access to sufficient information to determine the security risks associated with admitting a particular person or family. The administration has done little to remedy this lack of clarity in the wake of the events in Paris. The events last weekend in Paris give rise to legitimate concerns that terrorists will enter the United States posing as refugees," she said.

Murkowski said, "It is not surprising that the first instinct of Governors and their citizens would be 'too risky.' People are legitimately skeptical that the United States will not have adequate information about this group of asylum seekers to make an informed decision. Syria has long been a closed society and the destructive civil war has done little to ensure that necessary records will be available."

She concluded saying, "The difficult national conversation that has been taking place over the past 72 hours may leave some of those who have been resettled in Alaska with the misimpression that the American people are no longer sympathetic or welcoming. Nothing could be further than the truth. Alaska takes great pride in its diverse population. I am personally proud of the work of Catholic Social Services of Alaska, and their dedicated volunteers, in administering our state's refugee resettlement program and wish those who have benefited from the refugee resettlement program well in establishing their new lives in America."
Congressman Don Young (R-AK) also released a statement Tuesday. He said, "The safety and security of Americans is paramount and I will not sit idle while extremist groups like ISIS spread violence and hatred across the globe. I stand with numerous others in calling for the suspension of Syrian refugee resettlement efforts in the United States. Until we can ensure these programs are safe and not vulnerable to exploitation by our enemies, we must proceed with caution."
Young said, "Sadly, President Obama and his advisers have doubled down on their failed foreign policy decisions that dramatically underestimated the threats and capabilities of ISIS. Ultimately, a path forward must include a strategic and comprehensive plan to defeat and deter the growing threat of radical extremism, which is why I have called upon the President to sign the National Defense Authorization Act (NDAA) and put forth a plan to eliminate ISIS."
"As we move forward, I remain committed to protecting our citizens and upholding one of the federal government's most basic responsibilities – the common defense of our nation," said Young.
Senator Mike Dunleavy (R-Valleys) is urging a freeze on refugees coming in to Alaska. In a statement Dunleavy said, "While I recognize that the Alaska Legislature is without the explicit authority to protect its citizens from a wave of immigrants from regions well known to harbor anti-American hatred, I respectfully request that our executive officers, be that President Obama or Governor Walker, to the extent possible, implement an immediate freeze on all applicants for citizenship/residency into our country/state until a failsafe system is in place to ascertain the nature of such immigrants or refugees."
Dunleavy said, "President Obama and others are advocating bypassing our well-established individual immigration standards to resettle individuals from a very volatile region under the category of "refugee." The U.S. government is not requiring background checks, means of support, or job skills, nothing to show that they share our philosophy of freedom, respect for our laws, or an understanding of American values. No state, especially Alaska, should bear the brunt of this hasty, poorly thought-out reaction to unfortunate world events. Have we learned nothing from our failed immigration enforcement policies? Have we garnered nothing from the Cuba "Mariel boat lift" experience of 1980, during which hundreds of known criminals were brought into the U.S. under the umbrella of "refugee"? The American people have nothing to be gained from this naïve reaction to a Middle Eastern conflict and the risks could be deadly, as we've seen from recent terrorist attacks in Paris and Beirut this past week, going back to the destruction of the World Trade Center. We must recognize the danger and do all we can to protect our citizens now."
Although Governor Walker said he wants to make sure Alaska officials play a role in refugee relocations efforts in Alaska, Dunleavy said, "As an immediate step, I call upon Governor Walker to use the full power of his office in carrying out the executive's primary responsibility to protect its citizens from domestic and foreign threats." He said, "I strongly urge the Governor to immediately direct all state agencies and departments to "stand down" and take no action whatsoever, whether that be grants, funds, permits etc. that would facilitate the immigration of non-citizens into our state. I also call upon the Governor to request that non-governmental agencies that receives state funds to do likewise. The protection of Alaskans and Americans should take precedence over refugee resettlement. Protecting our citizens should be our primary and only concern on this issue."
Edited by Mary Kauffman, SitNews
Source of News:
Office of the Governor
www.gov.state.ak.us

Office of U.S. Senator Lisa Murkowski
www.murkowski.senate. gov

Office of Congressman Don Young
www.donyoung.house.gov

Alaska Senate Majority
www.akleg.gov

Contact the Editor
SitNews ©2015
Stories In The News
Ketchikan, Alaska

Articles & photographs that appear in SitNews may be protected by copyright and may not be reprinted without written permission from and payment of any required fees to the proper sources.

E-mail your news & photos to editor@sitnews.us

Photographers choosing to submit photographs for publication to SitNews are in doing so granting their permission for publication and for archiving. SitNews does not sell photographs. All requests for purchasing a photograph will be emailed to the photographer.