New Leadership for Department of Corrections Announced
November 18, 2015
Wednesday PM

(SitNews) - Governor Bill Walker announced new leadership for the Department of Corrections this week. Walter Monegan III was named Interim Commissioner of the state agency, which oversees the confinement of inmates living in correctional facilities, halfway houses, and community jails across Alaska. This announcement comes in conjunction with the release of Governor Walker's administrative review of the Department of Corrections and its facilities.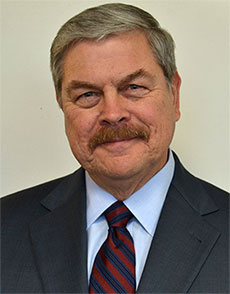 Walter Monegan III was named Interim Commissioner of Alaska Department of Corrections
Photo courtesy Office of the Gov.
"The core values of this administration include public trust, respect, and community service. Everything we say and do as an administration must reflect these values, and that begins with the leadership in every department," said Governor Walker on Monday. "I have asked Walt Monegan to step in as the Department of Corrections Interim Commissioner to help us get our house in order, and begin DOC on a path to build public trust and restore integrity."

Walt Monegan brings to this new role extensive experience in Alaska's public safety and criminal justice sectors. Monegan began his career in public service as a member of the United States Marine Corps, and later as a volunteer firefighter and medic. He went on to serve more than 33 years with the Anchorage Police Department, including five years as Chief of Police from 2001 to 2006. Upon retirement from APD, Monegan was appointed Commissioner of Alaska's Department of Public Safety from 2006 to 2008. Most recently, he was President of the Alaska Native Justice Center, a non-profit agency advocating for equality in Alaska's justice system.

Governor Walker also released his office's administrative review of the Department of Corrections today. This report follows an 11-week review of DOC by Special Assistant Dean Williams and retired FBI agent Joe Hanlon. The report was prompted by several high-profile inmate deaths, and concerns expressed by lawmakers and the general public.

After visits to the state correctional facilities, interviews with superintendents and other DOC employees, reviews of inmate deaths, and correspondence with current and former inmates, the review team recommended multiple departmental changes, including:
Develop strict guidelines to ensure all department policies are updated within six months;
Develop a chain of command putting superintendents in supervisory control of all employees within a facility;
Establish a clear priority to reduce solitary confinement and establish benchmarks of progress;
Develop appropriate alternatives to admitting intoxicated individuals in prison for protective custody;
And develop policies and practices that ensure correctional officers are properly trained before assuming duty posts, and receive ongoing professional training and evaluation.
Also as a result of the review, Williams and Hanlon recommended new protocols and procedures in investigating inmate deaths.

"The state has a valid interest in making sure its Department of Corrections is a thriving state agency that promotes inmate and public safety," said Governor Walker. "A majority of inmates will ultimately be released, so it behooves us to ensure their time in our correctional facilities does not hinder their pursuit to a healthy life. This report is by no means the end of our effort to bring change to the Department of Corrections. I look forward to working with Walt to turn the page and regain the public's trust in our corrections system."
"I find this report very disturbing and in need of immediate action," said Sen. Lesil McGuire (R-Anchorage) co-chair of the Senate Judiciary committee. "I appreciate that the administration has taken serious measures to investigate what appeared to be very concerning matters involving suicide and potential abusive situations, in some cases leading to death of inmates in custody. We need to hear more from those who work inside the system on how to employ best practices."

The Senate Judiciary committee will hold hearings during the upcoming legislative session to address the issues identified in the report, and the committee looks forward to partnering with the administration in taking action, McGuire said.

"There is a confluence of increased numbers of inmates, an eroding level of care and structurally ineffective policies," McGuire said. "The good news is that we've unearthed some of the problems. The Senate Judiciary committee will continue to review the ongoing issues and we are grateful for this additional information to help us reform Alaska's prison system."

Monday morning the House Finance committee also heard a report by the PEW Charitable Trust that highlighted Alaska's prison growth over the past 10 years.

"Ninety-five percent of all Alaskan inmates will ultimately be released back into society," McGuire said. "It is in our state's interest to give them the best chance of success and to reduce recidivism."
The Alaska Correctional Officers Association stated in a news release that Correctional Officers applaud Governor Walker's appointment of Walt Monegan as the new Interim Commissioner of Corrections. A newsrelase from the Alaska Correctional Officers stated tjat besides his extensive career in Law Enforcement, Commissioner Monegan is respected in all Law Enforcement circles as an individual of impeccable character and integrity.
"We understand that Walt Monegan is only the interim Commissioner while a national search is being conducted. I do not know him personally, nor have I had the opportunity to speak with him, but you could search the nation and not find anyone more qualified to be Commissioner of Corrections than Walt Monegan. His reputation precedes him," - Brad Wilson, Alaska Correctional Officers Association Business Manager.

The Alaska Correctional Officers Association is optimistic that Commissioner Monegan will make Officer, inmate, and the public's safety a top priority for this Administration. When Officer and inmate safety is compromised, every other Departmental objective, including recidivism reduction, is negatively impacted. "Correctional Officers have said for a decade that there are serious problems within Corrections, including staffing and training, but Officers have been ignored. We cannot thank Governor Walker enough for looking into the Department of Corrections. When running for office, the Governor said he would look into Corrections, he kept his word."

Quoting a news release for the Alaska Correctional Officers Association "Correctional Officers walk Alaska's toughest and most dangerous beat. It is a welcome change to have an Administration looking into the problems Correctional Officers have been bringing forward for years."

The comprehensive Administrative Review of the Department confirms many of the conerns that Correctional Officers have stated over the last 10 years. Since 2005, Legislative Audits and studies have shown that the current staffing levels and low shift minimums at the institutions are inadequate to safely protect Officers, inmates, and the public. Almost every issue in the report can be minimized or resolved with proper staffing. "We are still reviewing the report and look forward to working with the new DOC Management on the issues within the Department," wrote the Alaska Correctional Officers Association.
Related:
Download -- Alaska Department of Corrections: An Administrative Review (pdf)
http://www.sitnews.us/1115News/111815/20151113_doc-review.pdf
Edited by Mary Kauffman, SitNews
Source of News:
Office of Governor Bill Walker
www.gov.state.ak.us


Alaska Senate Judiciary committee
Co-chair Sen. Lesil McGuire (R-Anchorage)
www.akleg.gov

Alaska Correctional Officers Association
www.acoa.us
Contact the Editor
SitNews ©2015
Stories In The News
Ketchikan, Alaska

Articles & photographs that appear in SitNews may be protected by copyright and may not be reprinted without written permission from and payment of any required fees to the proper sources.

E-mail your news & photos to editor@sitnews.us

Photographers choosing to submit photographs for publication to SitNews are in doing so granting their permission for publication and for archiving. SitNews does not sell photographs. All requests for purchasing a photograph will be emailed to the photographer.