EXXON VALDEZ DAMAGES SUIT DRAGS INTO 2015 AND PERHAPS BEYOND
Judge Frustrated That Long Overdue Restoration Plan Still Not Near Completion
November 12, 2014
Wednesday PM

(SitNews) Washington, D.C. - The longest running environmental lawsuit in American history will continue to plod on with no end in sight, according to documents posted Monday by Public Employees for Environmental Responsibility (PEER). Unresolved more than 25 years after the tanker Exxon Valdez spilled 11 million gallons of crude oil onto the Alaska waters and coast is how much damage the spill is still causing the state's fish, wildlife and environment.
No one anticipated any unusual problems as the Exxon Valdez left the Alyeska Pipeline Terminal at 9:12 p.m., Alaska Standard Time, on March 23,1989. The 987 foot ship, second newest in Exxon Shipping Company's 20-tanker fleet, was loaded with 53,094,510 gallons (1,264,155 barrels) of North Slope crude oil bound for Long Beach, California. Tankers carrying North Slope crude oil had safely transited Prince William Sound more than 8,700 times in the 12 years since oil began flowing through the trans-Alaska pipeline, with no major disasters and few serious incidents. This experience gave little reason to suspect impending disaster. Yet less than three hours later, the Exxon Valdez grounded at Bligh Reef, rupturing eight of its 11 cargo tanks and spewing some 10.8 million gallons of crude oil into Prince William Sound.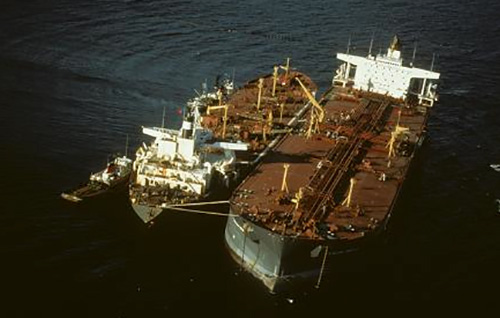 Exxon Valdez tanker aground, 1989. Off-loading of remaining oil in progress.
Photo courtesy of the Exxon Valdez Oil Spill Trustee Council.

Today, the ongoing federal litigation revolves around the part of the original 1991 billion-dollar settlement with Exxon calling for an added payment of up to $100 million for environmental damages unknown at the time of the settlement. In 2006, the U.S. and Alaska jointly submitted a demand that the oil company pay $92 million to fund recovery for these injuries – an amount that has since grown to nearly $130 million with annual 5% interest. However, this "Reopener" claim has yet to be collected by the Governments.
In the intervening years, the Governments claimed to be waiting for completion of environmental studies. In March of this year, the U.S. Justice Department and Alaska filed a status report stating that "the last of these scientific reports nears completion and public release." But in their latest status report of October 15, the Governments cite further delays in evaluating "the feasibility of employing potential remediation alternatives, notably bioremediation, tilling and removal, at all beaches where lingering oil has been found or is expected." They proposed to file their next update "by June 30, 2015, or at such earlier date as the Governments have additional, significant information to report."
In his November 3, 2014 case status order, U.S. District Judge H. R. Holland expressed consternation that "this case lives on, appearing to have progressed very little during this year" adding that "Bluntly, the court does not understand why the Trustees are some eight years into their evaluation process without reaching some point of finality on whether there are or are not unknown injuries to the environment which might be the subject of the re-opener provision of the consent decree."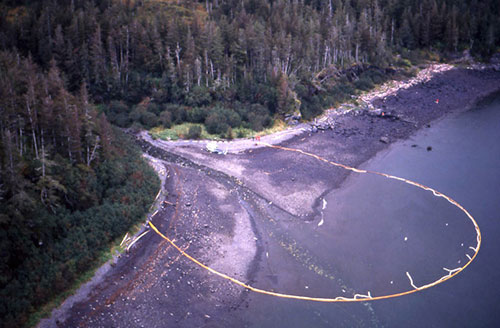 Exxon Valdez Oil Spill 1989: Oiled beach - boom protecting salmon stream.
Photo taken at LaTouche Island (Prince William Sound).
Alaska State Archives

"One object lesson from this legal marathon is that any civil settlement for the 2010 BP Gulf of Mexico disaster should require that any future Reopener claim made by the Gulf states and U.S. must either be paid in full by BP or be brought before the court within one year for final arbitration," argued Rick Steiner, a PEER Board Member and retired University of Alaska professor who attempted to intervene in 2010 to break the logjam in this case. "Another lesson is that if the public cannot collect this long overdue payment for an oil spill occurring over a quarter of a century ago, we have little reason to trust proffered 'commitments' to compensate or remediate environmental damage from future offshore drilling in the Arctic."
While the precise dollar amount for lingering damages has yet to be calculated, there appears to be little doubt that affected Alaskan wildlife are still nowhere near recovered and some populations may never recover. Along Prince William Sound, thousands of gallons of toxic oil from the 1989 spill remain embedded in beach sediments un-degraded in a frigid climate.
According to PEER, meanwhile, time may finally be running out on the Reopener claim. The 2010 termination of the tolling agreement between the Governments and Exxon triggered a six-year period of limitation on any Reopener claim that expires on June 24, 2016. If the Governments do not act by then, Exxon may be able to legally block any belated claim.
"The Governments' glacial pace has neglected long-lingering damages to both Alaska's environment and its economy. Further delays may threaten their ability to collect anything at all," stated PEER Executive Director Jeff Ruch, noting that Judge Holland observed the passing of another two attorneys who had been party to earlier pleadings. "In the immediate aftermath of Exxon Valdez, oil industry executives predicted that lawyers yet to be born will work on this spill – a prediction that is unfortunately coming true."
According to the final report of the Alaska Oil Spill Commission, no human lives were lost as a direct result of the 1989 disaster, though four deaths were associated with the cleanup effort. Indirectly, however, the human and natural losses were immense - to fisheries, subsistence livelihoods, tourism, wildlife. The most important loss for many who will never visit Prince William Sound was the aesthetic sense that something sacred in the relatively unspoiled land and waters of Alaska had been defiled.

Edited by Mary Kauffman, SitNews
On the Web:
Government's latest status report
http://www.sitnews.us/1114News/111214/
11_10_14_Exxon_Valdez_status_report.pdf

Read Judge Holland's latest order
http://www.sitnews.us/1114News/111214/11_10_14_Court-Order.pdf

Revisit longest environmental litigation in history
http://www.peer.org/news/news-releases/2013/07/15/exxon-valdez-recovery-remains-stuck-in-limbo/
Related Information:
Details about the Accident
SPILL: The wreck of the Exxon Valdez
Final Report, Alaska Oil Spill Commission
Published February 1990 by the State of Alaska
http://www.evostc.state.ak.us/index.cfm?FA=facts.details
Source of News:
Alaska Oil Spill Commission
http://www.evostc.state.ak.us

Public Employees for Environmental Responsibility (PEER)
http://www.peer.org

PEER is a national non-profit alliance of local, state and federal scientists, law enforcement officers, land managers and other professionals dedicated to upholding environmental laws and values.
Contact the Editor
SitNews ©2014
Stories In The News
Ketchikan, Alaska

Articles & photographs that appear in SitNews may be protected by copyright and may not be reprinted without written permission from and payment of any required fees to the proper sources.

E-mail your news & photos to editor@sitnews.us

Photographers choosing to submit photographs for publication to SitNews are in doing so granting their permission for publication and for archiving. SitNews does not sell photographs. All requests for purchasing a photograph will be emailed to the photographer.