Chief Shakes Tribal House inches towards completion
November 16, 2012
Friday PM

(SitNews) Wrangell, Alaska - A late stretch of warm, fall weather in Wrangell saw the new Chief Shakes Tribal House roof up in a matter of days. It wasn't long before the weather switched, with cool, clear days eventually giving way to rain and some heavy winds.
"We're still standing," said Project Manager Todd White. Looking at the new foundation, massive logs and water tight roof, one would wonder what it would actually take to make even a scratch in the building. A beefed up roof system has ensured the interior remains bone-dry. In addition to the classic cedar planks and shakes, White has added layers of 3/4" plywood and waterproof membrane.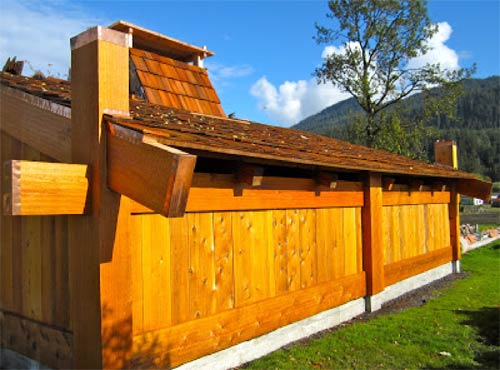 Chief Shakes Tribal House
Photo courtesy Wrangell Cooperative Association (WCA)

The copper flashing is striking, as is the smell of cedar and wood stain half-way down the 300 yard boardwalk. The walls have been up for months and the roof has been on now for weeks. Despite the tremendous visual progress, White isn't distracted from his goal of making the National Historic Site perfect.
"It's going to take a while still," said White. "We had to re-locate the temporary carving shed, which set us back some work-time. We also took the time to cover the totems located on the island to protect them from the weather. We're looking at finishing the floors, then lighting, heat and electricity. And if it turns out we're short a little cedar, we may be looking for new logs to mill and adze in order to finish the floor."
"After all is done, we're still going to need a window of cool, dry weather to get the house posts and artifacts back inside," said White. "They're currently on display at the Nolan Center and Wrangellites know it's tough to predict the weather."
"The building is golden," said WCA's Tis Peterman. "It's encouraging to see the Tribal House progressing like it is. It's in the latter stages of construction and after nearly 10 years of pushing, it's nice to not have to worry about it getting finished. Now we can turn our attention squarely on the Re-dedication."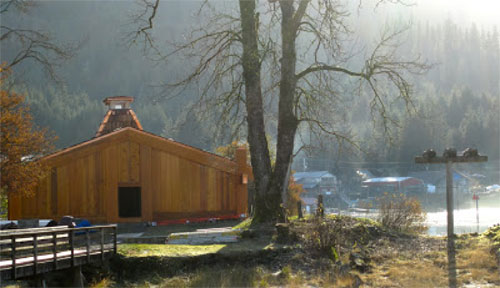 Chief Shakes Tribal House
Photo courtesy Wrangell Cooperative Association (WCA)

Nearly 700 have already replied for 2013 Shakes Island re-dedication scheduled for May 3rd & 4th, 2013. Of the nearly 700 visitors, consisting of mostly donors, dancers and canoe groups, the list of attendees is expected to grow and lodging is expected to be scarce. If you can help with housing, transportation, food, advertising, fund raising, dancing, gift giving or assist in any other fashion, you are asked to contact the WCA via phone (907.874.4304), email wcatribe@gmail.com, or stop by the WCA office in downtown Wrangell.
The Wrangell Cooperative Association (WCA) is the federally recognized tribe of the Stikine River region. WCA's charter was approved by the Department of the Interior in 1942. The tribe's mission is to support the cultural, ceremonial and subsistence lifestyle for all Alaskans and to promote the safe use and availability of a healthy environment for present and future generations. WCA provides social services, employment and educational opportunities to both the tribe and the Wrangell community. Of the 2,000 residents of Wrangell, approximately 800 are tribal members.
Edited by Mary Kauffman, SitNews
On the Web:
Shakes Island Re-dedication
http://shakesislandrededication.blogspot.com
Source of News:
Chief Shakes Island Project
www.shakesisland.com
E-mail your news & photos to editor@sitnews.us


Publish A Letter in SitNews
Contact the Editor
SitNews ©2012
Stories In The News
Ketchikan, Alaska

Articles & photographs that appear in SitNews may be protected by copyright and may not be reprinted without written permission from and payment of any required fees to the proper sources.