Microgreen farmer has a vision for the Alaska diet
By NACY TARNAI
November 07, 2012
Wednesday PM

(SitNews) Fairbanks, Alaska - Bill Johnson has a vision: to get microgreens into as many Alaskans' diets as possible.
Johnson's Family Farm is ready to churn out 5,000 plastic clamshell containers of microgreens each week for Fairbanksans, and owner Johnson is fairly bursting with excitement over his farm's expansion.
"It's such a difference," he said. "I'm so proud of it."
Johnson opened his first controlled environment hydroponic center nearly two years ago in Fairbanks on South Cushman and in September relocated to 30th Avenue.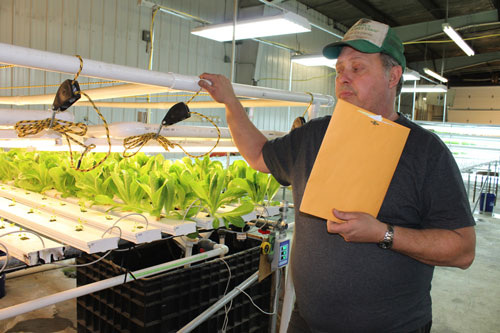 Bill Johnson checks his lettuce crop.
Photo by Nacy Tarnai

The new facility is a 6,000- square-foot building in the warehouse district. Unbeknownst to passersby, inside is an oasis of humidity and greenery where Johnson grows microgreens, wheatgrass, basil and lettuce.
JFF grows microgreens from radish, sunflower and snow pea seeds as the staples, and is experimenting with beets, carrots, onions, cilantro, garlic and corn (at the request of a local chef).
The basil is a special heirloom variety, a blend of genesis and Italian large leaf. He currently has 900 basil plants growing. Lettuce is an especially tasty kind of Romaine that can last up to three weeks if properly stored with its roots attached.
Currently, JFF sells products to Homegrown Market, Lavelle's Bistro, Zydeco Way, Fairbanks Memorial Hospital cafeteria, Double Eagle Restaurant, the Pump House, Gold Hill Express and Speedy Subs. The hospital is Johnson's biggest customer but he hopes someday it will be the smallest, that he will have even larger buyers.
Soon, a retail outlet inside the warehouse will open, where customers can buy directly from him. Johnson dreams of the day when he has farms in Kodiak and Dutch Harbor, and is able to supply fresh greens to fishing crews.
School lunches are another potential market he hopes to tap into. On Oct. 24, Farm to School hosted a taste testing at Randy Smith Middle School. Students tested mini-cups of salad with JFF ingredients.
Johanna Herron, coordinator of Farm to School, said: "The chicken orange salad recipe came out on top with 70 votes and the taco recipe got 46 votes (116 total votes). Half of the students that did not pick the taco recipe as their favorite reported that they still liked it, just not as much. The great thing about this event was finding out that mixing in sweet pea micro-greens into their salad did not stop them from enjoying the dish. Johnson Family Farm will soon be selling their micro-greens to the school district for them to add to their salads, another great way that the Nutritional Alaskan Foods in Schools grant funds will be spent."
Inside the warehouse, for optimal growing conditions, the temperature is maintained at a constant 58.6 degrees and a computerized climate system monitors carbon dioxide and humidity levels to avoid vapor pressure deficit in the building.
Johnson doesn't trust city water, so he puts his water through a reverse osmosis process to purify it, then removes the minerals and adds his own. "I start with a clean slate," he said.
Johnson believes wholeheartedly in the health benefits of microgreens. "Their antioxidants have medicinal value," he said. "It's fresh, live food that has remarkable nutritional value. It's gold."
Another beauty of the growing system is that with two weeks' notice, Johnson can grow greens to fill special orders.
The JFF brochure proclaims the vitamin and mineral content of each type of microgreen. For example, the sunflower shoots are high in protein, fiber, iron, vitamins A, C, D and E. Wheatgrass boasts iron, calcium, potassium, amino acids, fiber, protein, chlorophyll, vitamins B 12, C, D and E.
Johnson still has his day job, delivering cement to Pogo Mine six days a week and has hired helpers to assist with the farm. Family members, including his wife and brother-in-law, have also been enlisted to help.
"I want to feed the whole state," Johnson declared. "Day to day we are knocking it out. It's a real labor of love and a work in progress.
"It's peachy; I'll make it work."
On the Web:
JFF (Johnson Family Farm)
www.jffalaska.com
This column is provided as a service by the UAF School of Natural Resources and Agricultural Sciences and the Agricultural and Forestry Experiment Station.
Nancy Tarnai is the school and station's public information officer.
She can be reached at ntarnai@alaska.edu
E-mail your news & photos to editor@sitnews.us


Publish A Letter in SitNews
Contact the Editor
SitNews ©2012
Stories In The News
Ketchikan, Alaska

Articles & photographs that appear in SitNews may be protected by copyright and may not be reprinted without written permission from and payment of any required fees to the proper sources.