Lung cancer makes Barbara Fields regret smoking
November 17, 2010
Wednesday AM

Klawock, Alaska - Barbara Fields underwent her first chemotherapy treatments for lung cancer in July and she felt terrible, bad enough to wish she'd never started smoking.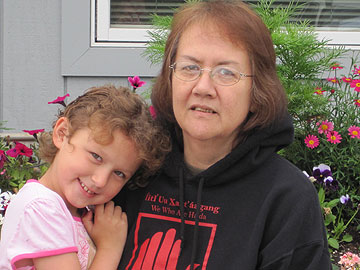 Barbara Fields, a former tribal administrator from Craig, holds her granddaughter Victoria Fields. This summer, Barbara was diagnosed with Stage 4 lung cancer after smoking for 40 years. She is telling her story in hopes that it may help someone else quit smoking or keep them from starting.
Photo courtesy SEARHC
"Oh, my God, no, I wouldn't wish this on anyone," Barbara said. "It's not so much what I'm going through, but it's what my kids and family are going through. It's not fair for my family."
Barbara, 57, is a Haida from Craig, though she was born and raised in Klawock. She was a tribal administrator in Craig and before that worked for tribal programs in Ketchikan. Barbara even spent several years as a drug and alcohol counselor. She started smoking when she was 17 or 18, after a schoolmate named Sue dared her to smoke. Most of her family smoked, including her parents, so cigarettes were everywhere.
Barbara tried to quit smoking several times, but nothing worked. It wasn't until 40 years later, on June 17, when Barbara finally quit. That was the day she found out she had Stage 4 lung cancer (her cancer had spread to other organs). "I quit kinda late," Barbara said.
Doctors were looking for something else when they found her cancer. Barbara was in Sitka at the SouthEast Alaska Regional Health Consortium (SEARHC) S'áxt' Hít Mt. Edgecumbe Hospital having a CT scan of her stomach due to a bad case of anemia, and the image caught part of her lung and showed a spot. Since then, Barbara has been at the Anchorage Native Medical Center receiving cancer treatments. An allergic reaction to one of the drugs made her sick non-stop for three days following her first treatment.
"It's horrible," Barbara said. "All those moments where I said the cigarettes were relaxing me, I wish I could give them back. This (chemo) is another poison, and hopefully it will make me feel better."
Barbara, a widow, has three daughters and two sons. She also is raising her 8-year-old grandaughter, Victoria, who is in Anchorage with Barbara. "She's always asking me, 'How are you feeling, Naan (Haida for grandmother),'" Barbara said. "She's my best friend."
After she was diagnosed with cancer, Barbara talked with her family and decided to tell her story. She hopes her story might help others quit tobacco, or not even start.
"I do want kids to stop smoking," Barbara said. "If people see a face they know, it means more, because that's my family, that's my friend. If one kid stops smoking, telling my story will be worth it."
Barbara is working with the SEARHC Tobacco Program to help tell her story in Southeast Alaska, especially on Prince of Wales Island.
The American Cancer Society's 35th annual Great American Smokeout is Thursday, Nov. 18, making it the perfect day to quit tobacco.
Source of News:
Southeast Alaska Regional Health Consortium
www.searhc.org

The SEARHC Tobacco Program has offices in Sitka, Juneau and Klawock to provide support and nicotine replacement therapy (gum, patches, etc.). SEARHC Tobacco staff will offer a variety of activities on the Great American Smokeout to help tobacco users who want to quit. To learn more about the SEARHC Tobacco Program's tobacco quit services (available in all SEARHC communities), please call the SEARHC Tobacco Quit Line at 1-888-966-8875 (toll-free).
E-mail your news & photos to editor@sitnews.us


Publish A Letter in SitNews Read Letters/Opinions
Contact the Editor
SitNews ©2010
Stories In The News
Ketchikan, Alaska