Gov. Names Winfree to Alaska Supreme Court
November 19, 2007
Monday AM

Governor Sarah Palin on Friday selected Fairbanks attorney Daniel E. Winfree as her first appointment to the Alaska Supreme Court. Winfree is the 19th justice appointed to the court.
"In his life and his legal career, Daniel Winfree has demonstrated an impressive intellect, a generous heart and a profound respect for the legal system and Constitution it relies on to guide civil life in Alaska," Governor Palin said. "I am gratified at the opportunity to place this fine man and outstanding attorney on the Alaska Supreme Court, and am confident he will serve the people of the state with wisdom and integrity."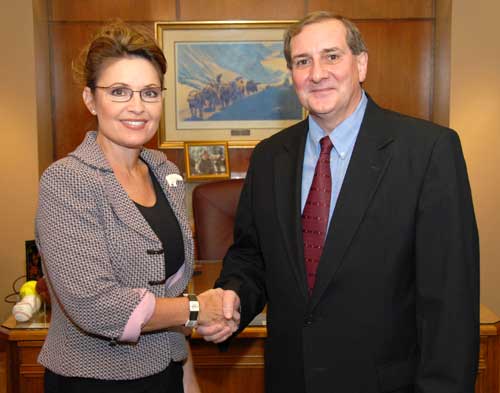 Governor Sarah Palin selected Fairbanks attorney Daniel E. Winfree
as her first appointment to the Alaska Supreme Court.
Photo courtesy Office of the Governor

Winfree, 54, was born in Fairbanks. He received a bachelor's degree from the University of Oregon in 1977 and both a law degree and a master's degree in business administration from the University of California in 1981.
He worked for Perkins, Coie law office in Anchorage 1982-85, then opened his own law office in Valdez, practicing there from 1985-90. Winfree returned to Fairbanks to open a legal partnership, Winfree and Hompesch, which he closed in 1996 in favor of the Winfree Law office, which he has operated in Fairbanks since 1996 as a six-attorney private law office.
In 2006, Winfree was hired as general counsel and executive director for the Greater Fairbanks Community Hospital Foundation. He has worked tirelessly to provide free legal services to Alaskans in need, and was a driving force in a four-year, 200-case effort to recover federal funds lost to physically and mentally disabled Alaskans in the bankruptcy of a Fairbanks service organization.
Winfree has been actively involved in the state's legal community, serving as a member, secretary, treasurer, president-elect and president of the Alaska Bar Association Board of Governors from 1990-96. He was also a member and president of the Western States Bar Conference; and member of the American Bar Association, the Alaska Academy of Trial Lawyers, and the Association of Trial Lawyers of America. Winfree has served on the University of Alaska, Fairbanks' College of Fellows from 1992-96 and on the university's Museum of the North advisory council since 2006. He has been a Rotary Club member and officer since 1992, and a member of the Greater Fairbanks Chamber of Commerce from 1987-2006. Winfree has also served as an adjunct faculty member at the Prince William Sound Community College, and at the University of Alaska's Tanana Valley Campus.
Winfree and his wife Cathy, a registered nurse, have a daughter, 21, and a son, 15.
The Alaska Supreme Court serves as the ultimate court of appeals for the state's District and Superior courts. The chief justice and four associate justices hear cases in Anchorage on a monthly basis and in Fairbanks and Juneau on a quarterly basis. The court also administers the state's judicial system.
Winfree replaces Associate Justice Alexander O. Bryner, who retired Oct. 31, 2007 after 10 years service of years on the Court, including three years as chief justice, from 2003-06.
"I would like to thank Justice Bryner for his decade of service to the people of Alaska on the Supreme Court," Governor Palin said.
Upon receiving the Council's four recommendations, Governor Palin conducted her own background reviews and conducted interviews with all four candidates before making her selection.
"Choosing one of these candidates was very difficult because all four are highly qualified, and each has such an obvious dedication to this great State," she said. "I came away from this selection process with a tremendous admiration for these nominees."
All Alaska Supreme Court justices face public retention elections, and must step down from the bench upon reaching the age of 70.
Source of News & Photo:
Office of the Governor
www.gov.state.ak.us
E-mail your news & photos to editor@sitnews.us


Publish A Letter in SitNews Read Letters/Opinions
Contact the Editor
SitNews ©2007
Stories In The News
Ketchikan, Alaska