Lessons learned on an Arctic journey
By Ned Rozell
November 01, 2007
Thursday AM

In my job as a science writer, I often sit in on lectures in which scientists describe their work. Those talks range from informative to incomprehensible (to me, at least), but sometimes they stand out because the scientist as human being emerges from behind the PowerPoint. Such was the case when Matthew Sturm gave a recent presentation on his group's trip by snowmachine last spring from Fairbanks, Alaska, to Baker Lake, near the western shore of Hudson Bay in Canada.
Sturm studies snow for the Cold Regions Research and Engineering Laboratory out of Fort Wainwright, and he has had the confidence and credibility over the years to ask agencies to fund winter traverses that adventurers would drool over. Last spring's trip covered 2,200 miles, and six other travelers and Sturm were on their snowmachines arcing north of the Arctic Circle for 45 days starting in mid-March.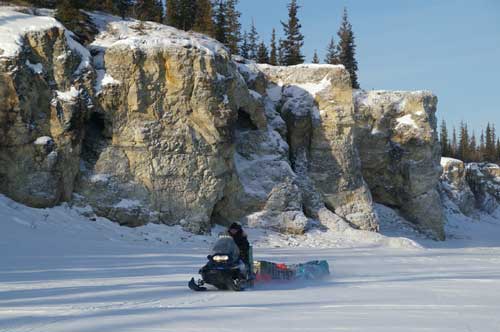 Dan Solie heads toward Old Crow up the Porcupine River during a long scientific traverse in Spring 2007. Photo by Henry Huntington.

Along the way, the team took snow and ice measurements in one of the most remote regions of the continent, and they did plenty of other science on the way. But Sturm didn't focus on the physics of snow in his talk. Instead, he shared personal observations, including a nice description of the Arctic, "an ice-choked ocean surrounded by a ring of continents, (with) the land . . . pushed just far enough south that snow and ice melt away each summer."
Sturm pointed out that the Arctic has seen changes for the last three decades, and he has been here for many of them.
"I came to the Arctic in 1972, still a boy," he said, "and I have lived here and have been changing along with the climate and the other changes for past 35 years."
Sturm and his riding partners on the trip-Dan Solie, Henry Huntington, Jon Holmgren, Glen Liston, Chris Derksen and Arvids Silis-took snow measurements and ice cores from 43 places along the route, but Sturm said he had many reasons he wanted to make the trip.
"Foremost among (those reasons) for me personally, was to try to understand how the Arctic was changing, to comprehend in a visceral way the relative importance of climate-driven vs. other changes."
One of the most obvious climate-driven changes Sturm saw was how shorter winters effected people who depended on cold air to make temporary winter roads, like the owners of diamond mines in Canada's Barrenlands who truck in all their fuel over ice roads.
"The change in the timing of breakup and freeze-up, not the diminishing sea ice, was the most common observation of changing climate we heard in hamlets and villages during our trip," he said. "Already break-up now comes one to three weeks earlier now than it did in the 1970s. Freeze-up may be later as well."
So what did Sturm learn about the region that so captures his imagination? The answers weren't obvious.
"So really no conclusions here, just an observation," he said at the end of his talk. "On our journey we met and talked with hundreds of people, all citizens of the North. They know things are definitely changing, and at an accelerated rate. They know that the climate is warming, and that mineral and oil gas exploration is booming. They also know that all the old problems due to remoteness, cold, isolation, and darkness still exist in some form. They know the changes have brought new problems like meth and out-migration. As I traveled, I was struck by a palpable sense of change in the wind. It isn't that there is climate change and technological change, there is just change-a holistic thing, difficult to predict."
"Social change, climate change, social ills, increased industrialization, all pose real problems, but I came away from the trip encouraged and energized that those of us who live in the North are up to the task of facing this change, wherever it takes us."
This column is provided as a public service by the Geophysical Institute, University of Alaska Fairbanks, in cooperation with the UAF research community. Ned Rozell [nrozell@gi.alaska.edu] is a science writer at the institute.
E-mail your news & photos to editor@sitnews.us


Publish A Letter in SitNews Read Letters/Opinions
Contact the Editor
SitNews ©2007
Stories In The News
Ketchikan, Alaska