Viewpoints
Snowmobiles
By Tom Ferry
November 21, 2007
Wednesday AM

I disagree with Craig Moen's portrayal of snowmobiles being one of the biggest spoilers of the natural beauty here. First off snowmobiles travel on snow not on the dirt or muskeg.
On top of Mahoney Mountain we ride on 15 to 20 feet of snow so I don't know how that tears stuff up. We ride in areas approved by the U.S. Forest Service, the Borough and Cape Fox Corporation.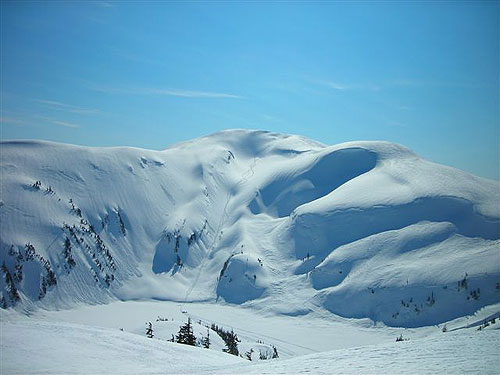 Upper Mahoney Lake -- the little specks are snowmobiles on the lake ice.

The Ketchikan Snowmobile Club has 80 members. It costs 50 dollars to join. As a member, you get a key to the gate at the 400 logging road and privileges to use the club cabin at Jag Lake -- 2000 ft elevation. The cabin was built over a 10 year period and has an oil stove that runs all winter long. The cabin sleeps 10 people has 2 generators and a 12 volt system. This exclusive riding area can only be accessed through the gate. We have taken skiers and snowboarders to the top many times and gladly share what we have toiled to make a great recreational area.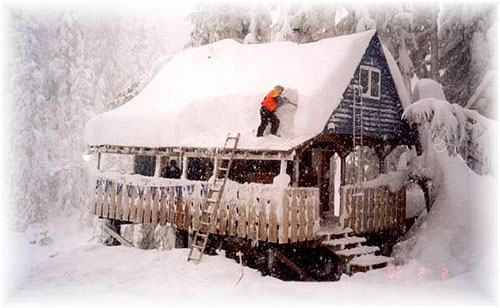 The club cabin 6-years ago during a heavy winter.

Some snowmobilers choose not to join our club and ride on the roads or at Harriet Hunt Lake. I always take a few rips across the lake every winter. Some cross country skiers scowl at us but many we have taken up to our main riding area.
We have worked hard to be a responsible club and provide people with a huge area to ride. Yes there are those who do not want to follow our rules - but most do. Our main concern is to make sure nobody rides alone and everyone wears a helmet. If you bring food cans and litter in please bring it out!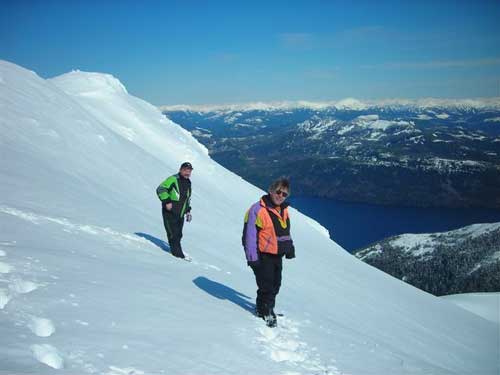 Checking things out before dropping off a 600 foot cliff

The Mahoney area is the best place to ride but it is only for advanced riders and can only be accessed when conditions are just right. If you are a snowboarder or skier this is as good as it gets for this island.
If you have any problems with snowmobilers, let us know we always welcome input. Snowmobiling provides many families - both adults and kids - with four good months of solid riding . It is the most exhilarating thing I have ever done. You just can't describe plummeting almost straight down for 800 feet to a lake bed, then looking back up and thinking how the heck am I going to get out.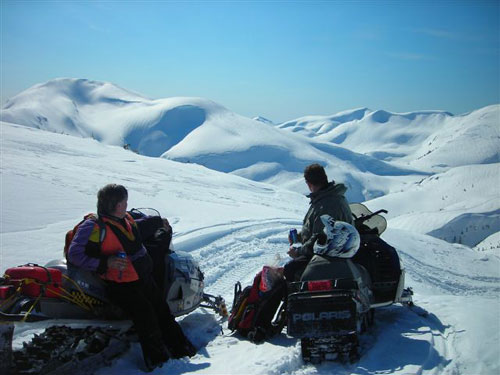 Taking a rest on the way to the big snow above White River Road...

Four-wheelers I know nothing about but to say keep us separate.
Thanks,
Tom Ferry
Ketchikan, AK

Received November 20, 2007 - Published November 21, 2007
Related Viewpoint:
Four-wheelers By Craig Moen
Viewpoints - Opinion Letters:
Webmail Your Opinion Letter to the Editor
Note: Comments published on Viewpoints are the opinions of the writer
and do not necessarily reflect the opinions of Sitnews.
E-mail your letters & opinions to editor@sitnews.us
Your full name, city and state are required for publication.


SitNews ©2007
Stories In The News
Ketchikan, Alaska