Arts & Entertainment
November Grind & Dessert Festival
By Susan Batho and Bill Hupe
November 29, 2006
Wednesday AM

Ketchikan, Alaska - The irressistable aroma of dozens of delicious desserts greeted visitors to the November Monthly Grind at the Saxman Clan House. And if that wasn't enough to make the capacity crowd come out into the cold, wet weather, the half dozen performances that accompanied the wonderful intermission fare was certainly reason enough.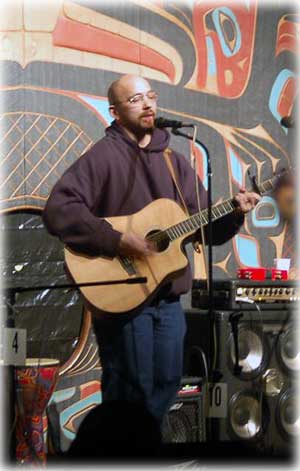 Pat Stack of of Seven Year Cold
Photograph By Susan Batho and Bill Hupe
After a group calling themselves the 'House Band' warmed the audience up, the emcees for the night took the stage: Sean Hovik, Patrick Troll, and Mitch Puera, who also performed later in the evening as the group North Sea. The trio certainly had an interesting take on their job, performing the announcements rap style, leaving many of us in stitches as they rapped the fire exits.
The Monthly Grind opened with Seven Year Cold performing all original songs. Their singer stated this was their first performance, but it certainly didn't show; the trio was great. They were followed by a younger pair, Jar of Flies, who performed in a minimalist style that the audience seemed to enjoy, but was unfortunately lost on me.
Then Ratfish Style performed what I believe were original songs about fish, fossils, and the last Lady of the Evening in Ketchikan, and everyone was laughing before long.
After intermission, the evening's emcees led the crowd in an acapella performance of Amazing Grace. We were then treated to juggling by Fumbling Thumbs, set to Chicago's 25 or 6 to 4. This is a group just getting started at Ketchikan High School, and are seeking anyone interested in joining the group to contact the Math Department at the High School.
Solo artist, Tommy G was next, performing pleasant acoustic renditions of songs by Paul Simon, Paul McCartney, and The Band, as well as an original song about a lady friend of his in Australia. The evening finished with the group North Sea, who performed in a variety of musical styles on Bob Dylan's Blowing in the Wind. Quite good, and quite humourous, even though I'm still not ready for Bob Dylan rap-style. For the final song, two of the group's parents joined them on stage and performed the evening's finale.
Before we knew it, we all lined up to return our chairs to storage and headed out into the heavy, blowing snow that had replaced the rain while we were enjoying ourselves inside the Clan House. It was a long, slow careful drive home, but I still felt warm from the evening from the enjoyment of experienceing these fine groups perform.


Bill Hupe is a resident of Ketchikan and Faulconbridge NSW, Australia. Most of his writing is with Susan Batho (also a resident of both places). Known by most people
as "The Twins", they are a writing and photographic team
specializing in photography of Alaska and Australia.
Their website www.beaustud.com features some of their work, and they can be reached through susan_and_bill@hotmail.com

Publish A Letter on SitNews
Read Letters/Opinions
Contact the Editor
SitNews ©2006
Stories In The News
Ketchikan, Alaska